There are a ton of different mattresses on the market so it can be tough to know which type of mattress is best for your individual needs and overall health.
We break down the various mattress materials to help you make that decision. Whether you choose a latex mattress or a hybrid mattress, here's some useful info.
Mattress Types & Materials
Latex: Natural latex mattresses are a healthy and comfortable option. Latex sap is harvested from trees. The sap is then baked and turned into cozy layers of latex that are used for both mattresses and pillows. Natural latex is available in Dunlop and Talalay and both types of latex come in various densities. Overall, Dunlop is known for being firmer and very supportive while Talalay is excellent for pressure point relief, particularly for side sleepers. Global Organic Latex Standard (GOLS) and Cradle to Cradle are some of the certifications you may see associated with natural latex.
Springs: There are Bonnell springs & wrapped coil springs. Bonnell springs are interconnected while wrapped coils are individually wrapped and contour to your body's curves, adding an extra layer of responsive support. In general, wrapped coils tend to be the more luxurious choice. A hybrid mattress includes both springs and foam, whether that's natural latex, memory foam, or polyurethane foam (a type of memory foam).
Memory Foam: Memory foam is a synthetic, man-made material that hugs the body's curves and relieves pressure points. Memory foam is not eligible for GOLS certification. Some people who "sleep hot" attribute it to memory foam since this foam may trap body heat and not be as breathable as natural latex. Typically, both memory foam and polyurethane foam mattresses are at a lower price point than natural latex mattresses.
Mattress Fabrics
Cotton casings are relatively common. You'll see conventional cotton and certified organic cotton. Certified organic cotton means no bleach, pesticides, or other harsh chemicals were used in the farming or manufacturing process. Look for certifications such as Global Organic Textile Standard (GOTS).
Polyester & synthetic fabrics are also common for mattress casings. They tend to be found in mattresses at a lower price point and are not organic.
Wool batting is used as a natural flame retardant in organic mattresses.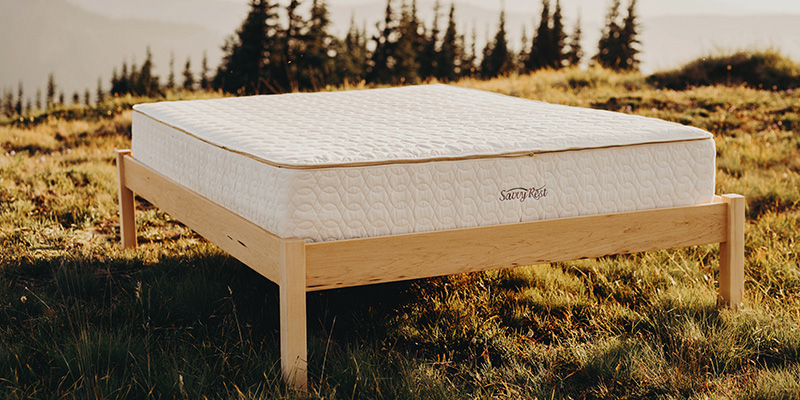 Healthy Mattress Materials
At Savvy Rest, we recommend opting for natural latex mattresses (either Dunlop or Talalay) that use organic cotton and organic wool in the casing.
GOTS-certified organic mattresses mean that the entire mattress as a finished product has been certified, and the mattress was manufactured in a GOTS-certified facility.
What's the Most Comfortable Material?
Comfort is a very individual thing but natural latex is known for being incredibly comfortable while not sacrificing durability.
We believe mattresses are not one-size-fits-all so most of our mattress models are completely customizable. Choose a soft mattress, a firm mattress, or something in the middle.
Queen, King, and CA King mattresses can even have both sides of the mattress differ so you and your partner don't have to compromise your comfort.
How to Choose Your Mattress
If you decide that a natural latex mattress is what you want, visit our how to choose page or play with our mattress tool to build your very own mattress.
Explore our best-selling layered mattress options