What is a Mattress Pad?
An extra layer between you and your mattress.
Can be made of cotton, wool, or synthetic fabrics.
Benefits
Protects your mattress from accidental spills and stains.
Protects your mattress from sweat, oil, and dead skin cells.
Protects your mattress from pet dander.
Adds slight cushioning (especially if you opt for wool)
Your mattress is an investment so it should be properly protected. We always recommend adding that extra layer between you and your mattress, especially if you're purchasing a higher-end mattress that you want to last for years.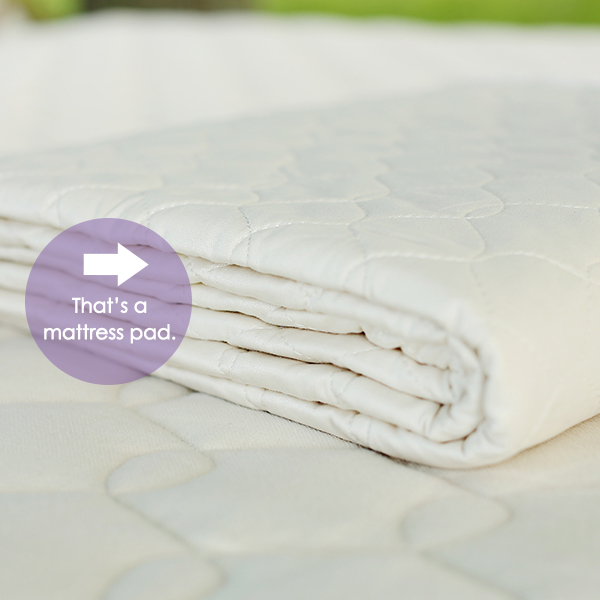 What is a Mattress Topper?
Added on top of your mattress
Can be filled with wool or made with latex, memory foam, or polyurethane foam
Commonly used to soften your existing mattress but there are also firm options available
Seen as a luxury item but can bring necessary pressure point relief, particularly for side sleepers who suffer from hip or shoulder pain
Benefits
Pressure point relief
Soften a firmer mattress
Adds height to a mattress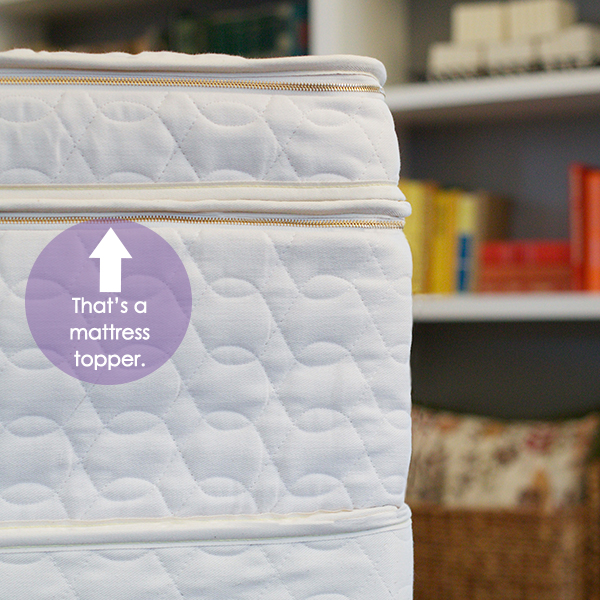 Types of Mattress Pads
Synthetic Pads
The most common mattress pads you'll find are made of synthetic materials, particularly polyester. While these mattress pads are easy on your wallet, there is one major problem with them: they are usually chemically-treated. This means they aren't exactly the healthiest option. Mattress pads may contain chemical flame retardants, bleach, boric acid, or other harmful toxins that shouldn't be in your sleeping environment.
Cotton Pads
Cotton mattress pads are a great option for protecting your mattress. They are water-resistant, which means that liquid will bead up on the pad instead of quickly seeping through to the mattress. They can also add slight cushioning.
Try to avoid cotton treated with pesticides and look for a natural or organic option. Here's a hint: if a mattress pad is stark white, it was most likely treated with bleach.
Our cotton mattress pads are never treated with chemical flame retardants, pesticides, or bleach. They are also machine washable.
Wool Pads
Due to the natural properties of wool, wool mattress pads are generally more water-resistant than cotton pads, making them a great natural option for cribs and toddler beds.
Wool also adds even more cushioning than a cotton pad, introducing a hint of cozy softness to your mattress. But beware: most natural wool mattress pads require special laundering.
Check out our natural wool mattress pad.
Water Resistant vs Waterproof
Water resistance means that a spill can stay on a mattress pad for an hour or two, but will need to be addressed before it finally penetrates the fabric. Waterproof means the spill will not penetrate at all. Since our mattress pads are all-natural and do not contain artificial fibers, any spills should be addressed as soon as possible.
Types of Mattress Toppers
Polyurethane Foam
Polyurethane foam is one of the cheapest materials you'll find in mattresses and toppers. The low cost factor for both manufacturers and customers is why you see it everywhere but of course, there is a downside.
Polyurethane derives from petrochemicals and is completely synthetic. Not only does it lack the organic certification that gives customers peace of mind, but it also lacks in durability. A mattress topper should hug your pressure points as you sleep and allow you to gently sink in. Polyurethane and memory foam (which we'll get to next) are known for eventually failing and causing dips and sags.
Memory Foam
Memory foam is a type of polyurethane foam. While it's initially fantastic at pressure point relief because of the way it conforms to your body, it eventually has a difficult time bouncing back.
It also sleeps incredibly hot because it retains your body heat. It is this chemical reaction through heat that allows the foam to move and cradle your pressure points.
While comfortable at first, you'll unfortunately quickly realize that memory foam isn't the best option.
Natural Latex
A natural latex topper is a much more breathable option but still gives that necessary pressure point relief. Natural latex does not trap body heat like memory foam, so not only will you sleep cooler but you'll also have less issues with your mattress not bouncing back. Latex is known for its durability and longevity.
We offer two latex toppers: the Harmony and the Vitality.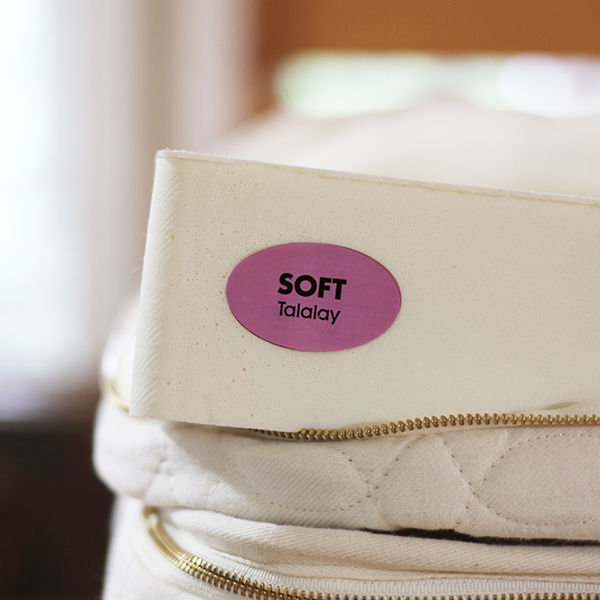 The Harmony
The Harmony is our customizable topper that comes with the same Savvy Rest organic casing as our organic mattresses.
It includes one layer of latex, your choice of a Soft, Medium, or Firm layer of Dunlop or Talalay latex. Our most popular choice is Soft Talalay because of its responsiveness and pillow-like feel that gently hugs your hips and shoulders as you sleep on your side.
Back sleepers can also enjoy a topper and may opt for something slightly firmer, such as Soft Dunlop or Medium Talalay.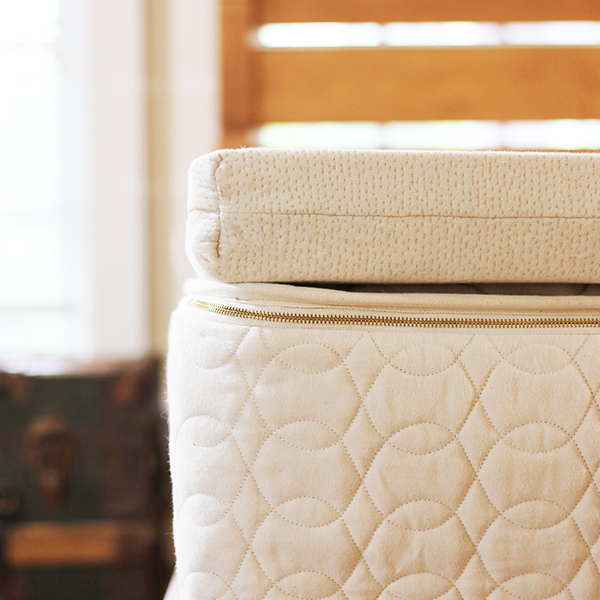 The Vitality
The Vitality is our softest topper made of one layer of Soft Talalay latex and covered in a stretchy, organic knit casing. It's this stretchy casing that allows you to have close contact with the latex, fully feeling the plush, pressure-relieving qualities of Talalay latex.
If you're looking for a topper that feels similar to memory foam, the softness of the Vitality is a perfect fit.
Wool
Wool is another excellent topper material that doesn't get enough credit. While most people associate wool with warmth, wool is actually a natural temperature regulator so it will keep you cozy in the winter but cool in the summer.
The Savvy Woolsy topper comes in two options: natural/domestic and GOTS-certified organic. Both options are covered in certified organic cotton with a tack and jump quilt pattern.
Pad, Topper, or Both?
We personally believe every mattress needs a mattress pad for protection so we definitely recommend purchasing one!
While a topper isn't a necessity, it's great for someone looking for extra pressure point relief so if you feel like you need to soften your mattress, you'll want a topper! But if you like your mattress just the way it is then there's no need to splurge just yet.
If you choose to purchase a topper and like the feel of memory foam, opt for the Vitality natural latex topper.
If you like the feel of latex but want to have more control over the density, opt for the Harmony natural latex topper.
If you want just a hint of plush softness without sinking into your mattress too much, opt for the Savvy Woolsy topper.