When I started sleeping on our organic and natural products, I immediately noticed the quality. No more dips and sags in my mattress. No more sheets made with cotton treated with pesticides. No more sleeping on a pillow that was stuffed with what might as well be mystery fill. I truly look forward to crawling into bed every night, and not just because I'm tired after a long day. My bedroom is now a calming and relaxing environment because I know good sleep is ahead. I look forward to the plush feel of Talalay latex, the cozy softness of my organic kapok pillow, and wrapping myself in the intense luxury that is our natural duvet insert. And then there is the aesthetics of our natural Esmont platform bed; it has completely transformed the space.
Yes, I've happily upgraded to all things Savvy Rest. It's not enough to nourish my body with organic foods and natural skincare products. At Savvy Rest, we emphasize the importance of investing in organic bedding products and staying away from conventional mattress brands. You should not spend a third of your life sleeping on memory foam or other synthetic materials. Here's why you should pamper yourself with our organic bedding products and never look back.
Say No to Memory Foam
There are so many reasons why you should say goodbye to memory foam, and those reasons all have to do with health and comfort. Memory foam is a type of polyurethane foam that conforms to you by trapping your body's heat. Some companies may market their mattress by saying it contains "natural memory foam," but there is nothing natural about it. Not only is memory foam nowhere near as safe as the latex we use in our GOTS-certified organic mattresses, but it's simply not as comfortable. Memory foam will most likely cause you to toss and turn as you wake up feeling more like a hot toaster oven than an actual human being.
Memory foam also lacks in durability when compared to natural latex. I've spoken to customers with memory foam mattresses who complain that their mattress started forming large dips within only a few years. They found themselves searching for a mattress yet again because they went for a typical mattress-in-a-box brand instead of investing in an organic, quality alternative. It's definitely disturbing though that a product made with safe, organic materials is considered an alternative in the first place. Shouldn't healthy living be the norm? Shouldn't companies think about safety instead of just profit?
Create Your Own Natural Bedroom
Soft (and Safe) to the Touch
Only thinking about toxins in mattresses isn't enough—we also need to be aware of all bedding products in general. Before joining Savvy Rest, I honestly didn't think much about whether or not my sheets were organic. My mind immediately went to softness and thread count, since that's what everyone seems to talk about. While this is, of course, important to Savvy Rest as well, we also care about how the cotton is grown and manufactured. We use certified organic cotton that is free of harmful pesticides. Your skin is coming into contact with your bedding products every night for hours at a time. You should only surround yourself with pure materials that are made with the intention of benefiting your health, not hurting it.
Once I started researching pesticides and the high presence of chemicals and synthetic materials in mainstream bedding products, I knew I needed to change my bedroom environment. I had all this new information at my fingertips, so I wanted to take it home with me and apply it to my evening routine.
I now don't have to worry about what my skin is coming into contact with, or what I'm breathing in as I'm getting some zzz's. My Savvy Rest oasis gives me total peace of mind.
Between the Sheets
So you want to hear more about my luxurious setup? Well, let's start with my Savvy Rest organic mattress. I'm a petite side sleeper so my Serenity mattress has Soft Talalay as the top layer of latex because natural Talalay is known for its pressure-relieving qualities. We typically recommend Talalay on top for side sleepers for this very reason. The cradling softness of Talalay is so incredibly comfortable, and it allows me to wake up in the morning without any hip pain. The middle layer of my mattress is Soft Dunlop and the bottom layer is Firm Dunlop. This configuration gives me the support I need.
I've placed our Natural Savvy Woolsy on top of my mattress. The Savvy Woolsy is my very first topper! This topper adds a bit more cozy luxury to my mattress, but isn't so soft that I'm not getting the right amount of support. It's truly the perfect topper for my needs. I love that it's made with domestically-sourced natural wool, and that it is covered with a certified organic cotton casing. If you'd prefer a completely organic version, we have that too!
As for what I lay my head on each night, I have my trusty organic kapok pillow. Kapok is a natural, plant-based fiber that is buoyant and super soft. Kapok grows in warm climates and is used as an alternative to down. This pillow is also customizable, so you can unzip the outer and inner organic cotton casings and remove as much of the kapok fill as you'd like. This unique feature allows you to control the height of your pillow. We overstuff the pillows so you can have plenty of kapok to work with. When I first got my pillow, I took about a third of the fill out, and then stored the rest for later. Kapok compresses a bit over time, so you may feel like you want to add a bit more as time goes on. When I travel, I take my kapok pillow with me—I'm that obsessed with it.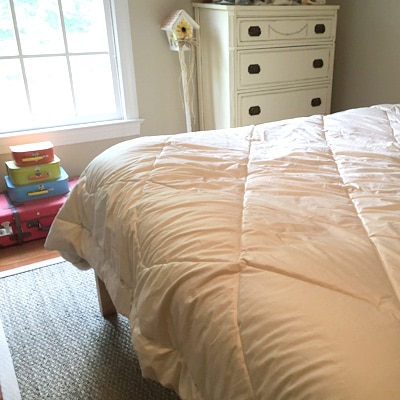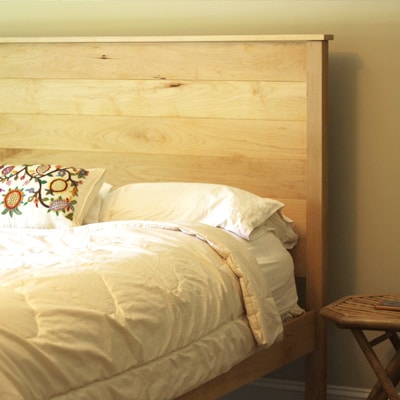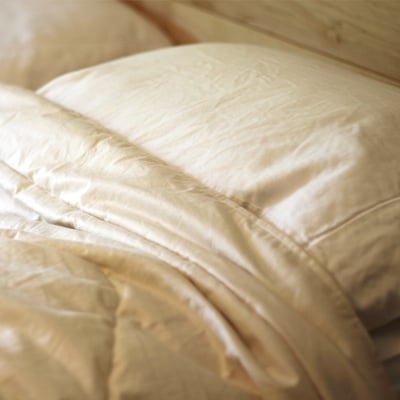 I wrap myself up at night with our Natural Duvet Insert. What I love about this product is that it keeps me warm in the winter months, but cool in the summer. This is because of the wool. Wool is an incredibly useful material since it regulates temperature and promotes air circulation. People generally relate wool to warmth, and while it can certainly comfort you during a chilly snow storm, it can also keep you feeling refreshed in a heat wave. Again, if you'd prefer a completely organic version, we've got you covered.
Finally, my Savvy Rest paradise wouldn't be complete without my Esmont platform bed. I can't even begin to express how much I love the Esmont. It's made by our own talented woodworkers with sustainably sourced maple and poplar wood. We only use zero-VOC stains, so you don't have to worry about breathing in toxins. Our furniture is constructed with impressive attention to detail instead of simply being manufactured in mass quantities. We love that each piece of wood has its own story, and that these pieces come together to form something beautiful.
The Esmont includes a customizable headboard. You can choose between slatted and solid (I went with solid). This headboard has become the centerpiece of my bedroom. The wall behind my bed was completely bare and lacking in style and intrigue. I wanted something that was simple but elegant, and the Esmont gave me just that. The sleek lines and subtle intricacies of each slat of wood are absolutely stunning. If you'd like to learn more about how our platform beds are made, definitely make sure to check out my blog article about spending a day in the woodshop.
Make a Move
So, are you ready to upgrade your bedroom? Taking control of your health and happiness definitely relates to how you're sleeping. Savvy Rest cares about the health of our employees and of course, the health of our customers, which is why we only offer the very best. I hope you choose to add at least one of the items I've listed above to your bedroom. Eventually, you can have your own organic oasis.