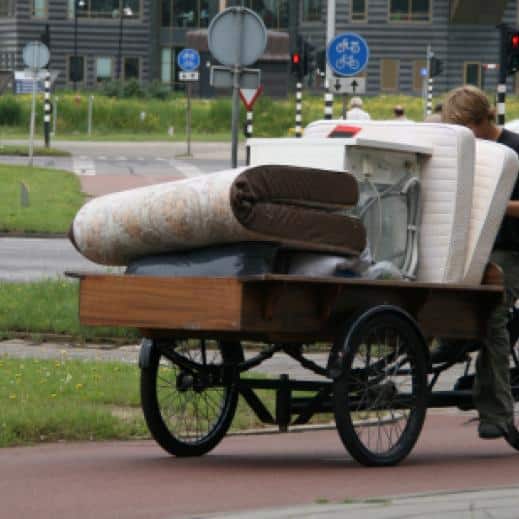 Mattresses are designed to lie flat and not move. That's all well and good, until you have to move. Getting a conventional queen- or king-sized mattress through a doorway can feel like trying to thread a needle with a rope. First, you have to tilt the mattress on its side. And if you have to haul it up or down a stairway, it needs to bend.
That's why most mattresses require quantities of glue and adhesives to hold together the various parts–pieces of steel coil, layers of foam, loose fiber fillings—and to attach a fabric cover.
The more you move or shove around a mattress, the more the inner materials shift and deteriorate, shortening the mattress life and, ultimately, taking the edge off its comfort.
Often people find that the mattress that arrives at a new home is a lot dirtier than the one that left the old place. Many movers don't stock the thick three-millimeter bags that are made to protect a mattress; and because a mattress is heavy, moving it and keeping it clean is very difficult. Moving a latex mattress in particular, because they are so flexible, is like wrestling a rubbery Gumby.
The most sanity-saving mattresses for people who move a lot are made in components. A mattress with a removable top and layered core will move with ease. You unzip and remove the casing top, take out the core layer by layer, fold each component into a moderately-sized box, transport the boxes, and reassemble the mattress in your new home.
If your situation includes any of the following, a portable mattress is important for you:
You live in a small apartment
Your bedroom is a loft
You have to climb winding, narrow stairs to get to your bedroom
You're in military service and move regularly from post to post
So who makes portable mattresses, and which are best? First of all, portable mattresses are made in components that are packaged in separate moderately-sized boxes, rather than one enormous one. Usually they are folded or rolled before shipping, so the materials need to be a kind that will return or "spring back" to the intended shape.
Air beds are portable, but many people find them uncomfortable. Some waterbeds are relatively easy to pack, but they may develop leaks from moving damage. Synthetic foams, memory foam, and futons tend to not fully resume their shape, and so may lose their original capacity for support. For most of these types of mattresses, a move spells shorter mattress life and compromised comfort. Innerspring mattresses can be moved, but they are bulky, rigid, and can't be disassembled.
Natural latex mattresses are the ideal candidates for "portability". They flex, return easily and immediately to their full original shape, and are extremely durable.