At Savvy Rest, we use natural latex in our organic mattresses because we care about the health of our customers and the longevity of our planet. Sustainably utilizing natural resources rather than relying on chemically-manufactured synthetics is something we believe in.
But what is natural latex? And what are the differences between all the types of latex available in mattresses?
We'll dive into all that and more in this blog post.
What is natural latex?
Natural latex is made from rubber tree sap. The sap is baked into layers of cozy latex that can be used in mattresses, sofas, and more.
Natural latex does not include any fillers, such as clay. It also doesn't include any synthetic or man-made materials, such as polyurethane.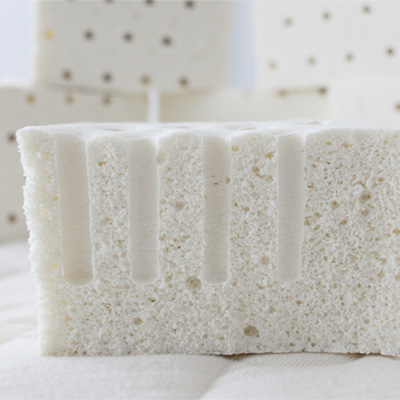 Dunlop latex is denser and more supportive than Talalay.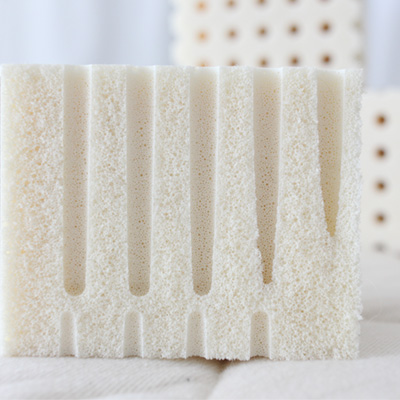 Talalay latex is softer than Dunlop, making it ideal for pressure point relief.
Types of Latex
It's important to note that not all latex is the same. Below we break down the different categories.
Dunlop Latex: Dunlop latex is a type of natural latex. Dunlop is considered the denser of the two types of natural latex and is known for being supportive and durable. It's particularly helpful to those who like a firm mattress but is available in softer densities as well.
The Dunlop latex used in Savvy Rest mattresses is certified organic by GOLS (Global Organic Latex Standard).
Talalay Latex: Talalay latex is also a type of natural latex. Talalay has a luxurious, pillowy feel that is known to help relieve pressure points, specifically for side sleepers who experience hip and shoulder pain.
The Talalay latex used in Savvy Rest mattresses is Cradle to Cradle GOLD certified, which means it is evaluated for its health and environmental impact. The sap is also sourced from rubber tree plantations that adhere to sustainable forestry practices.
Blended Latex: Blended latex is a mix of natural latex and some sort of synthetic additive. A natural filler can also be used, such as clay. This decreases the cost of the latex for the mattress manufacturer since natural latex is more expensive due to the purity of the material.
A blended latex mattress isn't the same as a natural latex mattress. The latex layers in a blended latex mattress are on average about 70% natural latex and 30% filler whereas, in a natural latex mattress, the latex layers are at least 95% natural latex.
Keep in mind that there is no such thing as "100% natural latex," even when looking at certified organic latex. Learn more about this topic here.
Synthetic Latex: Synthetic latex is derived from petrochemicals. It is not considered a natural product and cannot meet the Global Organic Latex Standard, nor be present in a completely GOTS-certified organic mattress. If you're looking for a truly natural mattress, avoid synthetic latex.
Classifications of Latex
There are various classifications for latex. We've defined them below.
Organic: Organic latex has gone through the proper certification process and has met the Global Organic Latex Standard. It is not treated with any harmful chemicals and does not contain any added fillers or synthetic materials. Savvy Rest offers certified organic Dunlop latex sourced from Cocolatex in India.
Natural: Natural latex does not contain fillers but also may not be certified organic. This doesn't necessarily mean that the latex is any less pure; it may hold other certifications.
Talalay latex, for example, is not certified organic. Savvy Rest sources Vita Talalay latex from Radium Foam, which is considered the premier Talalay manufacturer. Based in the Netherlands, their Talalay latex has met Cradle to Cradle Gold standards. Learn more about what this entails here.
While Talalay is not organic, it is still considered natural latex though it's important to recognize that not every Talalay manufacturer is the same. Always ask about certifications!
Synthetic: Synthetic latex is not natural but chemically-manufactured.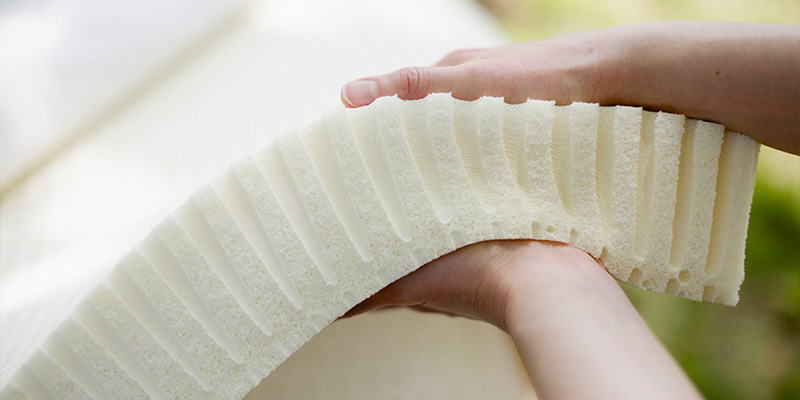 Benefits of Natural Latex
At Savvy Rest, we strongly recommend natural latex. Here are just a few reasons.
Durability: Natural latex is durable and is known for having fewer dips and sags than memory foam or polyurethane foam mattresses. This is because natural latex does not retain body heat. It is the chemical reaction between body heat and memory foam that allows the mattress to gently hug the body but over time, the foam fails to spring back, causing uncomfortable dips.
Sleep Cooler: Since natural latex does not retain body heat like memory foam, it will allow you to sleep cooler. Natural latex, especially Talalay, is known for being incredibly breathable. If you're someone who typically sleeps hot, a natural latex mattress is worth considering.
Customization: Every mattress company is different in terms of the amount of customization they offer, but Savvy Rest offers both Dunlop and Talalay latex and Soft, Medium, and Firm latex densities. This means that you can design your own mattress that is tailored to your specific preferences and needs. The result? Ultimate comfort.
Health: Shoppers opt for organic mattresses made with natural latex to avoid harmful off-gassing. Learn what constitutes a truly organic mattress and why you should avoid mattresses containing chemical flame retardants.
Environment: When you purchase an item, you're casting a vote for what types of products you believe should be on the market. When you choose an organic mattress, you're supporting a company that utilizes natural resources and supports organic farming instead of depending upon unhealthy manufacturing processes that pollute our planet.
Shop our organic mattresses
Get the healthy sleep you deserve. We offer several organic mattresses. Shop now!
Explore our best-selling layered mattress options