There's a lot to love about Summer: the beach, tropical smoothies, swimming, hiking, and savoring fresh produce from the farmers market. Summer is about enjoying the outdoors and spending time with loved ones. However, there's one downside of this season, and that's the sweltering heat and humidity. It might even disrupt your sleep as you wake up sweaty and uncomfortable. So, what can you do to give yourself the coolest sleep possible? I've got a few tips that can help.
Natural Latex Mattress
The most important element of your sleep experience is of course what you're sleeping on. There are several reasons why Savvy Rest does not offer memory foam mattresses, one of which is the fact that it causes you to "sleep hot." This polyurethane foam is designed to move with your body, but in order to do that, it traps your body heat, causing you to feel like you're in a sauna. And don't be fooled by terms such as "natural memory foam," because there's no such thing. Memory foam is a synthetic material, so even if it's combined with a percentage of natural latex, it's still a chemically-filled product overall.
Savvy Rest organic mattresses are made with layers of natural Dunlop and Talalay latex. Our customers are always happy to hear that natural latex will not cause them to feel overheated. And okay, this has nothing to do with the heat problem, but our mattresses are also customizable. You can even have the feel of your side of the mattress differ from your partner's side. I know—it's amazing. Moving on…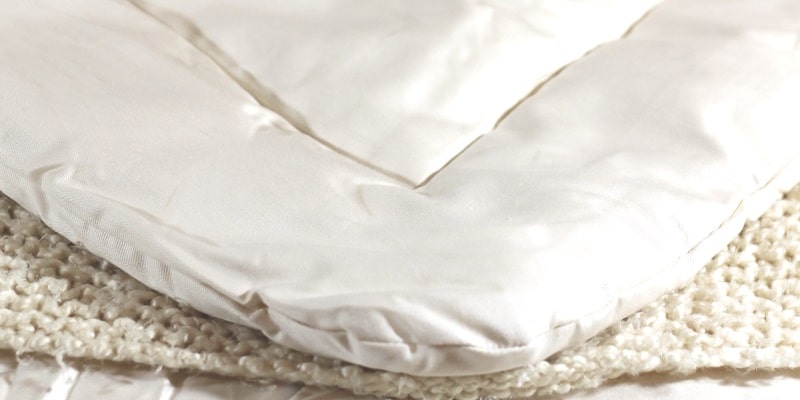 Wool
This may sound crazy, but I promise it's true—wool can actually help you stay cool in the summer. This soft material is known for its ability to promote air circulation, and in turn, regulate your temperature. This is why I absolutely love my Natural Duvet Insert because it's such a versatile product. I can use it to cover me in the winter time when I'm shivering cold and in need of some serious warmth, but I can also use it in the summer when I want to feel cozy yet refreshed. It's not something I have to store during the warmer months—I can enjoy it throughout the year.
We didn't stop at our duvet inserts though. We also carry wool pillows and the very popular Savvy Woolsy topper.
The Magic Temperature
I know no one wants to spend a fortune on their A/C bill, but if you're setting your thermostat too high, it can seriously disrupt your sleep. The Wall Street Journal reports that the best temperature for a good night's sleep is 65 degrees Fahrenheit. Not willing to set it that low? You can get away with 70 degrees Fahrenheit, but you may feel uncomfortable with anything higher than that.
If you really can't imagine setting your thermostat that low, then definitely have a fan going in your bedroom! This will help circulate the air, leading to a deeper and more relaxing sleep. Even simply purchasing a tower fan to place next to your bed can make a big difference.
Learn more about our natural and organic products
Sleep Naked
Last, but certainly not least, is the art of sleeping naked. There's something quite invigorating and exciting about sleeping naked, yet it's also something that has a calming effect, especially if it becomes part of your nightly routine. Your mind will know that it's time to wind down for the evening as your tight jeans fall to the floor (okay, I never keep my jeans on the floor—into the dresser they go!).
Sleeping naked will help keep you cool for obvious reasons, and it's also a great help if you're not comfortable setting your thermostat to 65 degrees.
To read about the other benefits of sleeping in your birthday suit, click here.
Stay Cool
I hope these tips help you feel more comfortable and lead to some quality zzz's. Take it all off, curl up in our duvet insert, and feel the difference of sleeping savvy in the summer. Sweet dreams!