Wedge pillows are a popular choice for many people due to their unparalleled sleep benefits.
Whether you need a wedge pillow for acid reflux or an anti-snore wedge pillow to keep your partner happy, we have a recommendation for you.
What is a Wedge Pillow?
A wedge pillow is a formed pillow with a unique, angled design. Wedge pillows are meant to elevate the upper body as you sleep.
The shape of it essentially looks like a wedge of cheese!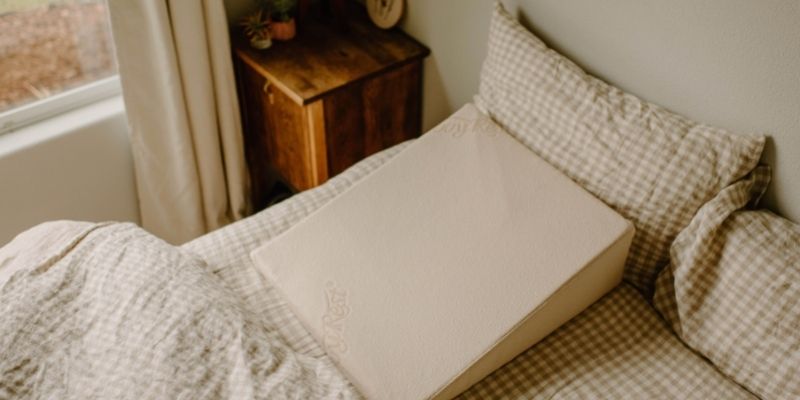 What are the Health Benefits of a Wedge Pillow?
There are several health benefits associated with using a wedge pillow, particularly for those who suffer from specific sleep-related issues.
It is the elevated design of the pillow that lifts your head and neck, allowing for more airflow through your nasal passages and reduced sinus pressure.
The elevation also helps stop stomach acid from creeping up into the esophagus, which is what happens to those who suffer from GERD. That's why an acid-reflux wedge pillow for side sleepers is worth looking into.
All in all, there are incredible benefits to staying elevated while sleeping.
Wedge Pillows Can Help Alleviate…
Acid reflux
Back pain
Inflammation
Nighttime asthma
Poor posture
Post-nasal drip
Sleep apnea
Snoring
Wedge pillows are also helpful in achieving pressure point relief for the neck and shoulders. However, we also strongly recommend looking into an organic body pillow for side sleeping support if your focus is on the whole body rather than just the upper body.
Latex Wedge Pillow or Memory Foam Wedge Pillow?
We recommend choosing a natural latex pillow rather than a memory foam pillow.
Natural latex is derived from rubber tree sap and baked into cozy, supportive goodness. Memory foam is a synthetic material that may offgas harmful chemicals while you sleep.
We encourage you to look for certifications that give you confidence in the quality and purity of materials. This should apply to your pillows, bedding, and mattresses.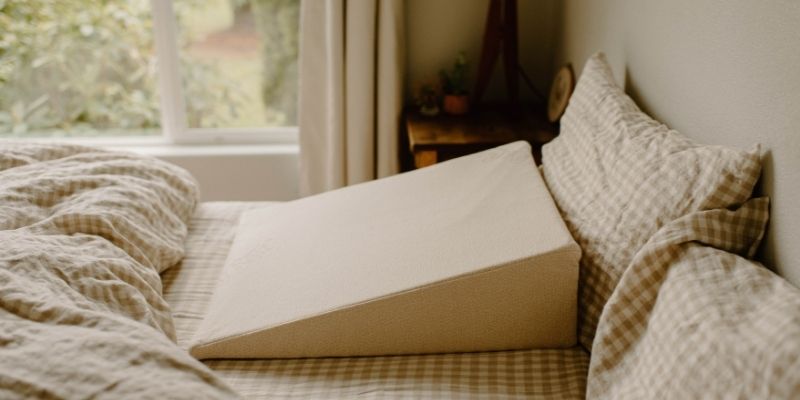 Best Latex Wedge Pillow
We highly recommend this natural Talalay latex wedge pillow made of Cradle to Cradle GOLD-certified Talalay latex and covered in an organic cotton knit fabric.
Flip the pillow vertically if you wish to prop yourself up as you read in bed. Keep the pillow flat and horizontal while sleeping on your back to help alleviate snoring, acid reflux, and post-nasal drip. You can even use it between your knees for added support while sleeping on your side, or under your knees while sleeping on your back to relieve back pain.
This pillow is responsive, versatile, and healthy for your sleep routine.
We hope you give it a try!