Natural latex is popular in the mattress industry, as well as for sofas, loveseats, and armchairs. But what exactly is natural latex? And is it toxic?
Thankfully, natural latex is both safe and sustainable and is the preferred choice over polyurethane or memory foam when searching for an organic mattress.
Keep reading to learn more.
What is natural latex?
Natural latex is made of rubber tree sap. The sap is harvested and baked into cozy layers of latex which are then used inside mattresses, pillows, sofas, and more.
Keep in mind that some brands use a blend of natural and synthetic latex so make sure you opt for truly natural latex that doesn't have any unnecessary additives.
Look for certifications such as the Global Organic Latex Standard (GOLS) or Cradle to Cradle. These certifications emphasize material purity and sustainability, giving you peace of mind that the product you're purchasing is indeed healthy.
Is natural latex safe?
Yes, natural latex is considered safe. It is not treated with harmful chemicals such as pesticides or formaldehyde.
However, if you have a latex allergy, you may want to ask for a sample to see if you have a reaction before purchasing a latex mattress.
Not all latex is the same, so while you may react to latex gloves, you may have zero reaction to natural latex. Always speak to your doctor before exposing yourself to any known or potential allergens.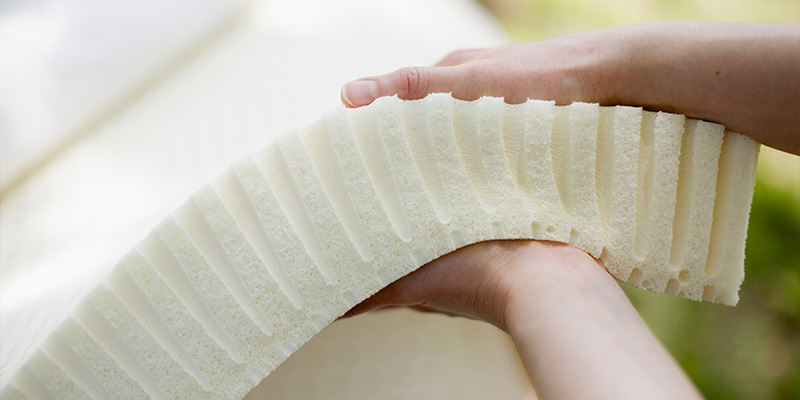 Does natural latex off-gas?
Everything off-gasses but the more important question is: Does natural latex off-gas toxic chemicals? And the answer is no.
This is what makes a natural latex mattress or sofa such an important investment.
For example, we spend about a third of our lives sleeping, which means during that time we're exposing ourselves to what our mattress off-gases. Mattresses made of memory or polyurethane foam typically off-gas volatile organic compounds (VOCs) and carcinogens such as benzene.
Getting healthy sleep
The first step towards healthy sleep is choosing a natural mattress.
Savvy Rest offers GOTS-certified organic mattresses made of natural latex. Savvy Rest mattresses are also customizable so you can have the exact feel you want (and even choose a different firmness than your partner's side).
The most popular Savvy Rest model is the Serenity, which includes three layers of latex.
Get the sleep you deserve.
Explore our best-selling layered mattress options