More and more people are beginning to see the value and importance of natural mattresses for healthy sleep.
But what exactly is a natural mattress? Keep reading to find out.
What is a natural mattress?
A natural mattress is made of natural and organic materials that are healthy and safe to sleep on. The mattress is not treated with chemical flame retardants and typically does not include synthetic materials such as polyester, or man-made foams such as memory foam or polyurethane foam.
Since the term "natural" isn't regulated, there are companies that aren't exactly natural that will use this term to market their products.
If you want something truly natural, opt for natural latex instead of other foams, and look for materials such as organic cotton and organic wool in the mattress casing itself. Wool acts as a natural flame barrier.
Are natural mattresses organic?
Not always. Technically, a company can call their mattress "natural" without any organic components.
Look for the term "certified organic" when researching the materials used in the mattress. Bonus points if the mattress is GOTS-certified organic as a finished product.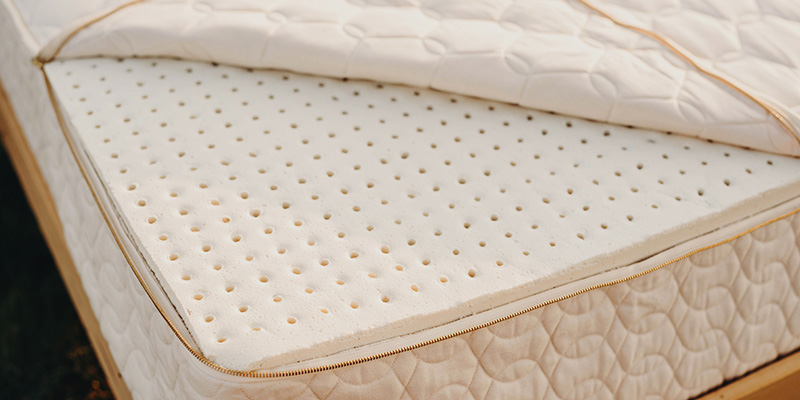 Types of natural mattresses
You'll see a few different natural mattresses on the market…
Latex
Natural latex mattresses are an excellent choice when searching for a healthy option. A latex mattress is not made of synthetic foam. Instead, natural latex is derived from rubber tree sap. The sap is harvested and baked into cozy layers of latex that become the core of your mattress.
There are two types of latex: Dunlop and Talalay. To learn more, click here.
Memory Foam
Memory foam is a man-made foam that typically goes through a more chemically-intensive process than natural latex.
However, there are "natural memory foam" mattresses on the market.
We personally believe latex is the more natural route to go when searching for a mattress but you can learn more about memory foam here.
Innerspring
An innerspring mattress includes coils and typically a comfort layer of either latex or memory foam.
Innerspring mattresses are a great option if you have a limited budget.
Certifications
Since the word "natural" isn't regulated, there aren't any particular certifications like there are with "certified organic."
However, here is a list of some of the best certifications in the industry. Some of these certifications are for particular materials while others are for the entire mattress as a whole.
Global Organic Textile Standard: This certification can be for textiles such as cotton and wool. It can also be for a manufacturing facility or for the finished product as a whole. This is considered one of the strongest certifications.
Greenguard GOLD: This certification tests material purity for low chemical emissions into indoor air. The GOLD level includes additional requirements for vulnerable populations, such as children and the elderly.
Global Organic Latex Standard: GOLS is a certification for organic latex, particularly Dunlop latex.
Cradle to Cradle GOLD: This certification evaluates products according to health impact, material re-use, renewable energy, water stewardship, and social fairness.
Which mattress is best for you?
We suggest opting for a mattress that has the certifications you're looking for plus customization. The ability to choose the exact feel that you want will give you peace of mind that you'll be sleeping on a mattress that is both natural and comfortable.
Savvy Rest offers certified organic mattresses that are GOTS-certified and completely customizable. They are made with your choice of Dunlop, Talalay, or a combination of both types of latex.
Explore our best-selling layered mattress options