The Best Wood for Platform Beds and Sofas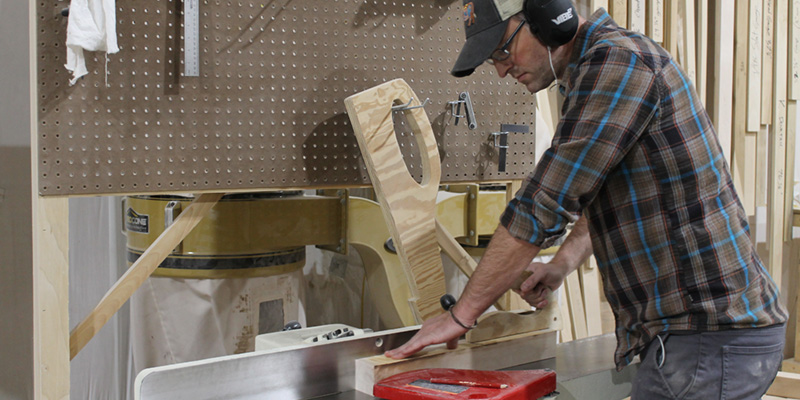 Judd Jarvis, our product developer and woodshop manager, joints posts for our natural platform beds.
Savvy Rest platform beds and sofas are made with style and aesthetics in mind, but using natural materials and providing a durable product are equally important. We've covered all the bases with our furniture. From our Afton and Esmont natural platform beds to our Verona line of organic sofas, loveseats, and armchairs, you'll find beautiful products that will last for years to come.
The root of these products starts with literal roots—trees. We source two different types of wood: maple and poplar. Learn why we chose to use maple and poplar in our designs, and how they result in superior furniture frames.
Poplar
Poplar is found in our natural platform beds and platform bed insert. It's sourced from Virginia as well as West Virginia and grows straight up like a telephone pole. Poplar is used for the ledger and slats, so the internal parts of the furniture piece.
We like the fact that it's local and one of the lightest hardwoods.
Maple Hardwood
The hard maple wood we use is sourced from Pennsylvania and further north. When you place your mattress on top of the platform bed or insert, every visible part of the furniture piece is maple.
Maple holds our zero-VOC stains beautifully. If we were to only use poplar in our beds, it wouldn't have that same vibrant, pristine finish. But other furniture companies, unfortunately, don't seem to mind.
"Some companies use poplar wood strictly for their furniture," Judd, our Product Developer and Woodshop Manager explains. "However, then they have to use some pretty nasty dyes to make it look like other wood."
We use maple for the center support beam of our platform beds, as well, because it is an overall sturdier wood than poplar.
You can also find maple in our solid hardwood coffee tables and benches. These gorgeous furniture pieces come with the same zero-VOC stain options as our platform beds and are available with or without a shelf.
Leah inspects her routing of an Esmont platform bed post.
Sustainability
The maple and poplar wood we use in our furniture is responsibly sourced and certified sustainable by Appalachian Hardwood Manufacturers, Inc. This is important to us, especially as a partner of American Forests.
Why opt for a natural wood platform bed?
There are a lot of different platform beds on the market, so it can become overwhelming quite quickly. When you buy something, you're essentially voting for what types of products and what type of company values you appreciate.
If natural products and healthy practices are something you strive for, then our platform beds, and Savvy Rest in general, meets those requirements.
"Our finishes are zero-VOC, which is a very important thing for people, especially those concerned about the air quality in their house," Judd says.
However, not all zero-VOC finishes are created equal.
"It has to do with the makeup of the raw material. There are zero-VOC finishes out there that when set are zero-VOC. However, their raw form is different. There was one in particular I was excited about because it was water-based and sounded pretty nice. The customer would end up with a nice, clean finish that was durable and zero-VOC. Then I read the MSDS on it. The people applying it would have to wear a bunch of safety gear, and it had a lot of warnings. That's why I use what we use. It's safe for our people in its raw form, and it's good for the customer in it's finished state."
How a stain is created in the first place is also worth looking into.
"The finish we use is flax-based, so it's an agricultural product as opposed to something from petrochemical processes. In that way, the whole chain of it is better for the planet."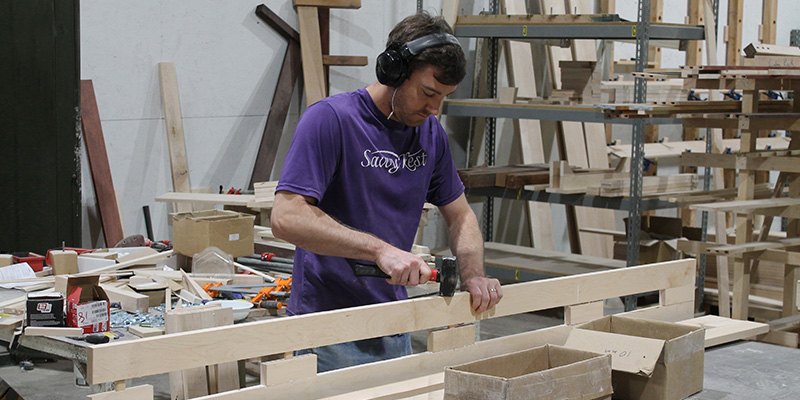 Graham hammers together elements of an organic sofa frame.
Simple Setup
Our customers love that no tools are required when setting up our platform bed and platform bed inserts. You don't have to worry about a bunch of bolts and screws. Instead, the posts fit together seamlessly.
 
Learn more about our natural platform beds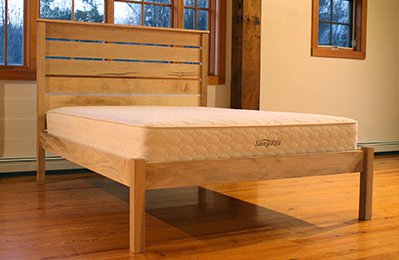 The Esmont marries traditional construction and clever design with a unique, customizable headboard.
What type of wood do we use in our organic sofas?
We think the best wood for sofas is maple, so that's what you'll find in our Verona organic sofa line.
Some furniture companies though opt for cheap and inexpensive plywood, which lacks in durability.
"A lot of what's made uses plywood, even on the nicer pieces. They can put it into the CNC (Computer Numerical Controlled router) and crank out a bunch of parts. The build-up process for that frame is more like an assembly line."
We believe this type of constructions lacks the personal touch and attention to detail that we embrace through our furniture line.
The Thought Behind the Design
Judd stuck to sleek, modern lines when designing our furniture. He also wanted to build something stable and supportive.
"I built the beams in the Verona sort of like a bridge, always thinking that I wanted a clean look in the middle. I didn't want extra feet, but it needs to support someone who wants to sit in the middle of the sofa."
More conventional sofas that are not constructed with a material such as maple can eventually have dips down the middle. This dip means that the frame has been cracked. Our sofas are built to avoid this problem, giving you peace of mind.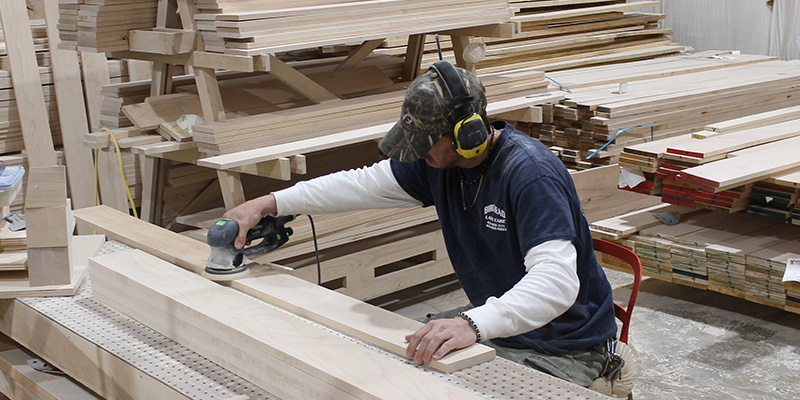 Brian sands side rails for our natural platform beds.
Organic Certifications
Judd not only wanted the Verona line to be aesthetically pleasing, but he also wanted it to be safe for the home and the planet.
"There are companies that do the 'green' thing inside the sofa, but the outside fabric has a stain-resistant spray on it or a UV blocker. The difference for us is that the Verona line is natural and organic through and through."
Our sofas are made with:
Cradle to Cradle GOLD-certified Talalay latex
Certified organic wool
Certified organic hemp
Certified organic cotton
Certified sustainable maple wood
GreenGuard-certified adhesive
Natural coir
Natural jute webbing
Zero-VOC finishes
And yes, our sofas pass the burn test without toxic chemicals.
"Typically, it's easier for companies to get something that is mass-produced and soaked in a fire retardant so they're covered. But those chemicals break down and end up in the atmosphere."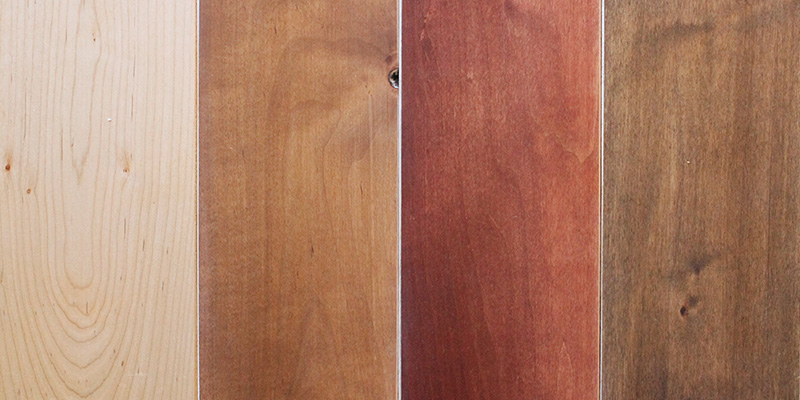 Finishes
As previously mentioned, we only use zero-VOC finishes for both our sofas and platform beds. There are a few options to choose from:
Unfinished: the ultimate natural look (not pictured above)
Linseed Oil: bright minimalism at its best
Cedar: a classic, light brown color
Mahogany: a bold finish with hints of red
Walnut: a dark and dramatic finish
Start Shopping
It's time to invest in furniture made with your health and comfort in mind!
 
Learn more about our organic furniture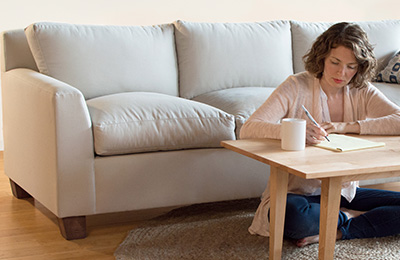 Our flagship organic sofa, the Verona is an elegant tuxedo style with cushions of natural latex wrapped in luxurious organic wool batting.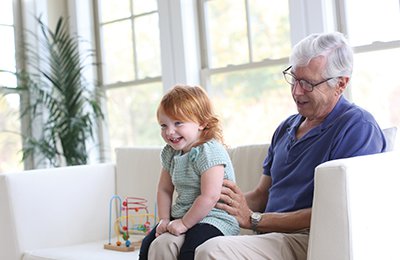 A companion to our flagship organic sofa, the Verona loveseat is perfect for a family room, yet its simple elegance will highlight any formal decor.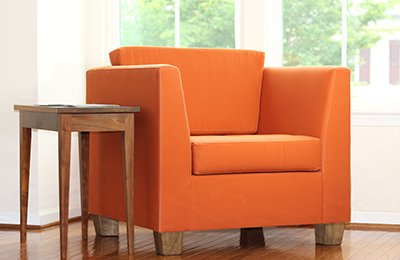 The youngest sibling of our flagship organic sofa, the Verona armchair features simple, modern styling and is suitable for nearly any room.