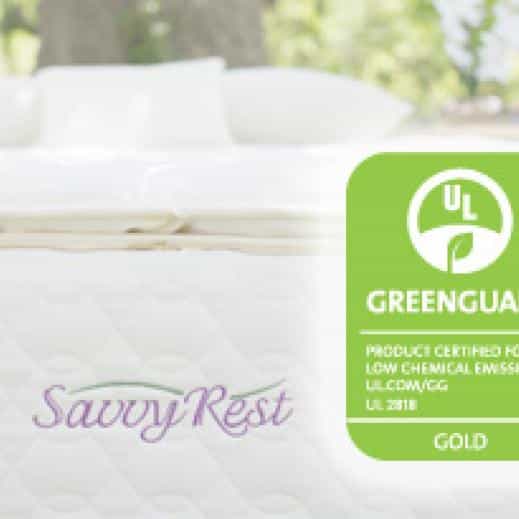 Remember the "UL" label? You might recognize it as the symbol of Underwriters' Laboratories. UL began in the late 1800s as a company that tested and validated the safety of insulation materials. Back then, as electricity spread to more homes, preventing fires was a major concern. Today the UL label still appears on almost all electrical and electronic equipment and appliances sold in the U.S.
With consumer safety at the core of UL's mission, it has been a natural evolution for them to expand their testing programs to new concerns. Since 2009, UL has become more involved in food safety, environmental safety, and other new areas.
UL's Green Moves
Of special meaning to Savvy Rest, in 2011 UL acquired GreenGuard in Marietta, Georgia, and in 2012, the Eco-Institute of Cologne, Germany.
The Eco-Institute originally focused on construction standards and building safety, but over the past decade has also become involved in mattress and building interior safety. Our Dunlop natural latex supplier, Cocolatex, has had their latex tested and approved by the Eco-Institute every year since 2004.
GreenGuard was launched to monitor air quality in children's rooms, and they have since expanded to monitor safety standards for interior furnishings of all kinds, including Savvy Rest natural latex mattresses. We're proud to have met the GreenGuard GOLD standard.
Transparency Standards
At the Interzum conference in Cologne in May, 2013, our production manager Seanan and I met with UL staff. Henning Bloech was one of the key originators of the GreenGuard program in 2001. As he considers the future of environmental issues from both human safety and sustainability perspectives, he notes a few trends:
Environmental Transparency: Organizations will begin to offer what UL calls Environmental Product Declarations (EPDs). An EPD would allow an organization to make a specific environmental statement that is backed up by UL as a third party.
Human Health Transparency (HHT): An HHT certification would allow an organization to make a similar health statement, backed by UL.
Standards will become more consistent across countries as consumers develop higher expectations. For example, if you visit a carpet recycling facility in the U.S. and another in Europe, it's instantly apparent that the European facility is cleaner and safer. These kinds of differences will change with more internationally-recognized standards.
There is more governmental regulation in Europe, and for that reason private industry is less involved in creating new protective standards. In the U.S., the trend is the opposite. Private industry is more interested in developing standards, and government tends to follow behind in endorsing them.
Whether it means "lead, follow, or get out of the way" — we're glad UL is throwing its considerable might into new consumer and environmental safety standards.