So, your spouse snores loud enough to wake up the dead and you're desperately craving sleep.
Or you have two totally different sleep schedules when one of you is an earlier riser and the other wants to stay under the covers.
Or maybe your spouse sleeps hot and spends the night tossing and turning, trying to move as far away from your body heat as possible but never finding relief.
None of these scenarios sound ideal, which is why a popular solution is sleeping separately.
Yes, about 25% of American couples sleep in separate beds, and it might be right for you.
Is sleeping separately bad for marriage?
No, it is not! We all have our own preferences when it comes to sleeping environments, and outside factors like differing schedules and medical issues can also impact sleep.
Married couples sleeping separately (or even new couples sleeping separately) does not mean that the relationship itself is flawed or in trouble.
And contrary to the popular term "sleep divorce," it is not a red flag. As long as both you and your partner agree that it is the best decision for your specific relationship (and you are not simply sleeping in separate beds when angry), then that's all that matters.
What are the benefits of sleeping in separate rooms?
Let's explore the pros and cons of sleeping in separate beds, starting with all the potential benefits.
Feeling rejuvenated in the morning due to an uninterrupted sleep cycle
More alone time to help decompress & feel less stressed
Not hearing your partner snore
Not feeling overheated due to increased body heat
Not being kicked while you sleep (restless legs)
Increased happiness in the relationship when both parties are getting more sleep
Increased sex drive & desire
Honoring your own sleep preferences and the preferences of your partner by sleeping separately (sound machine, using a fan, nightlight, etc).
Valuing & looking forward to your daytime interactions with your partner
What are the potential cons a couple sleeping in separate beds may face?
Some of the potential disadvantages to consider include…
Less time together
Struggling to connect
Growing apart
Feeling left behind
Feeling insecure about your snoring or other sleep issues
Feeling as though sleeping apart is a punishment
Feelings of anger and dissatisfaction
To avoid the vast majority of these cons, communication is key. You and your partner should focus on healthy communication and check-ins with one another to make sure you are always on the same page when it comes to this aspect of your relationship.
Couples who sleep separately also prioritize time with each other before saying goodnight.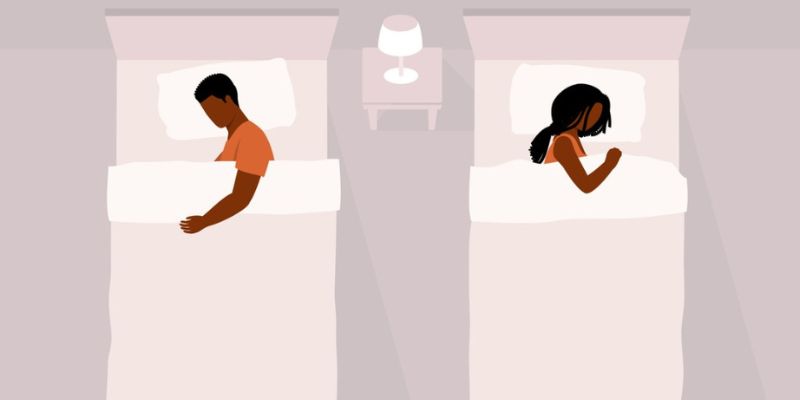 How can we prevent growing apart when sleeping separately?
Here are some ways to keep your connection with your partner strong despite sleeping in separate beds…
Go on a date night once a week
Cuddle before bed
Prioritize a healthy sex life
Spend evenings catching up on each other's day
Listen to each other's needs and show support in the relationship
Value healthy communication
Know each other's love languages
Where does cosleeping with children fit in?
Cosleeping is a divided topic among parents. Some households swear by cosleeping, while other couples want their bedroom to be their own personal space and have their children sleep in another room.
But what happens when your partner wants to cosleep and you don't? This can cause friction without proper communication.
Some couples may decide that one parent will cosleep with the child, while the other sleeps in a separate bed. Perhaps you take turns in this arrangement. This is a very personal choice and the key factor is knowing if this is a healthy decision that BOTH parties agree to. If one feels isolated and ostracized from their partner due to sleeping separately, this will lead to conflict.
Is sleeping separately right for me & my partner?
If you or your partner are struggling with their comfort and sleep quality at night, bring the topic up in a loving, respectful way. Ask if they have ever considered sleeping separately and express that this may be worth exploring. It isn't for everyone, but you don't know until you try.
Sleep is vital for our mental health, and if you are not getting enough, it can impact your well-being, which can trickle down and cause issues within your relationship. There is nothing selfish or problematic about exploring options that can help get you more sleep, and a supportive partner will understand this necessity.
Is there an alternative solution instead of sleeping separately?
If the only issue is that one of you loves the feel of your mattress and the other doesn't, another solution is opting for a customizable mattress where each side can differ in feel. This is excellent for couples with opposite preferences where one person likes a soft mattress and the other wants it firmer.
You can go a step further and get an adjustable bed frame so that you can control the elevation of your side of the mattress. Make sure to get a specific mattress made for an adjustable frame if this is your preference.
We hope both you and your partner get the healthy, comfortable sleep you deserve.