Are you a side sleeper? If you answered yes, this is for you.
When shopping for your bedroom, you want to make sure that you keep your sleep position in mind so that the products you're buying will improve your quality of sleep instead of working against it. Simply buying a pillow that "looks comfortable" isn't enough.
In this blog post, we break down the best pillows for side sleepers, keeping in mind support for the neck, and even highlighting body pillows for side sleepers.
We will also touch upon the best mattress toppers for side sleepers since pressure point relief is so important.
Don't worry–we discuss the best mattress for side sleepers too so keep reading!
Top Pillows for Side Sleepers
The first step when shopping for new bedding is your pillow! We spend about a third of our lives sleeping so our pillow is such a key factor when thinking of healthy, restful sleep.
But how do you know which is the best pillow for side sleepers? We have some excellent options for you…
Pillow for Neck Pain
If you are experiencing neck pain, you will need a pillow that offers enough support. A super plush pillow is probably not your best choice so we recommend the soap-shaped pillow, which is made of organic Dunlop latex and has an overall medium firmness with a touch of give.
Shop the soap-shaped pillow here.
Wedge Pillow
Want more elevation? We recommend a natural Talalay latex wedge pillow that can be used between your knees while sleeping on your side.
This knee pillow for side sleepers can also be used as a head pillow if you are sleeping on your back. Potential health benefits include alleviating acid reflux, post-nasal drip, and snoring.
Soft Pillow
If you love a soft, plush pillow but would prefer an alternative to a down pillow, we highly recommend organic kapok. This plant-based fill is fluffy without any feathers. It is also totally customizable, so you can remove as much of the fill as you'd like to adjust the height and overall feel of the pillow.
Shop the organic kapok pillow here.
Cooling Pillow
If you have a tendency of feeling overheated while you sleep, you will want a cooling pillow. Wool is breathable and won't retain your body heat.
Shop the organic wool pillow here.
Body Pillow
A body pillow will keep your spine aligned and pressure off your hip and shoulder as you sleep on your side. It is also an amazing sleep aid to use during injury recovery or while pregnant.
We recommend using an adjustable body pillow. This allows you to remove some of the pillow fill to change the height and fullness of the pillow which is helpful when working with a body pillow.
Shop this best-selling body pillow.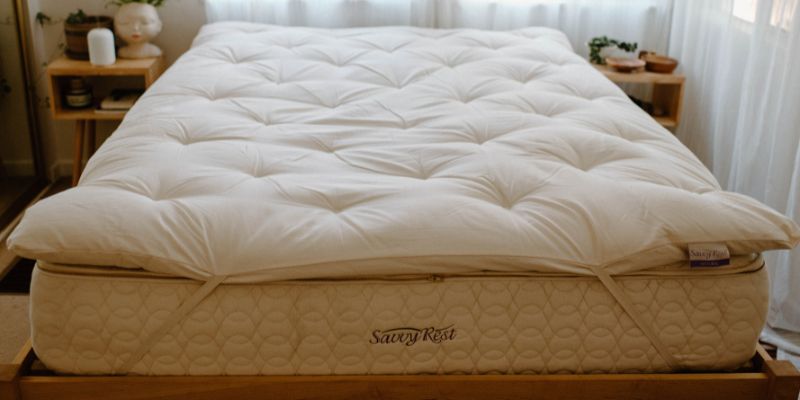 Best Mattress Topper for Side Sleepers
While a mattress topper isn't totally necessary, it can very much benefit side sleepers.
Side sleepers need pressure point relief and the plush softness of a topper gently cradles the hip and shoulder, creating a cozy yet supportive sleep.
Soft Mattress Topper
If you want a plush mattress topper with a hint of softness, we recommend a wool topper. Wool offers that desired softness without sacrificing support, which is critical.
Wool is also great for those who sleep hot since it naturally stabilizes temperature instead of trapping body heat.
Shop our favorite wool mattress topper here.
Mattress Topper for Hip Pain
If you are experiencing hip pain, it may be because your mattress is way too firm. A simple way to combat this is adding a soft mattress topper.
The Vitality mattress topper is excellent for those who like the "hugging" feel of memory foam without any actual memory foam. Instead, it is made of natural Talalay latex that is responsive and has an open cell structure which helps you stay cool as you sleep.
Shop The Vitality topper here.
Best Mattress for Side Sleepers
If you are looking to invest in a new mattress, make sure your mattress isn't too firm. Side sleepers need a hint of softness to avoid hip and shoulder pain, especially if you are on the petite side.
We believe the best organic mattress for side sleepers is made of natural latex and totally customizable so you can create the exact feel that works for your body based on sleep position, weight, potential medical conditions or injuries, etc.
The Serenity mattress is GOTS-certified organic and available in Dunlop and/or Talalay latex. We recommend that the top layer of your Serenity mattress be either Soft or Medium Talalay latex to give you that pressure point relief.
Shop The Serenity mattress here.
We hope this bedding guide leads you to a more comfortable sleep. Enjoy!