Are body pillows good for you? Absolutely! There is a long list of body pillow benefits.
Body pillows are the best pillows for side sleepers because of the unparalleled support and pressure relief they offer.
Here are a few reasons why you should add an organic body pillow to your bedroom.
Benefits of a Body Pillow
1. Proper Body Support for Side Sleepers
Body pillows are a must-have pillow for side sleepers because they offer proper support. While sleeping on your side, you can hug one body pillow in front of you while adding a second body pillow behind you for even more enveloping comfort and support.
2. Pressure Relief on the Lower Back, Hips, & Spine
Place the long body pillow next to you vertically as you lay on your side. Hug the top of the body pillow while the lower part of the body pillow is between your knees. This will allow for pressure point relief as it keeps your spine aligned (another item on our list!).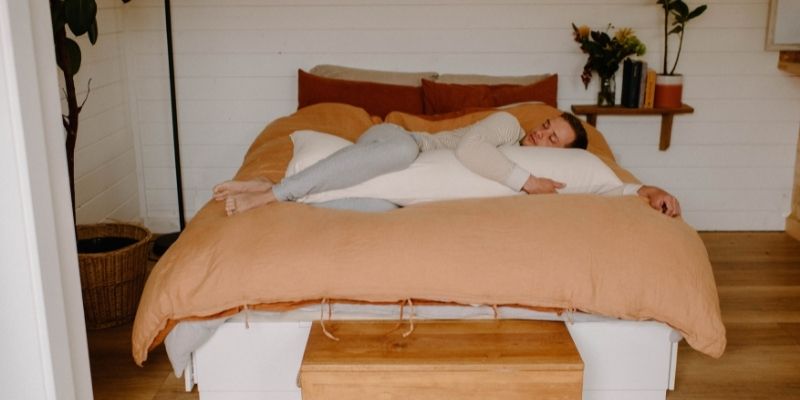 3. Improved Shoulder, Hip, & Spinal Alignment
One of the main reasons why people use a body pillow is to keep their spine aligned. When your spine is out of alignment, this can lead to back pain. While there are different shapes and options when looking for a spinal alignment pillow, we highly recommend considering a body pillow since it is multi-functional when looking at overall benefits.
4. Relaxation of the Muscles Along the Spine
Your body naturally relaxes when using a body pillow, leading to an incredibly comfortable sleep.
5. Prevent Tossing & Turning
Body pillows help prevent tossing and turning, which is a lot of times due to hip pain from lack of pressure point relief. Body pillows are definitely considered a pressure relieving pillow and can absolutely help alleviate this problem.
6. Improved Weight Distribution & Blood Circulation
When sleeping on your side, most of your weight is held by your hip and shoulder. However, adding a body pillow to your sleep routine allows for that weight to be more evenly distributed. Also, using a pillow between your legs slightly elevates them, which encourages blood flow.
7. Lessen Snoring
Body pillows are known to help lessen snoring through extra elevation and encouraging you to sleep on your side.
If you can't stand the thought of sleeping on your side but want a pillow that can address snoring, we recommend a latex wedge pillow.
8. Versatile Sleep Aid for Injury Recovery
A body pillow can be very helpful when recovering from a leg, hip, or back injury because of its pressure-relieving qualities, added elevation, and its ability to keep you sleeping throughout the night without tossing and turning.
9. Additional Support During Pregnancy
While not officially labeled as a pregnancy pillow, a full body pillow can absolutely be used for extra support during pregnancy! Growing mamas will seriously appreciate the comfort they feel from a body pillow. There are several pregnancy pillow benefits that mirror the same benefits as any side sleeper using a body pillow (pressure point relief, less tossing and turning, improved blood circulation, etc). It's especially important to sleep on your side during pregnancy, which the body pillow is designed for!
If you're searching for the benefits of an organic pregnancy pillow, we encourage you to consider a Savvy Rest body pillow. See all the options below!
What Savvy Rest Recommends
Savvy Rest recommends using an organic body pillow rather than synthetic materials such as memory foam. We believe this is the healthiest (and most comfortable) option!
Savvy Rest carries FOUR body pillows that are all totally customizable, meaning you can remove as much of the fill as you'd like to adjust the height and overall feel of the body pillow. We intentionally overstuff our pillows so you have plenty of fill to keep for later!
Check out each body pillow below & pick your favorite!
Choose an Organic Body Pillow That Suits Your Body