The Savvy Rest woodshop is located right down the road from our headquarters in picturesque Charlottesville, Virginia. We emphasize the value of quality, American-made products. Our skilled woodworkers work diligently to design and create sophisticated and sturdy furniture for our customers.
I'm lucky to own several Savvy Rest products, and while I love them all, there is something particularly special about the Esmont platform bed. It's not just that it's aesthetically pleasing with a stunning maple headboard, or that it's safe with zero-VOC finishes (I opted for linseed oil). I think the number one reason why I love it so much is that I know it was made with talent and care. It's sad to say that not all platform beds, or furniture pieces in general, are made with that same attention to detail and impressive craftsmanship. I had the opportunity to venture away from my familiar keyboard for a day and spend time in our woodshop. Here's what I noticed.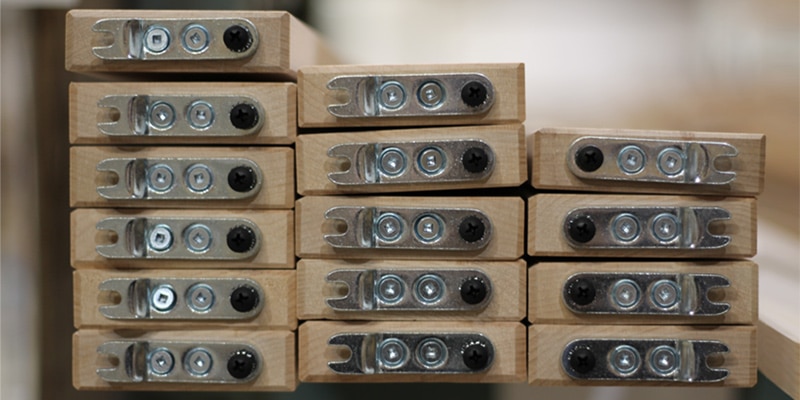 The woodshop is stacked with gorgeous maple and poplar wood that is sustainably sourced from the Appalachian region. We have five woodworkers who cut, sand, and stain the wood. The final product? Beautiful furniture that is made to last for generations.
Judd, our product designer and manager of the woodshop, showed me the various machines used, from a dual drum sander (which cleans the surface of the wood and preps it for the final sanding process) to the Festool Domino XL (which makes floating tenons quickly and accurately). I was particularly impressed with the SawStop table saw because it includes a safety stop meant to prevent any serious injuries. The safety elements of our machinery are just as important as their performance.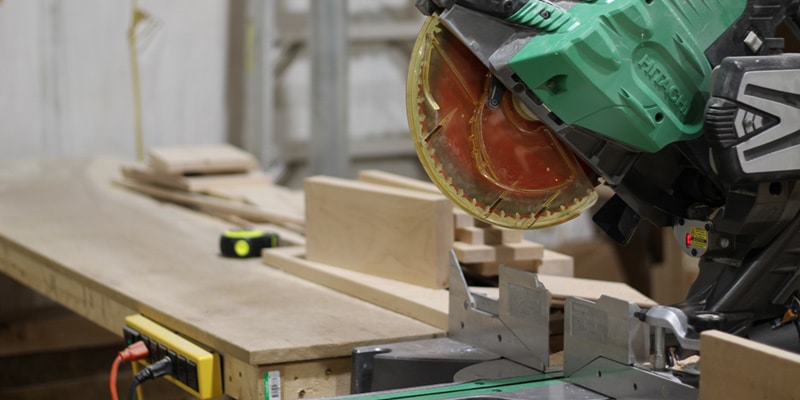 One aspect of my Esmont platform bed that I love is how small knots and darker spots of the natural wood add character to the piece. It's not a completely uniform look like what you would see with a piece of furniture that is manufactured on a much larger and less personal scale. This is why natural materials completely dominate synthetics. Not only are they healthier for you in general because they don't emit harmful chemicals, but they're also works of art with their own specific grain pattern and personality. It was nice to see this on a grander scale by looking at all different pieces of wood.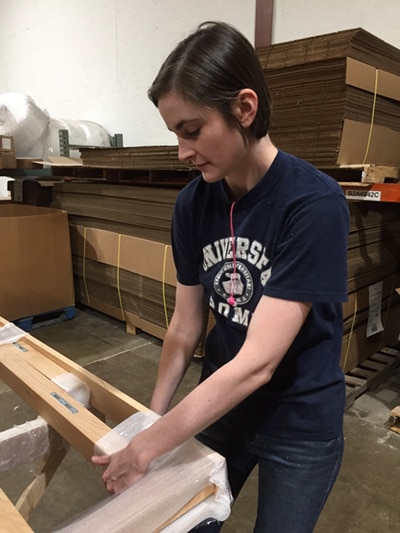 I even had the opportunity to stain a head slat that will be used in a customer's Esmont platform bed. Leah, one of our woodworkers, stained her slat with me so I could see how to properly cover the wood with its walnut finish. She told me to go in circular motions as I distributed the stain throughout the piece of wood. I then turned it on its side and continued until every inch of the slat was stained this deep, dramatic hue. Leah then took my slat and placed it on a drying rack. The slats dry for at least 24 hours before being packaged.
Every single Esmont, Afton, and platform bed insert that we make is assembled by our woodworkers first to make sure that all the slats fit into place. If there is an issue with a mortise and tenon joint, or there is a crack in the wood, we want to know this before sending it off to our customer.
After the item is assembled properly, it is then taken apart and shipped safely to its new home. Most furniture companies don't take the time to individually test their products. They simply gather all the parts (a lot of which are made with particle board and toxic glues) and then ship them off without knowing for sure if the product can be assembled smoothly. When you purchase furniture from a "mainstream" manufacturer, the piece will not have the same natural materials, and will most likely lack in durability since its not constructed with longevity in mind.
I'm also impressed with our woodshop's turnaround time. Our platform beds are shipped in 1-2 weeks. As I researched other high-end options that are similarly constructed, the wait time can be 4 weeks, and sometimes even 8-12 weeks.
I'm sure I'll return to this corner of the Savvy Rest world soon, but until then, I'll snuggle up with my organic kapok pillow atop my favorite platform bed.
Learn more about our natural and organic products