Welcoming a child into the world is one of the most incredible and exciting experiences in a person's life. Your baby shower might make you think you have all the essentials, but there are other things to consider when putting together the perfect nursery.
It's important to add only the best organic and natural materials to your baby's room. Products should be durable and useful, but it's crucial that you ask yourself: How was this product made, and what exactly is it made of?
We've compiled a list of products below that are made with high-quality, safe materials for your baby's non-toxic nursery.
Savvy Baby™ Mattress
Every baby needs a mattress to sleep on, but have you ever thought about what is in your typical, mainstream mattress? Chemical flame retardants and synthetic materials often linger in mattresses. These toxins attach to dust particles that you and your family breathe in and can eventually lead to health issues such as obesity, developmental brain disorders, and cancer.
Our GOTS-certified organic Savvy Baby™ crib mattress is made of natural materials that are safe for your child. This organic crib mattress includes the Savvy Rest mattress casing, made with organic cotton and organic wool batting. The wool acts as a natural flame barrier, so we follow federal fire regulations without using those nasty chemicals. Inside the casing is a solid 5" layer of organic Firm Dunlop latex. It's important that a baby mattress is firm to avoid the child sinking into the mattress. A soft crib mattress is dangerous for an infant since it can lead to suffocation.
Prefer natural Talalay latex? We also offer the Savvy Baby™ Talalay crib mattress, which is GOTS-certified organic as a finished product.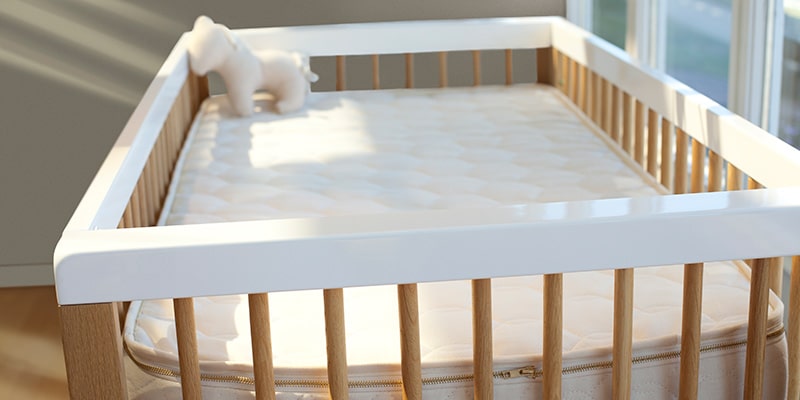 Natural Mattress Protectors
It's important that your baby's mattress is protected since accidents are going to happen! We have a couple different options.
The Savvy Baby natural wool mattress pad includes a densely woven design which helps resist moisture. The high-quality, natural wool we use is soft and cozy, making this mattress pad the perfect addition to your little one's sleep oasis.
If you want something completey waterproof, we recommend our organic waterproof crib mattress protector. This protector is available in all standard mattress sizes so you can even purchase one for your own mattress!
Waterproof mattress pads are ideal, especially when it comes to babies and small children. The inner fabric of our waterproof protector has specific waterproofing properties, thickness, and pore size that stops liquids from coming into contact with the mattress. Our mattress protector is never produced with flame retardants, formaldehyde, PFCs, pesticides, or any other harmful chemicals.
Oeuf Crib
Savvy Rest is proud to carry The Oeuf Crib because of Oeuf's high environmental and safety standards. Made from finishes that are free of VOC health hazards, their cribs are a great option for those seeking non-toxic furniture. Unfortunately, there are plenty of cribs on the market made with wood covered in chemically-treated finishes and harsh lacquers. These types of chemicals aren't even safe to work with, so they're definitely not conducive for a nursery.
The Oeuf Crib is GREENGUARD GOLD certified, which gives parents peace of mind. In order to earn this impressive certification, a product must meet low chemical emission standards and follow rigorous health standards in regards to the population's most vulnerable (newborns and the elderly).
Learn more about The Savvy Baby and accessories
Organic Body Pillow (For Mom!)
Our organic body pillows come in four different fills—organic kapok, natural wool, natural wool/latex blend and natural shredded latex. The body pillow is great for new moms to use, both while nursing and sleeping. They are even an excellent alternative for a traditional pregnany pillow if you ever need one in the future! Make sure to also add the organic body pillow waterproof protector to your cart to keep your body pillow looking new!
There are many ways to use the body pillow while nursing. You can prop the body pillow behind your back to give yourself some extra cushioning and support. You can also put half of the pillow behind your back and wrap the other half around you so that your baby can comfortably rest on the pillow while you're nursing. The third option is to place the entire pillow in front of you so that Baby gets the whole thing to him/herself!
Use the body pillow to keep your spine in alignment as you sleep on your side. Keep it placed between your knees as you hug the top. This will stop you from tossing and turning, as well as twisting into an uncomfortable position.
We hope Baby and Mommy enjoy their healthy, non-toxic nursery. Now that you've filled the space with safe and comfy products, you can also fill it with priceless memories.
Choose an Organic Body Pillow That Suits Your Body