Our homes should be a place where we feel safe and comfortable but what if there are chemicals lurking about that we aren't aware of? In most homes, this is the case.
Not everyone thinks about what's in their sofa or what toxic chemicals are behind that beautiful poppy yellow paint color. It may be bright and cheery to look at but what you're breathing in isn't.
This blog post will take a look at indoor air pollution, which products are positive additions to a "green" home, and what it means to be eco-friendly.
What is "Eco-Friendly?"
According to Merriam-Webster dictionary, eco-friendly means "not environmentally harmful," but we can go a little deeper.
First, it's important to think about the manufacturing process of a product. Was there an excessive amount of water used when creating it? If fabric is involved, is it organic? Or perhaps recycled deadstock fabric to reduce the amount of waste? Were there chemicals used?
It's also worth thinking about certifications. In the mattress industry specifically, looking for certifications such as GOTS (Global Organic Textile Standard) and GOLS (Global Organic Latex Standard) will help you find a mattress that has high standards when it comes to material purity and safety. We will discuss certifications more later!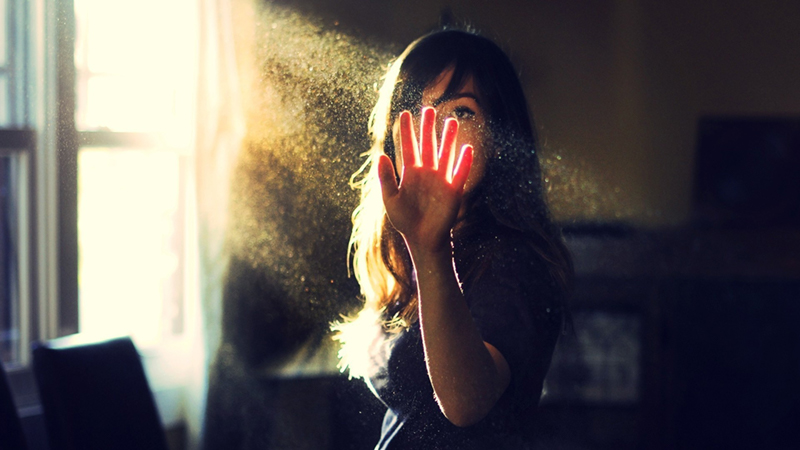 Indoor Air Pollution
Everyone deserves to breathe clean air.
Indoor air pollutants can be dangerous. The United States Environmental Protection Agency discusses alarming health effects.
Some symptoms, such as ear, nose, and throat irritations, along with headaches and fatigue can be short-term and completely treatable.
However, other exposures to contaminants may not manifest themselves for years and can lead to long-term health issues such as respiratory diseases, heart conditions, and even cancer.
But what could these indoor air pollutants be? Carpet, new flooring, household cleaning products, and a fresh coat of paint are just a few. This is why we opt for organic fabrics and zero-VOC stains for our furniture pieces. VOC stands for volatile organic compounds.
In a Journal Now piece titled, "Silent Dangers: Traditional Paints, Solvents Emit Harmful Toxic Chemicals," xylene, ethyl acetate, and formaldehyde are just a few of the chemicals mentioned in this toxic concoction. But the dangers are not simply in the paint itself.
Harmful chemicals from your mattress(es) and furniture may be floating all around you. Here's what you can do to avoid them.
Toxic Dust
It's impossible to have a home completely free of dust, even if you're always cleaning. And as the video above describes, these dust particles are more harmful than most realize.
Chemicals off-gassing from synthetic foams, fabrics, paint, finishes, and carpet float throughout the home. These chemicals latch onto dust particles as if magnetically pulled to each other.
Babies and children are especially at risk since they absorb nearly five times the amount of dust as adults.
Certifications
So, what can you do? One of the biggest things is looking for certifications.
Savvy Rest offers organic mattresses that are completely GOTS-certified, something that the vast majority of mattress companies do not offer. This doesn't simply mean that one component of the mattress is GOTS-certified. The entire product as a whole has met the rigorous standards of GOTS, giving families peace of mind that their mattress is safe for the home and has been manufactured responsibly.
The Dunlop latex we use is GOLS-certified (Global Organic Latex Standard) and the Talalay is both Cradle to Cradle Gold and FSC-certified.
For more information on these certifications and more, visit our certifications page.
Learn more about our natural and organic products
Products for an Eco-Friendly Home
Here are a few products to switch to when transitioning to a more eco-friendly home environment.
Natural Cleaning Products
Switch out your old dish soap and laundry detergent for natural options. These cleaners are coming in direct contact with your skin and are used on a regular basis.
An easy cleaner for your sink and counters is vinegar! Mix white distilled vinegar and warm water and you're done.
Here's an excellent DIY recipe if you'd like a cleaner with a citrus scent.
Organic Sofa
We spend more time then we'd like to admit lounging on the sofa in our living room. This is even more reason to make sure that it's non-toxic. Check out our organic sofas, loveseats, and armchairs made of natural latex, organic wool batting, and your choice of organic cotton, hemp, or a blend of the two.
Bamboo Toothbrush
This may sound random but opting for a bamboo toothbrush instead of a traditional plastic one is a super easy step in your eco-friendly journey.
Plastic toothbrushes can be found scattered in landfills, on beaches, and even in our oceans.
Make sure to choose a brush with plant-based bristles instead of nylon! We recommend Brush with Bamboo.
Organic Mattress
We spend a third of our lives sleeping so making sure you're sleeping on a safe, organic mattress is crucial.
Shop our organic mattresses. The favorite among our customers is the Serenity!
Organic Pillows
Not ready to switch out your mattress just yet? That's okay but at the very least, you should switch to an organic pillow. We have several options, most of which are completely customizable.
Are You Ready?
We think you are. The journey towards a more eco-friendly home is not a race but a step-by-step process. It's about doing your research and making those small changes that have a big impact. We wish you luck!