A major focal point of a living room is the couch. It's the piece of furniture you'll lounge on while watching TV or reading a good book. Or perhaps you'll doze off on occasion (or regularly) after a long day because you don't feel like climbing the stairs to your bedroom just yet.
Regardless of what your daily routine looks like, your furniture should not only be aesthetically pleasing and comfortable but safe as well. Opting for organic and natural furniture means staying away from synthetic fabrics, toxic chemicals, and harmful off-gassing.
Learn why a low-VOC couch is a worthy addition to your home.
What are VOCs?
VOC stands for volatile organic compounds. According to the United States Environmental Protection Agency (EPA), these compounds are emitted as gasses and can impact indoor air quality. They can be found in furniture, cleaning products, paints, finishes, and more.
Some of the potential negative health effects from exposure to VOCs that the EPA lists are…
Sore throat
Headaches
Nausea
Skin irritation
Eye and nose irritation
Fatigue
Dizziness
Damage to liver & kidneys
Damage to the central nervous system
Although we can't see these harmful chemicals, they are lingering in homes across the country and are ingested into our bodies daily.
These chemicals latch onto tiny dust particles in the home and it is these dust particles that we inadvertently breathe in.
Did you know that babies and young children absorb even more of these dust particles than their parents? About five times more.
Watch the video below to learn about "toxic dust" in the home
Harmful chemicals from your mattress(es) and furniture may be floating all around you. Here's what you can do to avoid them.
Is my sofa toxic?
If your sofa is filled with polyurethane or memory foam, covered in synthetic fabrics or cotton that may be treated with pesticides, and includes finishes that are not low or zero-VOC, then it may not be the best piece for your home.
How to Avoid VOCs
When shopping for new furniture, it's important to look for natural fabrics such as organic cotton or organic hemp. For the core of the couch, natural latex is a perfect alternative for chemically-treated foams. It's also comfortable, breathable, and supportive.
Natural maple or pine that is treated with either low-VOC or zero-VOC stains is preferable to plywood and mainstream chemical stains.
Finally, it is always imperative to opt for furniture that is free of chemical flame retardants. Individual components should not be chemically-treated, nor should the entire piece as a whole.
Learn more about chemical flame retardants.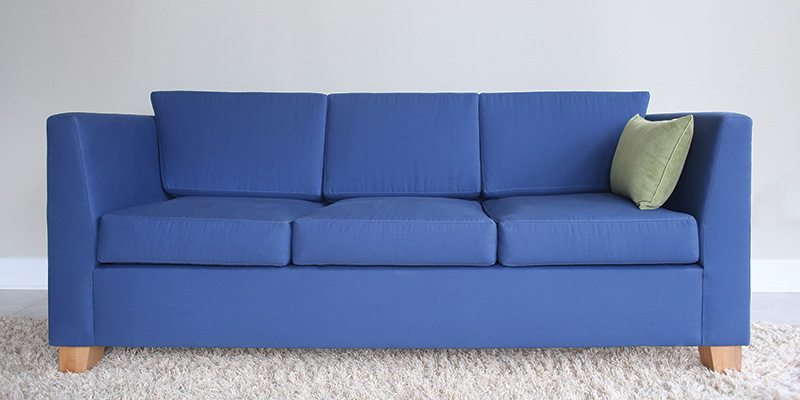 Healthy Alternatives
Savvy Rest offers organic sofas, loveseats, and armchairs made of natural Talalay latex, organic fabrics, sustainably-sourced maple hardwood, and zero-VOC stains.
Not only are our furniture pieces healthy and safe but the modern shape is elegant and sleek. Savvy Rest furniture proves that natural alternatives don't have to lack in style.
We also offer natural hardwood coffee tables and benches that are carefully crafted using the same sustainably-sourced maple.
Upgrade your living room. Shop now!
Learn more about our organic furniture