Environmentalism and an overall concern for our planet have become more and more pressing in recent years. This passion for eco-friendly living has shifted the focus of commercialism and the types of products consumers want to bring into their homes.
While unfortunately not every company out there has changed their perspective, plenty are determined to make a positive impact in whatever way they can.
What is a Green Mattress?
A green mattress is a tricky thing to define. The term "green" is completely unregulated and therefore misused at times, which is why it's important to do your homework when shopping. Interpretations of "green" vary, so a product that one person views as "green" may not live up to another person's standards.
There are several factors to consider when looking specifically at the mattress industry. What materials are being used? Is the product healthy? Is the company doing everything they can to be environmentally friendly?
Below are a few key points to keep in mind when searching for your cozy oasis.
Look for the Best Certifications
Knowing which certifications a mattress holds and what exactly those certifications mean is critical when mattress shopping.
Our Serenity, Tranquility, and Unity mattresses are certified organic according to GOTS (Global Organic Textile Standard), one of the most distinguished and recognizable certifications in the industry. Some mattress companies may use certified organic cotton in their casing, but don't have their entire product certified. We wanted to go the extra mile and offer a mattress that is completely certified.
Explore our best-selling layered mattress options
Our mattresses are also GreenGuard GOLD certified. The GOLD-level certification means our mattresses meet strict low chemical emissions requirements and are safe for the most vulnerable populations (children and the elderly).
We have several other certifications to be proud of. Learn about them here.
Meeting the high standards of these third-party certifying bodies shows initiative and a dedication to offering organic and healthy products that are safe for both people and the planet.
Choose Organic Materials
Organic and natural materials are another must-have when mattress shopping. Toxins from manufacturing synthetics can end up in water supplies, and employees handling synthetic materials can have adverse reactions over time through breathing in harsh chemicals. These mattresses eventually end up in landfills, off-gassing and causing issues years after you're done sleeping on them.
Savvy Rest organic mattresses are made with…
Certified Organic Cotton
Our mattress casings are made with 100% certified organic cotton. The cotton industry is known for its heavy use of pesticides. These harmful chemicals have serious consequences to both indoor and outdoor air.
You don't want to eat an apple that has been sprayed with chemicals, so why would you want to spend 8 hours a night on a toxic mattress?
Breathing in and having close contact with these toxins can lead to a vast array of health issues, such as infertility, developmental brain disorders, and even cancer.
Certified Organic Wool
We use certified organic wool batting as a natural flame barrier instead of chemical flame retardants.
Wool also promotes air circulation if "sleeping hot" is a concern of yours. We offer several wool products, from pillows to toppers.
Natural Latex
Our organic mattresses are made with natural latex instead of memory foam because natural latex is the healthier (and more comfortable) option.
Savvy Rest offers two types of latex: Dunlop and Talalay.
We compare Dunlop to pound cake since it has an overall firmer feel and provides incredible support.
Talalay is the softer of the two types of latex. We compare it to angel food cake because of its light and luxurious feel. Talalay is wonderful for side sleepers since it's responsive and pressure-relieving.
Both Dunlop and Talalay are available in Soft, Medium, and Firm densities, so you can mix and match layers to create the perfect mattress for your needs.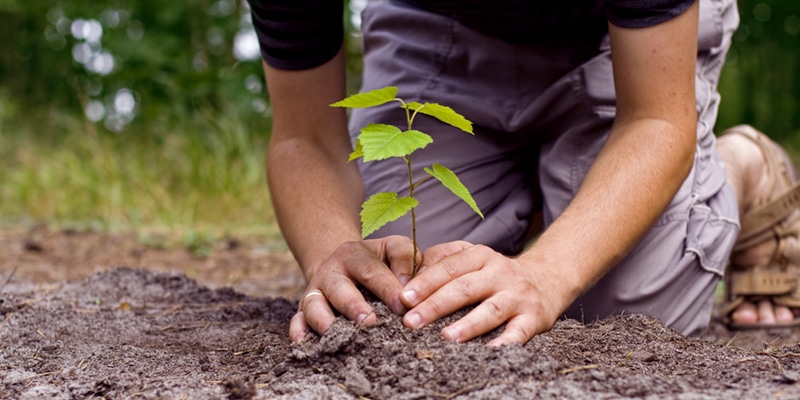 Find a Reputable Company
While the materials and quality of the product itself are the most important factors to consider when mattress shopping, it's also worth researching a company's environmental passions and policies.
Savvy Rest is an employee-owned company AND a certified B Corporation. Every business needs to think about profit—this is an unavoidable truth. But profit isn't our only goal. We also focus on how our products and business as a whole can benefit our community, our customers, and the planet.
We've helped plant over 13,000 trees through our partnership with American Forests, the nation's oldest nonprofit conservation organization. Learn more about the American ReLeaf program.
We also have a mattress recycling program for our four Savvy Rest Natural Bedroom locations. When we deliver a Savvy Rest organic mattress to a customer, we take their old mattress off their hands for free and recycle it through Nine Lives Mattress Recycling. We try to avoid landfills, one mattress at a time. Learn more about this process.
The Green Light
Now that you know what to look out for, it's time to start shopping! Hopefully, this blog post has given you a new perspective when thinking about what "green" really means. We hope you get some eco-friendly zzz's soon. Sweet dreams!