Welcome to Savvy Rest Natural Bedroom
We appreciate your visit! Keep scrolling for more information about our customizable organic mattresses, bedding, and furniture. Or give us a call at 434-817-4044! Our store hours can be found at the bottom of the page.

Locally Manufactured, Just For You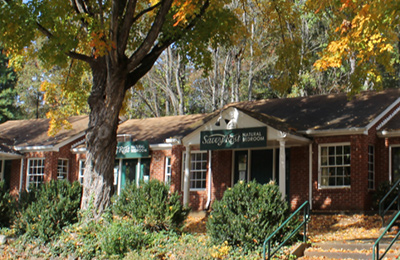 Our store is just outside Charlottesville on Route 250 West. We're open six days a week!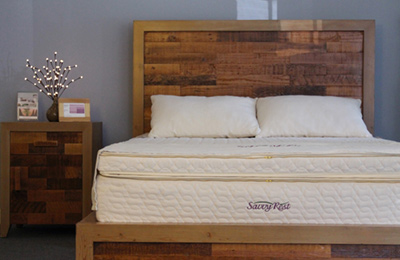 Check out our locally-manufactured organic mattresses and natural platform beds!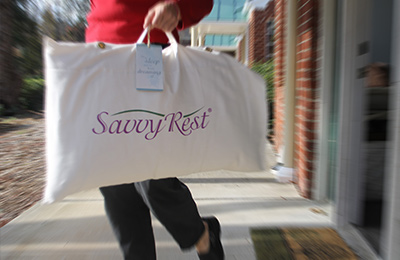 We also offer a full line of customizable organic pillows and bedding.
Why buy an organic mattress?
You want an eco-friendly mattress that won't undermine your health, and you know that most conventional mattresses contain toxic chemicals. Savvy Rest certified organic mattresses are made with natural, organic latex (natural rubber foam), certified organic wool and certified organic cotton.
Our GOTS-certified organic mattresses are made with layers of Soft, Medium or Firm natural latex foam rubber, in a wide range of custom combinations. We create personalized comfort for each sleeper—and for couples, we can customize each side. The core components are layers of natural Dunlop or Talalay latex foam. The casings are made of pure organic cotton with organic wool batting quilted inside. NO chemical flame retardants, pesticides, bleaches, dyes or other toxic finishes are used. We also manufacture a natural innerspring, an organic wool-filled mattress, organic bedding, and luxurious organic mattress toppers.
Explore our best-selling layered mattress options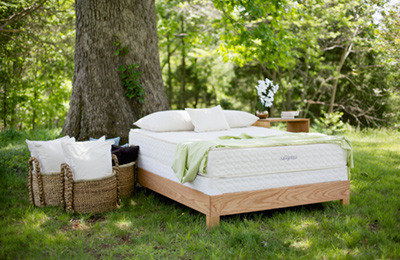 Our flagship natural mattress is customized with your choice of Soft, Medium and/or Firm latex. Choose Dunlop, Talalay, or both!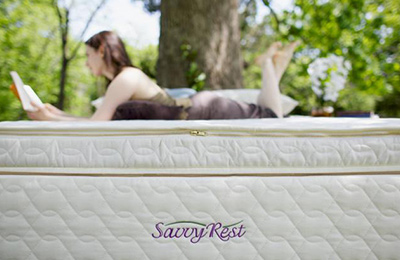 The Unity Pillowtop has four 3″ layers: it is simply the 3-layer Serenity organic mattress with the Harmony latex topper on top for added luxury.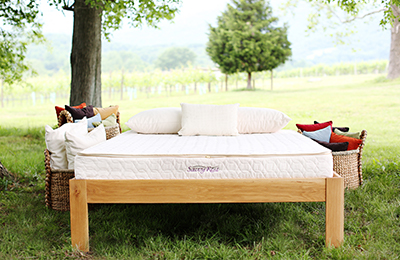 The Tranquility is made just like the Serenity, but with two 3″ layers of natural latex. It's a good choice for toddler beds, bunk beds, or smaller adults.
Create an organic mattress to meet your needs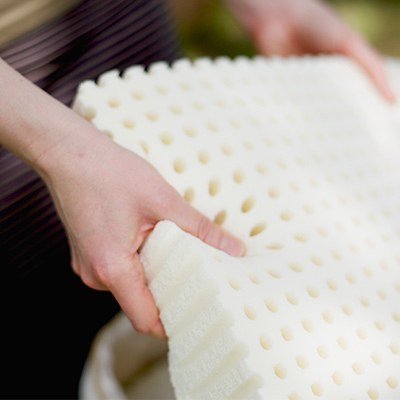 Choose supportive Dunlop or cradling Talalay—in combinations of Soft, Medium, and/or Firm—to create the perfect feel for your body.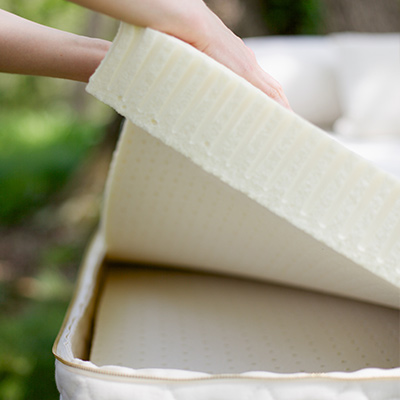 Layers of natural latex are placed inside our certified organic mattress casing to create to truly customized sleep experience.
Why natural latex?
You want an organic mattress that's also comfortable and durable. Natural latex is responsive, pressure-relieving, resilient, and lasts for decades.
True natural latex, without synthetic latex or fillers blended in, is simply natural foam rubber.
Unlike most other foams, natural latex breathes, which discourages the buildup of moisture and heat in the mattress interior.
Latex does not transfer motion the way most conventional innersprings do, so you can say "goodnight" to bouncing in your partner's wake.
Most natural latex mattresses last as long as two or three traditional mattresses while keeping their shape and wonderful resilience.
Order samples of our Dunlop and Talalay latex.
Why Savvy Rest?
Support an employee-owned B Corporation! We provide the best service in the industry. We ship promptly. We offer clear and comprehensive information about organic mattresses to help you make a knowledgeable choice. We share certifications for all our materials. We also offer a 90-day comfort exchange, so you can alter the "feel" of your mattress.
Customizable design
Each Savvy Rest organic mattress is made of Soft, Medium and/or Firm layers of all-natural latex, Dunlop or Talalay, custom-combined to create a personalized fit for your body. The quilted organic cotton casing contains organic wool batting, a natural flame barrier. With this wool, Savvy Rest meets federal fire regulations.
Mattress chemicals and certifications
Most conventional mattresses contain a variety of toxic chemicals (VOCs and chemical flame retardants) that have been linked to serious health issues, including cancer and developmental brain disorders. The best way to verify the healthfulness of a mattress is to ask about mattress materials and view a company's third-party certifications.
No toxic flame retardants
Mattresses must pass the flame test imposed by California Technical Bulletin 117. Conventional mattresses use toxic chemicals to pass this test. Some companies will use a natural material to hide the use of such chemicals. Savvy Rest organic mattresses use only organic wool—no toxic flame retardants.
Find Your New Mattress Today
Visit us in Ivy and we'll help you create the locally-made, organic mattress of your dreams.