Transitioning to an organic bedroom is an incredibly exciting and rewarding experience. By ridding your home of synthetic products and opting for natural options, you're taking control of your health and recognizing that you deserve more. It's not an overnight process, but one that takes a bit of research and patience.
Luckily, our website is filled with loads of information about the benefits of our organic products, and how they can positively impact your health and overall happiness.
At Savvy Rest, we emphasize the importance of investing in quality bedding products that are safe and durable. It's not simply about purchasing an organic mattress, though that should certainly be your number one priority. It's about looking at the bigger picture and truly examining the items you're using.
If you're struggling to figure out exactly what you should focus on, we've got you covered. Here are the five Savvy Rest must-haves (if you really have to limit it to five, that is).
1. Serenity Mattress
If you can only afford one item in your bedroom to swap out, make it your mattress. An organic mattress is the foundation of a natural bedroom. Say no to memory foam and polyurethane foam. Instead, choose a mattress that will greatly benefit your quality of sleep, and has achieved the highest certifications.
The Serenity is our most popular GOTS-certified organic mattress. This all-latex mattress is customizable, meaning you can choose the type of latex (Dunlop and/or Talalay) and the density (Soft, Medium, and Firm) of each layer of your mattress. That's right—you essentially design your own mattress based on your specific needs. We're quite good at figuring out which configuration will work best for you, so no worries if you need some guidance.
The Serenity does not contain chemical flame retardants or any synthetic materials. The casing is simply certified organic cotton with certified organic wool batting woven inside, acting as a natural flame barrier. We have incredibly high standards when sourcing materials, and this gives our customers peace of mind.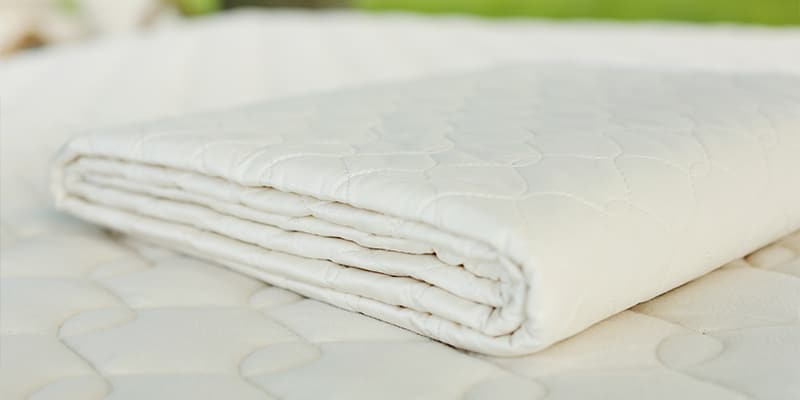 2. Cotton Mattress Pad
We highly recommend protecting your Savvy Rest organic mattress. If you're looking for an option that is simple yet effective, our cotton mattress pad will do the trick.
Made with organic cotton, this pad will add an extra layer of cushioning while also providing a barrier between you and your mattress. Most conventional mattress pads are made with completely synthetic materials or bleached cotton. Don't cover your new, beautiful organic mattress with that! Opt for something natural instead.
3. Platform Bed Insert
It's important that your mattress is on a proper foundation. The Serenity, for example, needs to be on slats 2-3 inches apart for two major reasons: (1) to support the weight of the latex, and (2) to promote air circulation. This is why we never recommend using a box spring. Box springs lack durability and aren't constructed in a manner that allows for airflow.
If you already have a bed that you'd like to use but it doesn't have the necessary slats, you can opt for our platform bed insert! This incredibly useful product is hand-built in Charlottesville, Virginia by our own Savvy Rest woodworkers. The untreated maple and poplar insert fits inside your existing bed frame, and does not require any tools to assemble. You can even place it over a platform bed if you're looking for more height.
Looking to replace your old bed frame with a natural platform bed? We have options.
4. Organic Kapok Pillows
Your organic oasis would not be complete without our most popular pillows.
Kapok is a plant-based material that derives from seed pods. It's known for its incredible softness and is the perfect substitute for a down pillow.
The best element about this cozy pillow is that it's customizable, so you can unzip the inner and outer organic cotton casings and take out as much of the organic kapok fill as you'd like! This allows you to adjust the height and overall feel of the pillow.
You'll find yourself bringing this pillow with you on road trips since you won't want to part with it during your travels!
5. Natural Savvy Woolsy
Okay, a topper isn't necessarily a must-have, but it's a luxury that is absolutely worth every penny. Our Natural Savvy Woolsy topper is made with domestically-sourced wool that is free of harmful chemicals. Wool is known for its ability to promote air circulation, which means it won't cause you to sleep hot. This is one of many reasons why we love using wool in our products.
The Savvy Woolsy is covered in certified organic sateen fabric. It's cozy, but more importantly, free from the pesticides that lurk in mainstream cotton products. This comfy topper will add a touch of extra softness to your mattress, aiding in pressure point relief.
Start Shopping
Everyone loves a good shopping spree, especially if that shopping spree is about improving your health and comfort. Sweet dreams!