Blankets are a must-have in every home but it's important to get the correct size!
Whether you're looking for the right throw blanket size for cuddling up while reading on the sofa, or a larger blanket to have in your bedroom on cold nights, here are some helpful blanket sizes that you can refer back to when shopping.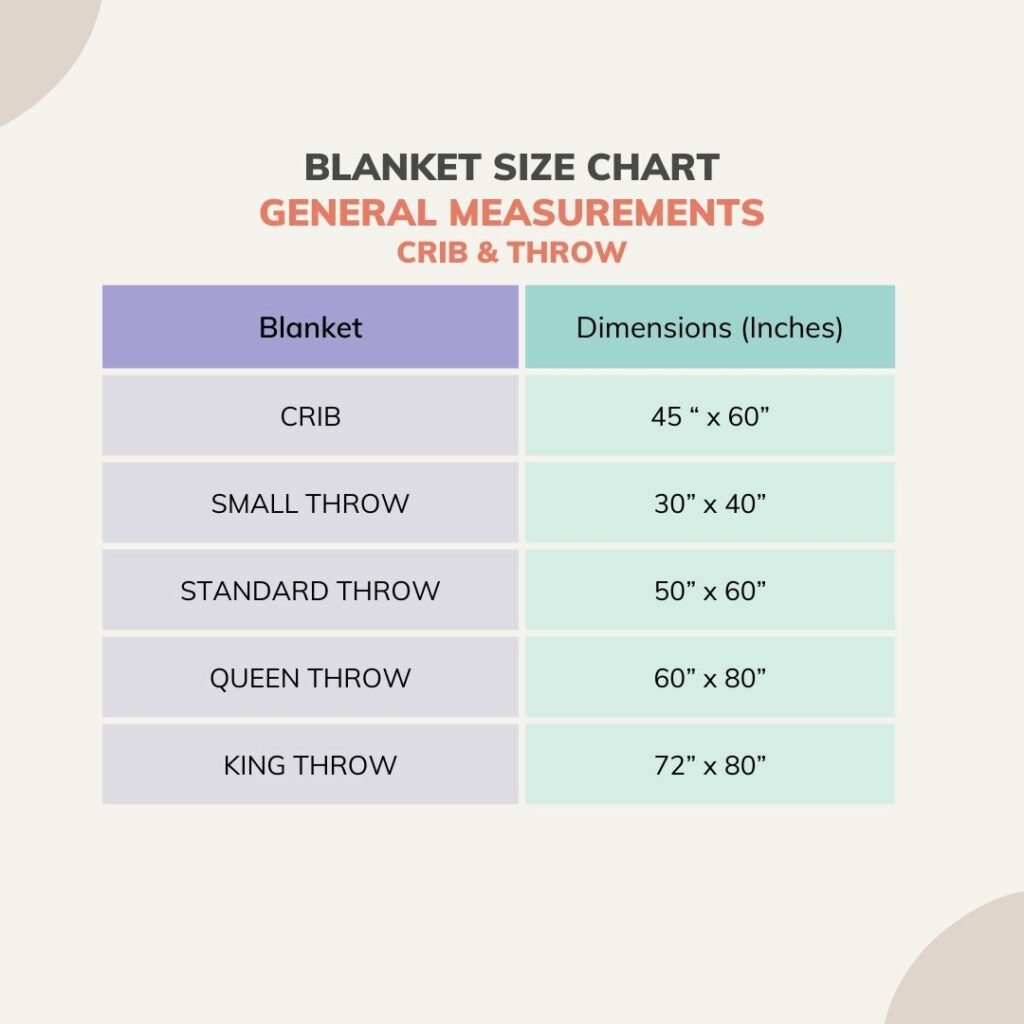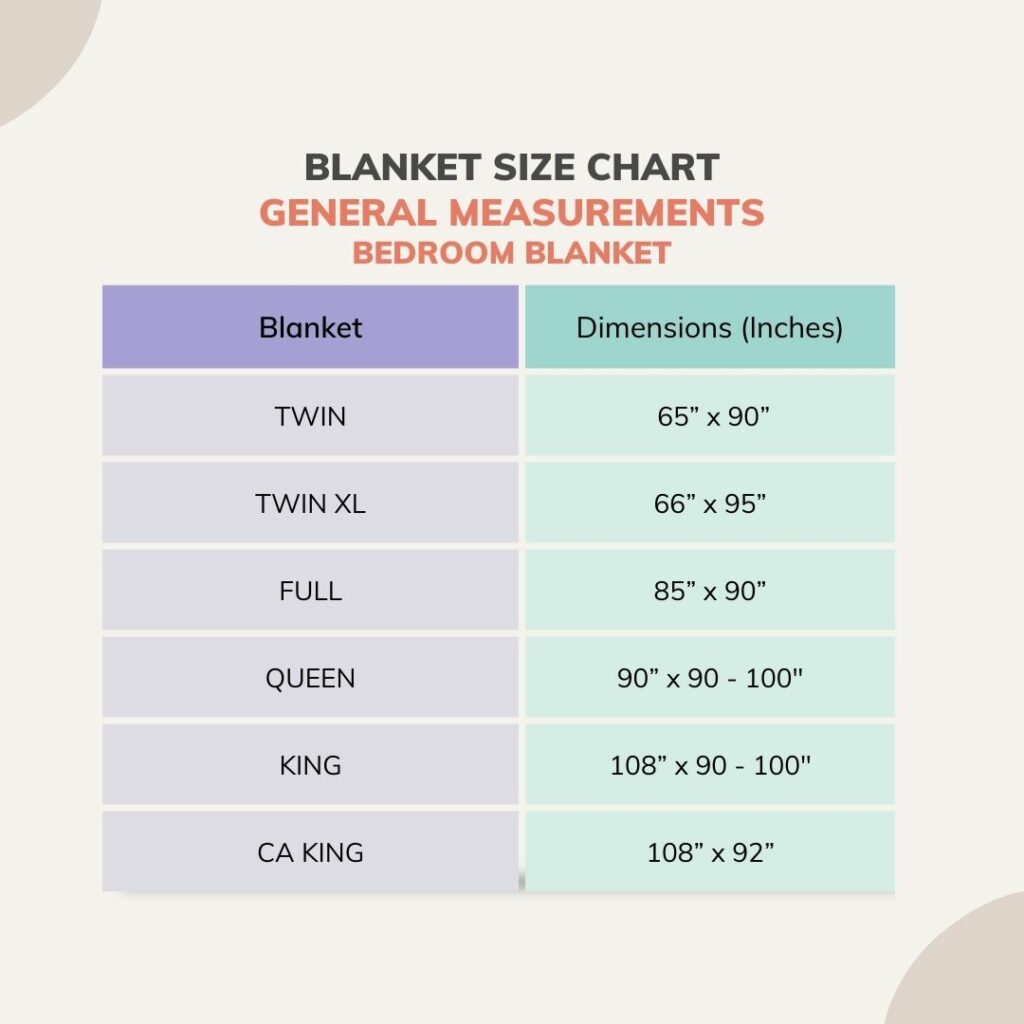 Blanket Size Chart
*Please note these measurements are approximate and do not match every manufacturer's sizing.
CRIB: 45″ x 60"
SMALL THROW: 30" x 40"
STANDARD THROW: 50" x 60"
QUEEN THROW: 60" x 80"
KING THROW: 72" x 80"
TWIN: 65" x 90"
TWIN XL: 66" x 95"
FULL/DOUBLE: 85" x 90"
QUEEN: 90" x 90" on the smaller side, 90" x 100" on the larger side
KING: 108" x 90" on the smaller side, 108" x 100" on the larger side
CA KING: 108" x 92"
Which blanket size is right for me?
CRIB: As the name suggests, a crib blanket can be kept in a crib for a cozy feel, an extra layer between baby and the changing station, or in some cases, as a swaddle. Please always follow safety guidelines based on the age of your child. The American Academy of Pediatrics states that parents should "keep loose blankets, pillows, stuffed toys, bumpers, and other soft items out of the sleep space" of infants. Click here for more information on safe sleep practices for young children according to the AAP.
THROW: There are various sizes for throw blankets which can be overwhelming but this also means that what you need is definitely out there. If you simply want something decorative to drape over furniture or have on your lap, opt for a small throw blanket. If you want something to wrap around you completely, the 50" x 60" may be the more appropriate size. If you plan on using this blanket as a decorative element on a bed for a pop of color or a cozy vibe, then we recommend a larger size such as 60" x 80" to really make a statement.
TWIN & TWIN XL: If you have a Twin or Twin XL mattress, you should opt for a blanket that is designed specifically for that bed size if you wish to use it as an actual layer in your bedding. Keep in mind that a Twin or Twin XL bed is meant for one person to sleep in so the blanket will also be meant for one person. If you want something more oversized, a Full blanket would be the next size up.
FULL/DOUBLE: A Full size blanket (also known as a Double) is meant for a Full size bed. Full size beds can comfortably sleep one person, though some couples don't mind and in fact prefer sleeping in a Full rather than a larger Queen or King. If you wish for the blanket to cover the entire bed, opt for the Full. If you simply want a blanket to drape on top of the bed as a decorative piece, a Standard Throw or Queen Throw will do the trick!
QUEEN: A Queen size blanket is designed for a Queen bed, which is the most popular mattress size in the industry. A Queen mattress offers plenty of room for one person but also very comfortably sleeps two. It's also excellent for those with smaller primary bedrooms that cannot accommodate a King. Don't want the blanket to be part of the bedding but simply looking to drape it over the top instead? Go for a Queen Throw.
KING: This size is very popular for couples because it allows for plenty of space, even with a dog or two! If you want to use the blanket in your layers of bedding, get a King, but if you want a throw, look for a King Throw.
CA KING: The major difference between King and CA King is that the CA King is longer (typically around 4") but less wide. It's very accommodating for taller individuals who dread when their feet go over the bottom of the bed. Don't worry–they make blankets specifically for CA King beds so you don't have to settle for a traditional King. A CA King will typically be about 108" x 92". You can also opt for a blanket that is made for King & CA King so that it will be wide enough for a King but long enough for a CA King, giving a slightly oversized (and extra cozy) feel.
What is the best blanket material?
We personally love organic cotton blankets. Synthetic materials can lack breathability and even conventional cotton can be treated with harsh dyes, bleach, and other harmful chemicals. Blankets come in direct contact with your skin, your largest organ. Organic cotton is a fantastic option for those with sensitive skin, or for anyone wanting cleaner materials in their home.
Worried about the price? There are plenty of organic cotton blankets on the market that are comparable in price to other "luxury" blankets made of synthetic materials so when you can, choose eco-friendly cotton.
Another excellent material for blankets and duvets is wool. Wool natural regulates temperature so that you don't feel overheated. It can be used all year round, making it a worthy investment. We recommend opting for wool that is certified organic and not treated with harsh chemicals or dyes.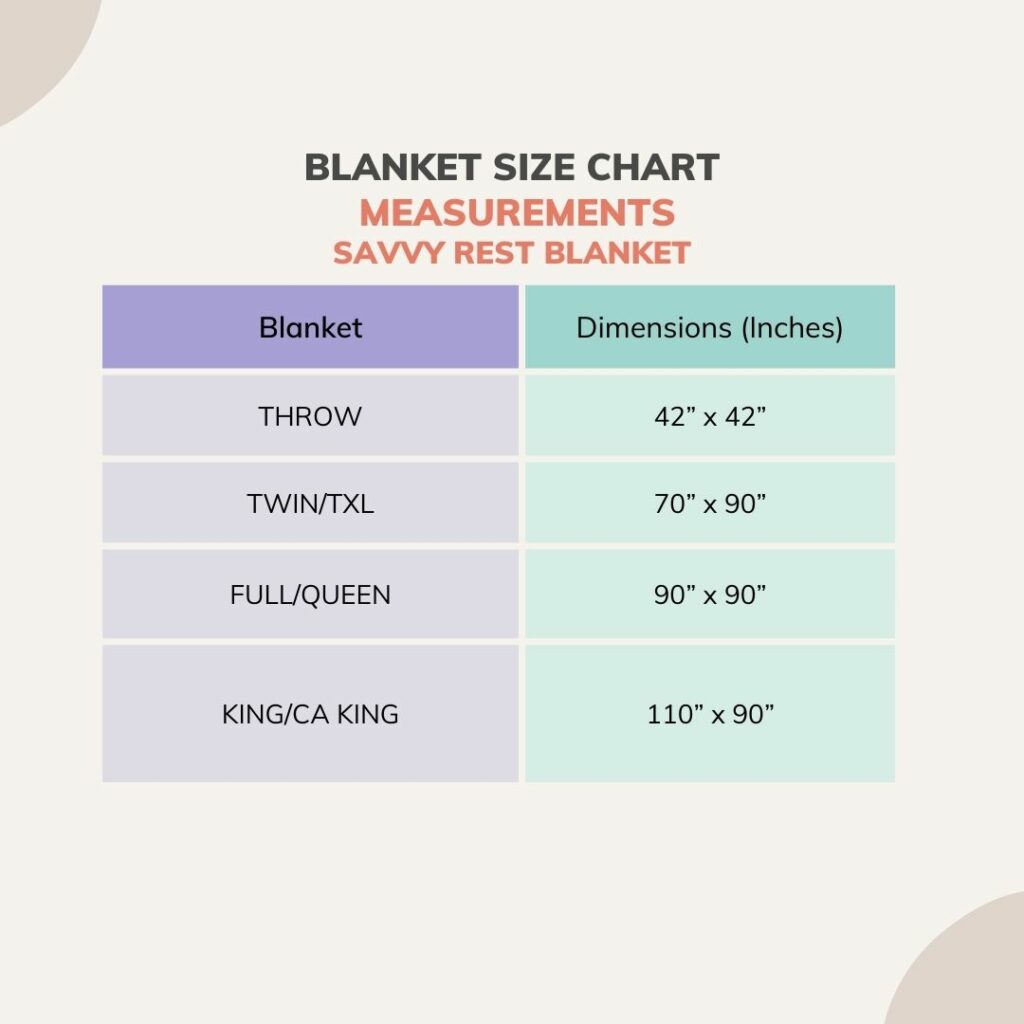 Savvy Rest Blanket Dimensions
*Please note these sizes are based on the Savvy Rest organic cotton blanket. Each blanket also comes with a reusable tote bag for storage or shopping.
THROW: 42" x 42"
TWIN/TWIN XL: 70" x 90"
FULL/QUEEN: 90" x 90"
KING/CA KING: 110" x 90"
Shop Our Favorite Blanket
The Savvy Rest organic cotton blanket is a neutral cream color that goes beautifully with any decor. This soft blanket is made in the USA and includes a gorgeous herringbone weave for texture and aesthetics. We love it and hope you do too. Available in Throw size – CA King.
Quick Questions
What is the best throw blanket size?
This depends on what your goal is. If you want a smaller throw blanket to simply drape on a chair or loveseat, 30 " x 40" is considered a "lap blanket" and is fine for that purpose. If you are looking for a blanket you can actually cuddle up with, 42" x 42" or 50" x 60" are more appropriate sizes.
What is a twin blanket size?
A twin blanket is for a Twin size bed and should measure approximately 65-70" x 90".
What is a full blanket size?
A full blanket is for a Full or Double bed and should measure approximately 85-90" x 90".
How big is a Queen size blanket?
A Queen blanket is typically 90" x 90".
How big is a King size blanket?
A King blanket is typically 108" x 90".
Can I use an electric blanket with a latex mattress?
No, you should never use an electric blanket with a latex mattress. The heat from the blanket will harm the integrity of the latex, causing early oxidation and in most cases, voiding your warranty. Your mattress is an investment so it's important to take care of it! Stay away from electric blankets and heating pads while in your latex mattress.
Can I machine wash a blanket?
In most cases, cotton blankets can be machine washed. Always read the label or if unsure, contact the manufacturer. If you have a wool blanket, it should not be machine washed. You may opt for a green dry cleaner.
Can I put a blanket in the dryer?
We recommend tumble drying on low heat for cotton blankets. However, wool should never go in the dryer.
Have more questions? Contact us.