Back pain can make sleeping a pain. That's why it's important to have the right mattress and pillows to keep you comfortable and well-rested. This blog post will focus on the benefits of body pillows for those who suffer from back pain.
Body pillows can be used while sleeping on your side, while propped up in bed, or even while pregnant to offer extra pressure point relief and support.
If you want to learn more about the best body pillow for back pain, keep reading.
How Do Body Pillows Help Back Pain?
Body pillows are designed as a supportive sleep aid and can be incredibly helpful to those who deal with back pain.
A full body pillow for back pain can help ease your discomfort by keeping your spine aligned. Your muscles will also be able to relax as you fall asleep.
Here is a full list of body pillow benefits:
Proper body support for side sleepers
Pressure relief on the lower back, spine, and hips
Improved shoulder, hip, and spinal alignment
Relaxation of the muscles along the spine
Improved weight distribution and blood circulation
Diminished snoring by helping you sleep comfortably on your side
Potential pain relief from headaches
Versatile sleep aid for injury recovery
Additional support during pregnancy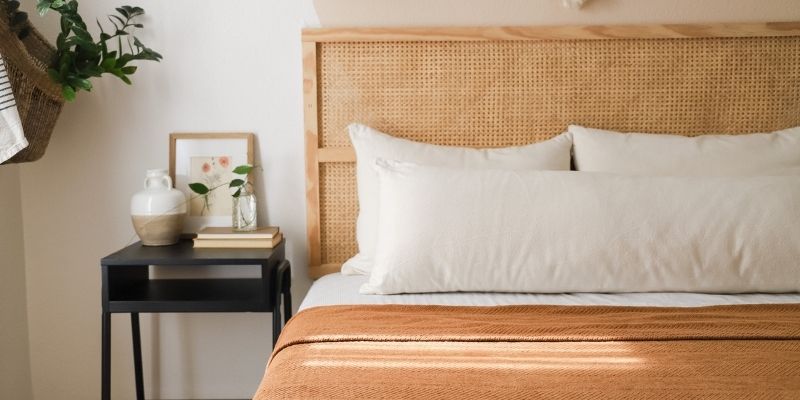 What Type of Body Pillow Should I Pick?
Savvy Rest recommends the shredded latex body pillow if you are laying on your side and want to place the body pillow behind you for added support. This natural latex pillow is totally customizable so you can remove as much of the fill as you'd like to adjust the feel.
If you would prefer something more lightweight, the organic wool body pillow still has that necessary firmness and is also an adjustable pillow.
We also recommend opting for an organic body pillow in general while shopping. The materials in your bedding matter. Avoid synthetic fabrics and conventional cotton that may be treated with bleach or pesticides. Instead, choose an organic cotton body pillow, meaning a body pillow with an organic cotton pillowcase that is safe to sleep with throughout the night. This will help you avoid harsh chemicals that offgas into the air.
Add A Body Pillow to Your Bed!
Even if you don't experience back pain, a body pillow is still a worthy addition to your bedroom. The benefits to your sleep and overall health are worth it!
Learn more about choosing the best body pillow for your needs.
Choose an Organic Body Pillow That Suits Your Body