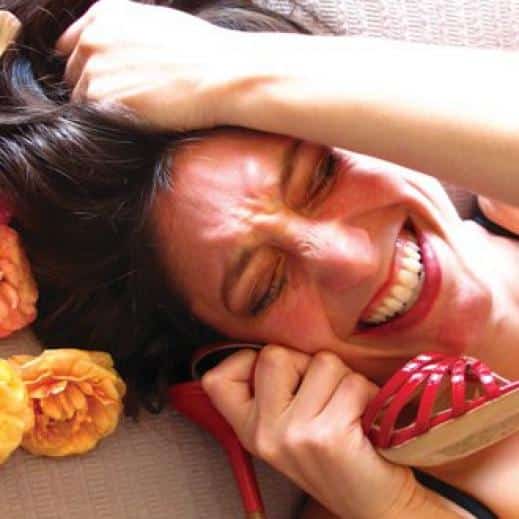 With Alicia Dattner, California-based comedian and author.
Savvy Rest is very curious about sleep—and about people, too. From time to time, we ask interesting folks these questions to give you a peek at how others sleep…even what they're dreaming about.
How did you feel when you woke up this morning?
Well I didn't actually wake up in the mattress that I bought from you so I don't know if it really counts…but I felt pretty tired. I think it would have been different if I were at home. I watched like two episodes of The Americans late last night and then woke up this morning for rehearsal.
Can you remember a recent dream fragment?
That's a really good question. No, nothing concrete. I do have pretty vivid dreams but usually they are a little bit floating right there in the moment. I almost feel them.
What's the first thing you do when you wake up in the morning?
Well, I try to remember the Jewish prayer. I don't usually remember it but I did this morning. And then I do a little meditation. It's usually a lying down meditation. I did that this morning. It's better if I can sit up but I don't. And then I do a few minutes of yoga…I did that this morning. I like to imagine I could do each of those things for like 30-45 min. But it's more like 10. I also drink a glass of water and take my vitamins. I guess those are obvious things.
Are you a morning coffee or tea person?
I don't admit that I am a coffee person, but I think I am un-admittedly a coffee person. I don't know if I am willing to admit it to myself. I can admit it to you but I don't tell her (*points to self*).
What do you like most about mornings?
The possibility…anything can happen…anything.
Least?
When I don't fully step into the "reset." If I wake up and I'm groggy. It makes me think I shouldn't have had that thing I ate late last night and then it sort of brings me into the past instead of into the future.
What is your favorite food to eat in the morning?
I like two eggs sunny side up and runny. It's protein..unoxidized protein. Get some good fat going on. It gets my brain working. I like organic, free-range eggs. Happy chickens, happy people.
If you could change one thing about your bedroom, what would it be?
I would get a bed frame. I'm starting to think it's time to move out of the college lifestyle…or the 60s mattress-on-the-floor lifestyle.
When was the best sleep you've ever had?
I like waking up out in nature and by an ocean with a really nice mattress…but not on the ground cause it's not so comfy. And then just hearing the ocean after breathing in fresh air all night.
Tell me about your exciting New York debut!
I'm putting on a show which I've been working on for a couple years now. I put it on in San Francisco at The Marsh and now it's coming to New York. It's a one woman comedy show called The Oy of Sex. "Oy" refers to the Jewish kind of "oy". And it's very personal.
Which theater will you be performing at?
A place called Shetler Studio on 54th and Broadway. And we are literally like around the corner from the Stephen Colbert Late Show so it's exciting!
When does the show open?
The show opens on March 29th and will continue until April 17th. Six shows a week!
That sounds very exciting…and it's just you?
No other humans on stage! My director, Tom Bentley Fisher, is completely amazing. And I'm so appreciative of my producer, Laura Lindly Pane, who is making the show happen here…wouldn't have been possible without her. There are so many other amazing people here who are supporting me.
And you're a published author!
Yes, I wrote a book called Getting S**t Done! That was a fun experience of taking a new media on. I actually wrote a blog entry every day for a month. I took those blog entries, sat in a beautiful home in Ithaca, and turned them into a book. It's a parody of the famous time management book, Getting Things Done. I'm kind of working on some other books as well but there are SO many things on my plate right now.
To learn more about Alicia, visit her website. Want to purchase tickets to her show? Click here!
About Alica Dattner
Alicia started dreaming of being a comedian at the age of 8. She did her first set at the tender age of 18. She graduated from Hampshire College with a degree in standup comedy and filmmaking.
Mentored by several talented comedians over the years, W. Kamau Bell (HBO, FX), Eugene Mirman (Flight of the Conchords), and Bill Santiago (Huffington Post, CNN, Comedy Central), she's been knocking audiences out (not literally) at clubs like The Improv and Gotham Comedy Club, in San Francisco, New York, Hollywood, Bombay, Chennai, and London.