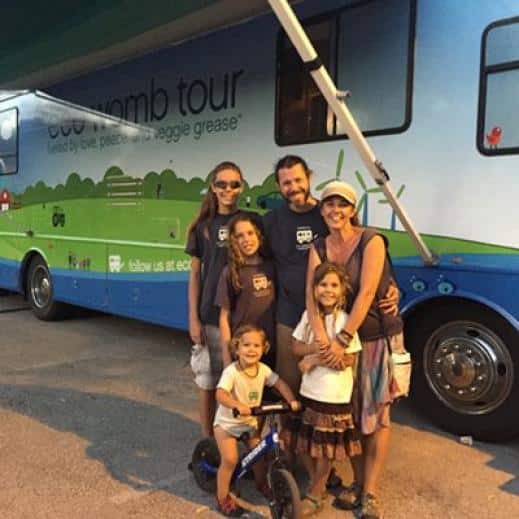 With Angela Malson of Eco Womb, a family-driven tour of the nation which spreads the message of simple and sustainable living, alternative fuels, renewable energy, natural parenting, living from the heart, healthy living, and organic foods.
Savvy Rest is very curious about sleep—and about people, too. From time to time, we ask interesting folks these questions to give you a peek at how others sleep…even what they're dreaming about.
What's the first thing you do when you wake up in the morning?
Stretch and I usually open a blind or curtain to see the sunshine.
Are you a morning person?
Not always—a lot of times we'll put the kids to bed and work at night so if we've had a late night, we might be a little slow in the morning.
What's your favorite food to eat in the morning for breakfast?
I love a good free-range organic egg with some kale and spices.
When was the best sleep you've ever had?
I was in labor all night with my last birth. He was a home birth in the Eco Womb so right after I had him I crawled back into our bed and just curled up. I felt like I was right where I needed to be and I slept so soundly with my newborn right next to me.
The worst?
There have been a handful of times when one of the kids woke up and then another one woke up—one of those nights when we've worked late and the kids wake up as soon as you go to bed. Those nights are the tougher nights because as a Mama you have to get back up in the morning, even if you haven't slept.
If you could change one thing about your bedroom, what would it be?
We were talking about getting an organic quilt of some sort to freshen up the space and get some lighter colors in there. I've been looking at your organic kapok pillows too since they seem really nice!
When did you become interested in green products and sustainability?
I've always leaned that way and in school I helped out with service projects where we were cleaning up the environment. I got a Master's Degree in Environmental Law and I focused on environmental ethics and writing. My love is education. Right after we got married and had our first baby, it was all about learning outside and environmental education. The love started there. Really living the lifestyle came from our older two sons and learning their food needs, and then we made a transition in going all organic. By the time I got pregnant with Emma, we wanted to walk the walk as much as we could. The idea of Eco Womb came about and making sure our home was non-toxic. Going back to when the boys were little, there was a big recall on toys that had lead paint. It really opened my eyes because I had to take inventory of what they had and we said "okay, we have to watch everything that is entering our home."
You all get to meet so many different people on the road. What is that experience like?
We love it—it's why we do it. We love connecting with people. We started with a retail business and then we changed over to a non-profit so we could focus on education. It's all about meeting people where they are and having them ask the questions. Some people have never thought of organic mattresses. We do all of the events with our family so they see us juggling our family and see us with our kids and so we have a unique ability to connect with other families. We don't promote any products that we don't use ourselves so there's a level of trust. They know that we're sleeping on Savvy Rest mattresses and that we're using Dr. Bronner's to wash our dishes.
How do you and the kids like your Savvy Rest mattresses?
We love them. I love knowing that they're safe. We're all very chemically sensitive and that's another reason we went on this path of living sustainably.
And finally, could you tell me about your zero waste lifestyle and how you turn trash into building materials?
We encourage people to recycle and if they're doing that then to also compost and if they're doing that then to go zero waste with bottle bricking. My family and I were still producing trash so we thought, "what can we do with this?" You take a plastic bottle and you stuff the trash into the bottle. We have a stick that the kids actually use to stuff the trash down. It sits on our counter rather than a trashcan. We can get a lot in those bottles. We don't buy water bottles but we sometimes buy plastic bottles with orange juice or almond milk and then we reuse those bottles as bottle bricks. You can line them up and put cob on the outside and create a wall and it serves as insulation and free building material. We built a doghouse in Oakland out of bottle bricks. When we do an event, we have a bin that sits outside and it's full of bottle bricks. One bin was our first year worth of trash. We show people that and how they can bring their trash accumulation down. Our last year's trash is being used to build a playground at a charter school in San Francisco.
About The Eco Womb Tour
The Malson family travels across the country in an RV called Eco Womb which runs on vegetable oil. Angela and her family are constantly meeting new people and educating others on the importance of green living and organic products. Angela's four children grew up learning about recycling and composting since the family lives a zero waste lifestyle. Anything they cannot recycle or compost goes into a plastic bottle. Trash is turned into "bricks" instead of ending up in a landfill. Follow Angela and the Eco Womb on Facebook and Instagram to read all about bottle bricks, her family's travels and more!