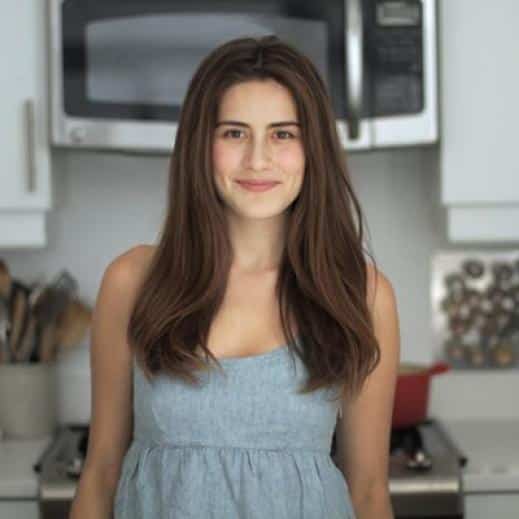 Savvy Rest is very curious about sleep—and about people, too. From time to time, we ask interesting folks these questions to give you a peek at how others sleep…even what they're dreaming about.
How did you feel when you woke up this morning?
I felt excited because I had like twenty different meetings today. I got a good night's sleep and ate a good dinner and I just felt motivated to start the day.
Can you remember a recent dream fragment?
Honestly, I haven't had vivid dreams in a really long time. I think when I go to bed now I'm so tired that I just sleep through the whole night. I haven't had a nightmare in so long.
What's the first thing you do when you wake up in the morning?
Shamefully, look at my phone. I'll check email and Instagram and all the things that everyone says you're not supposed to do.
What do you like most about mornings?
I work from home or from local coffee shops so I like that I can take my mornings slowly most of the time. I try not to schedule anything too early so I can just take my time and get up, read a little bit and go have coffee.
Least?
When I have something to do and I have to get up when I really don't want to…when I feel pressured and rushed and I'm just scrambling.
What is your favorite food to eat in the morning?
I'm not a morning food person. I basically just have coffee in the morning and then I don't eat until 11 usually.
If you could change one thing about your bedroom, what would it be?
I would change a few things about my bedroom. I would get an organic mattress and I would have a real bed frame. Right now I have one of those metal ones. I think an organic mattress is going to be my birthday present to myself this year.
When was the best sleep you've ever had?
I think it was when I was camping this summer but not the first night because that was really scary and I hardly slept at all. But maybe the fourth or fifth night when it's just so insanely quiet and you sleep so deeply.
The worst?
Anytime I try to sleep on an airplane. I always wake up feeling starving and in pain.
What type of mattress do you sleep on?
It's not too firm and not too soft. I have a topper on it and then I sleep with a giant comforter, really fluffy down pillows and no sheet except for in the winter.
(Lauren is excited to try our down alternative, organic kapok pillows!)
What was the last book you read before bedtime?
The Perennial Philosophy.
Listen to the Complete Questionnaire
And be sure to check out the second part of our interview with Lauren where we discuss her zero-waste lifestyle.
https://w.soundcloud.com/player/?url=https%3A//api.soundcloud.com/tracks/248738700&auto_play=false&hide_related=false&show_comments=true&show_user=true&show_reposts=false&visual=false
About Lauren Singer​
Lauren Singer lives in New York City and is the creator of the popular blog, Trash is for Tossers. She is also the founder of The Simply Co., a company that offers natural laundry detergent. Lauren lives a Zero Waste lifestyle, meaning she does not produce any garbage. Instead, she is all about making her own toothpaste, buying fresh vegetables from the farmers market, and shopping with reusable bags.