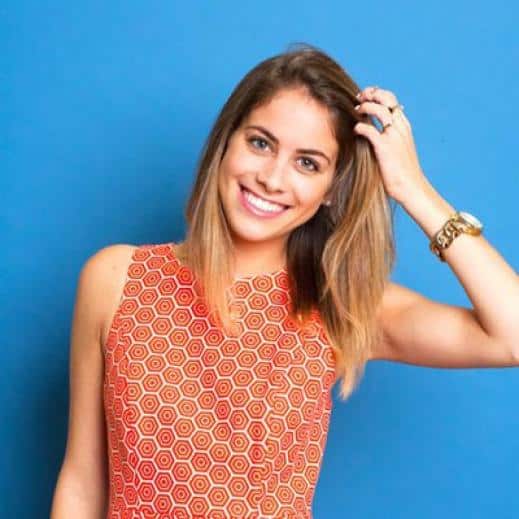 With Lucie Fink of Refinery29, a "modern woman's destination for how to live a stylish, well-rounded life."
Savvy Rest is very curious about sleep—and about people, too. From time to time, we ask interesting folks these questions to give you a peek at how others sleep…even what they're dreaming about.
What's the first thing you do when you wake up in the morning?
Unfortunately, the first thing that I do is grab my phone, partially because I'm shutting off the alarm, but I get a little attached to it. I start checking my email and my social media accounts to see what I missed overnight. I've been trying to get out of the habit of doing that. Recently I've been turning my alarm off and then not checking any social media until I'm on the bike at the gym. That has really helped because it makes the bike go faster. I don't have the stamina to go to the gym every morning though so it's more of an every other morning thing.
Are you a morning person?
No, I'm not a morning person at all. I really want to be a morning person. That's one of my biggest aspirations. In one of my episodes of Try Living with Lucie, I did five days of waking up at 5AM and that was one of the toughest weeks of my life.
What's your least favorite thing about mornings?
I think it's just more that I'm such a night owl. I stay up so late watching TV and Netflix. I just can't get myself to go to bed until I check my email and get stuff out of the way which makes mornings really rough. I think I need to figure out some way to have my coffee pot brewing and have it waiting for me the moment I wake up because I'm just so tired in the morning.
Do you have a favorite coffee drink from a cafe?
I just love a typical, standard iced coffee, usually with some sort of non-dairy based milk, like an almond milk. Most recently I've been adding coconut milk which gives the coffee a little extra flavor. I drink coconut milk lattes in the winter; it doesn't taste too coconutty but it has a distinct and sweeter flavor than a regular latte.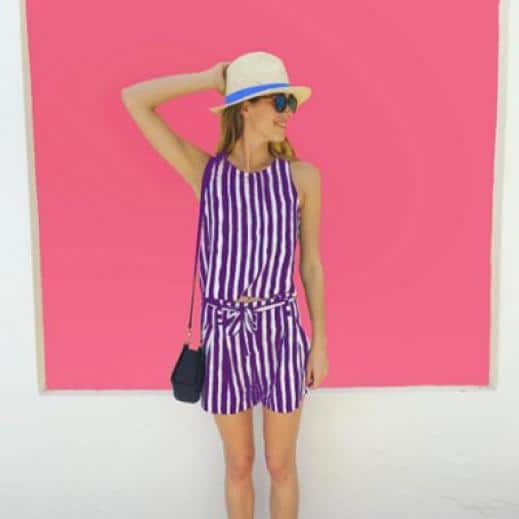 What's your favorite food to eat in the morning?
I usually just drink coffee. Something I learned from my episode "Five Days of Hydration" is to drink a really tall glass of lukewarm water with lemon juice in the morning. I've been doing that right when I wake up; it helps me feel nourished and hydrated.
If you could change one thing about your bedroom, what would it be?
I actually just moved to a new apartment and I wish the bathroom would be off of the bedroom. As it is, the bathroom is outside of the room and down the hall and I have the tiniest bladder so I get in bed and then I need to pee again and I just keep getting up to pee!
You live in New York City. It must be really hard to find the perfect apartment that has everything you're looking for—I guess you have to compromise.
Definitely. I wanted certain things in the apartment so I had to give up other things. One thing that I love about my new apartment is that it's a really interesting shape. The living room is half curved with an angled wall and if you look at the floor plan, it's just a really interesting room shape. I was actually searching for that when I was looking for apartments. Something about being in square or rectangular rooms makes me feel super uninspired and I feel more creative when I'm in round rooms for some reason.
When was the best sleep you've ever had?
I actually feel like one of the best sleeps I've ever had was on the second day of my episode of "Five Days of Waking Up Early." The Monday I woke up and I was so exhausted and didn't plan ahead. I had gone to bed late and then woke up early so I said to myself, "okay, I'm going to bed at 9PM" and my plan was to wake up at 5AM. I did wake up at 5 but went immediately back to bed. I think I slept well into work—I may have slept until 11 or noon. I truly felt like I was catching up on the whole weekend worth of sleep that I missed.
The worst?
I used to actually have real trouble falling asleep in college during my senior year. Probably every two or three nights for 10 or 11 months I wouldn't sleep. I don't know if it was from stress about finding a job after I graduated or what the deal was but for a good chunk of my senior year, I had insomnia. I would lie in bed and be so physically exhausted but I couldn't get my brain to shut off. I don't know what fixed it—I guess it all just had to do with stress. Once I graduated and moved into the city, I was totally fine.
Do you remember a recent dream?
I do actually—I talk about it in a future episode that hasn't come out yet (Editor's note: It's out now!). I had this weird dream where I was walking in New York and I stopped because I realized I had left my keys at home. I went back to get my keys but then somewhere on the way back I realized that the key was locked in the apartment so I wouldn't be able to get in anyway so I just kept walking and when I turned back around to keep walking, all of a sudden I had french fries and I was eating fries. When I got to the bottom of the fries, I held up the last fry and it was my apartment key. Then I woke up and tried to dissect it. I had that dream in the middle of recording my episode "Five Days of Journaling" so I was keeping a dream journal. Does the dream mean that what I'm looking for is right in front of me? Maybe it was just telling me that I wanted fries.
How do you come up with the ideas for your videos?
When it started I was choosing topics that I wanted to try. As the series began to pick up, I pulled topics from the YouTube audience. At the end of every episode, I would tell people to comment below and tell me what they want me to try next week. I actually read pretty much all the YouTube comments and get tons of good ideas from them.
How do you like working in New York City for Refinery29?
It's unbelievable. It's such a fast-growing and young group of people. It's a relief to be able to work at a place where I can come up with an idea and say I want to make a video on this and they say, "okay, go ahead" and just give you the resources you need. A lot of times they hire people who are multi-faceted and can do multiple things themselves. At the beginning of the series, I produced it, hosted it, edited it, and shot it. Now that it's grown, we have more people. We have someone separate to shoot it and someone else to edit it and I take on the roles of producer and host.
Listen to the Complete Questionnaire
https://w.soundcloud.com/player/?url=https%3A//api.soundcloud.com/tracks/271570315&auto_play=false&hide_related=false&show_comments=true&show_user=true&show_reposts=false&visual=false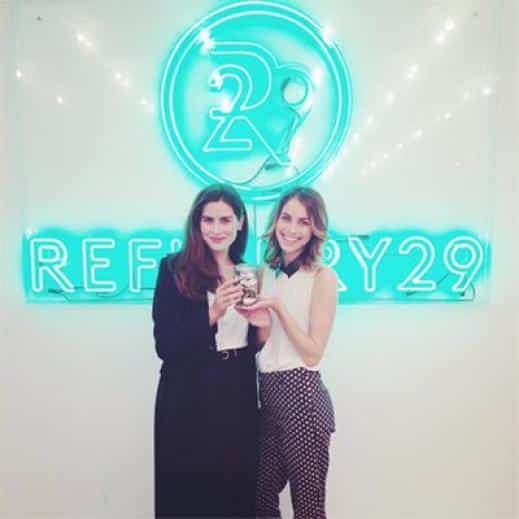 You got to interview Lauren Singer who lives a zero waste lifestyle. I actually got to interview her as well which was really interesting. Tell me about your experience doing "Five Days of Zero Waste."
That episode was definitely the…I don't want to say the hardest because when you set your mind to it, it's not that hard, but compared to how I normally live my life, that episode was a 180 twist and changed a lot about my day-to-day routine. Lauren Singer is unbelievable. She's so inspirational and she's so cool and I'm just in awe, not only of how she's overhauled her life in two years, but how she's done so much research and knows the answer to any question you throw at her. She's totally made a change and decided to make her whole career about this change and she did it in a really cool way, like starting that mason jar and putting all the trash in it. It was such a visual way to show people.
I made some simple changes; I bought tons of glassware for my kitchen and I carry it with me to work. I drink from a glass jar all day and I don't use plastic as much. A problem area for me is when I do my grocery shopping—not all the grocery stores are zero waste friendly and they don't all have the types of shampoo pumps and honey pumps that would allow you to buy the products without waste packaging. Another problem for me is just remembering to bring the glass with me or the reusable bags with me when I go to the grocery store or coffee shop. I'll show up and realize that I left the glass jar at home or I forgot the reusable bag. It's about learning the behaviors and trying to repeat them. If you really wanted to do it, it's not that difficult. I feel like documenting your experience on social media is a way to have your family, friends, and followers invest in what you're doing and help push you along because you're not just doing it for yourself, you're doing it for other people. It will help you remember.
Do you have any other videos that you've made that stick out to you?
The "What do you Fink?" series is my actual favorite piece of work that I've done at Refinery29 so far. It was so much fun and it came after weeks and weeks of shooting webcam style so you get out on the street and talk to real people in New York which is so much fun for me. Plus, the way it was edited with the emojis—it was so visual and made everyone laugh so I love that series. It's not official but I'm potentially making a few episodes for an upcoming project.
Tell me about stop-motion videos. When did you start making them and what is the production process like?
I actually knew what stop-motion was just from watching things like Gumby claymation-type videos. I never had the thought in my head to use a piece of toast or an everyday object and make it look like it's moving. I was working at an ad agency and we were encouraged to pick up a camera and make something and be creative.
One day I just picked up a camera and I was trying to take a picture of a little marshmallow that I had bought. I put the camera on the tripod and wound up moving the marshmallow around a little while I took a whole bunch of different angles. When I went back to look at the photos and I was scrolling through them, I realized that, with the camera locked on the tripod, the marshmallow looked like it was running around on the screen. I decided I'd make a whole movie about this marshmallow. I spent about five hours making it and I thought it would be an hour long. The final video was 10-15 seconds. It took a long time for such a short video. I would go home every day from that job and take an object from my cabinet or fridge and make it move.
I started making videos on my personal Instagram account and that lead to a brand saying they loved my stuff. That lead to the next person reaching out and the next and the next. It's been such a fun ride and I'm so excited to see where it leads to because every day is new and different.
About Lucie Fink
Lucie Fink works for Refinery29 in New York City. She is a video producer, YouTube host and stop motion artist. Make sure to watch Lucie on Refinery29's YouTube channel and to also follow her on Instagram and Facebook.