Sick of sleeping on an uncomfortable memory foam pillow that smells of chemicals and bad decisions? We can help.
Choosing a pillow can sometimes be tricky because everyone defines comfort differently. That's why Savvy Rest offers several pillow options, most of which are customizable. Customization allows you to change the height and overall feel of the pillow, transforming it into your perfect sleep aid.
Find the perfect organic pillow for you
I'd like to say it's magic, but it's actually just a smart design that considers everyone's specific needs. Magic sounds more fun though.
If you're ready to find the pillow of your dreams, keep reading.
Best Pillows for Side Sleepers
Both side and back sleepers have the most wiggle room when it comes to choosing a pillow.
We don't typically recommend flat pillows for side sleepers since they usually prefer full and fluffy pillows that still offer neck support.
There are plenty of natural pillows for side sleepers. Take a look!
Shredded Latex Pillow
This is one of our most popular latex pillows for side sleepers. Our shredded latex pillow is filled with a blend of Dunlop and Talalay latex. It conforms to your neck and shoulders, giving you comfortable support.
Those who gravitate towards the shredded latex pillow enjoy a pillow they can tug and wrap around themselves instead of one that is more stationary and dense. The shredded latex will move with you.
This pillow is customizable, so you can unzip the inner casing and take out as much of the shredded latex as you want. Our customizable pillows are intentionally overstuffed, so you'll have plenty of fill to work with and save for later!
Organic Kapok Pillow
I'm a side sleeper, and this is my personal favorite. Kapok is a fluffy, plant-based alternative to down. Kapok trees grow in tropical climates and produce a cotton-like fiber that is oh so cozy.
I recommend this pillow to those who truly love that fluffy, soft feel, and want something reminiscent of their childhood down pillow. This is a great vegan alternative.
Like wool, kapok compresses over time, so if you unzip the inner casing and remove any of the fill (which you most likely will since the pillow comes overstuffed), I suggest you store it for later so that you can use it in the future.
Natural Talalay Pillow
This is our most luxurious pillow, and it's definitely worth the hype. Soft natural Talalay latex is covered in an organic cotton jersey knit casing that tightly hugs the latex. This plush pillow will gently support your neck while giving you the responsiveness that Talalay is known for.
This is a formed pillow, so it is not customizable.
Soap-Shaped Pillow
Our second formed pillow is the soap-shaped pillow, which is made with Soft Dunlop latex. It is our lowest-profile latex pillow, so it is ideal if you want something that is on the denser side, but not too high.
Contour Pillow
The contour pillow is our last formed latex pillow and is designed for side sleepers who need firm neck support. It contains Medium Dunlop latex with a hollow center that will help cradle your head.
Contour pillows are designed for those with very specific needs, so it is not your traditional pillow, and has an overall firmer feel than most pillows.
Body Pillow
A body pillow is a long and narrow pillow that is meant to be cradled between the legs as you sleep on your side.
Body pillows help keep your spine aligned while also offering crucial pressure point relief. If you're waking up with any discomfort in your hip or shoulders, a body pillow may be an easy solution.
We offer several different body pillow fills and sizes, so there is a perfect body pillow for everyone.
Learn more about how to use a body pillow.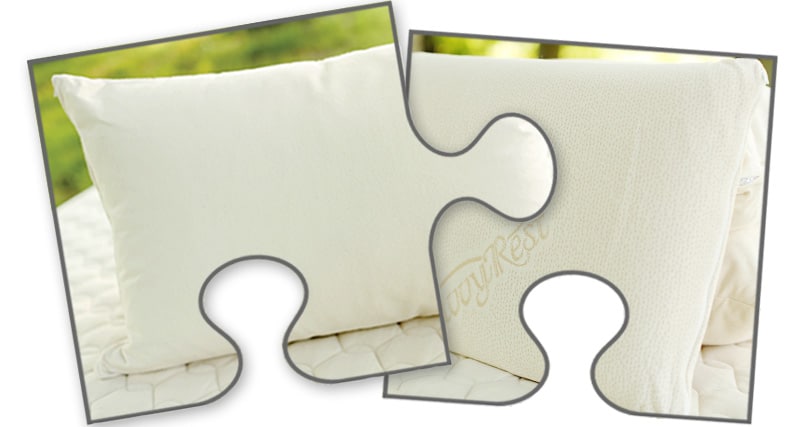 Best Pillows for Back Sleepers
Back sleepers need a pillow that is supportive and slightly on the firmer side. A pillow that is too soft will make a back sleeper feel like their head is sinking into the mattress.
It's especially important for back sleepers who snore to have a pillow that has enough height since being propped up helps open nasal passages.
Wool Pillow
Wool is an incredible material. It's a natural insulator, so it will keep you cool in the summer months and warm in the winter months.
Wool has an overall fuller and denser feel than our kapok pillow. However, like kapok, it does slightly compress over time, so keep any fill that you remove so you can use it later on!
Wool-Latex Pillow
This is another great option for back sleepers and will give you adequate support. The shredded latex inside will also keep the pillow a bit more formed, meaning less compression over time.
Like our shredded latex, kapok, and wool pillows, the wool-latex pillow is also customizable.
Soap-Shaped Pillow
The soap-shaped pillow can also work great for back sleepers! It will gently cradle the head while still offering necessary support.
Contour Pillow
Yes, I know I said the contour pillow is designed with side sleepers in mind, but it's actually useful for back sleepers who need that extra elevation, particularly those who snore. It can also be helpful for those with sleep apnea.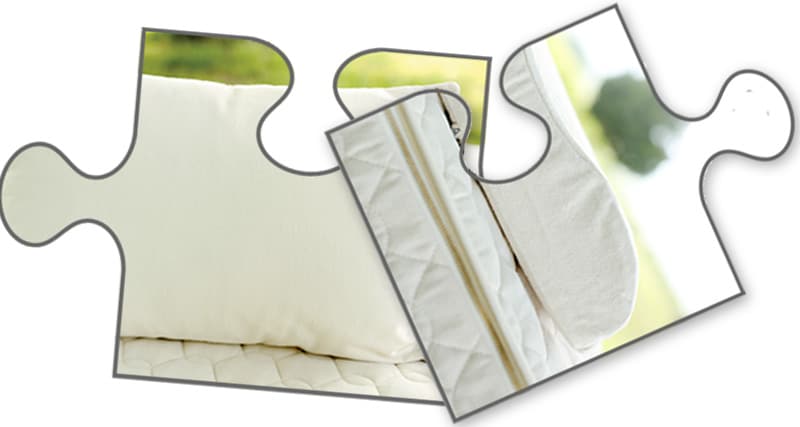 Best Pillows for Stomach Sleepers
We don't recommend sleeping on your stomach, but we know some people just can't resist.
Stomach sleepers need a flat pillow. A pillow that is too elevated will cause some serious neck pain! This is why we only recommend our customizable pillows for stomach sleepers. You can take out the majority of the pillow fill instead of having to deal with a pillow that is too bulky.
Pillow Puzzle Solved
There truly is an organic pillow for every type of sleeper at Savvy Rest. Time to get some zzz's. Sleep well!