Synthetic pillow fills are all too common. It's easy to simply focus on the pretty patterns and bold colors of a pillowcase and completely disregard what is actually inside a pillow. When you zip open some pillows and dig for the tag, you'll see words like "polyester fiber fill," "polyurethane foam" and "microbeads." Sounds…super uncomfortable and toxic. Synthetic materials are the norm in the world of pillows, bedding and even our clothing. Our skin comes into contact with harsh fabrics that are sometimes even marketed as soft, gentle and of high quality when there is more to these materials than meets the eye. It's time to discuss what's really going on beneath the surface of your typical pillow. But don't worry, we've got you covered with safe (and ridiculously comfy) alternatives.
Unzip The Truth
We sleep for about a third of our lives so it's important that both our mattresses and our pillows are non-toxic. Who wants to spend hours horizontal in an invisible pool of nasty chemicals? Although it's quite the tempting offer, I think I'll pass. But really, most of us don't think about what our pillows are composed of because we figure they can't be harmful—it's just a pillow. It's way too fluffy to be menacing! Meanwhile, you could be laying your head on formaldehyde and various toxins that can cause headaches, nausea and other health issues. Perhaps you don't currently experience any symptoms but that doesn't mean these toxins won't show their harmful side later on in life. Therefore, it's important to look out for organic and natural products that can positively impact your health and overall quality of life.
Organic Is Better
We offer pillows that are made with materials such as organic cotton, organic kapok, and organic wool. Our organic pillows keep both health and comfort in mind because you shouldn't have to choose between the two. Most of our pillows are customizable, meaning you can take out as much of the fill as you want. Stomach sleepers prefer a flat pillow while back sleepers may want their pillow to be more fluffy and full. Whatever your preferences and however you define comfort, we have a pillow for you. Let me introduce you to a few…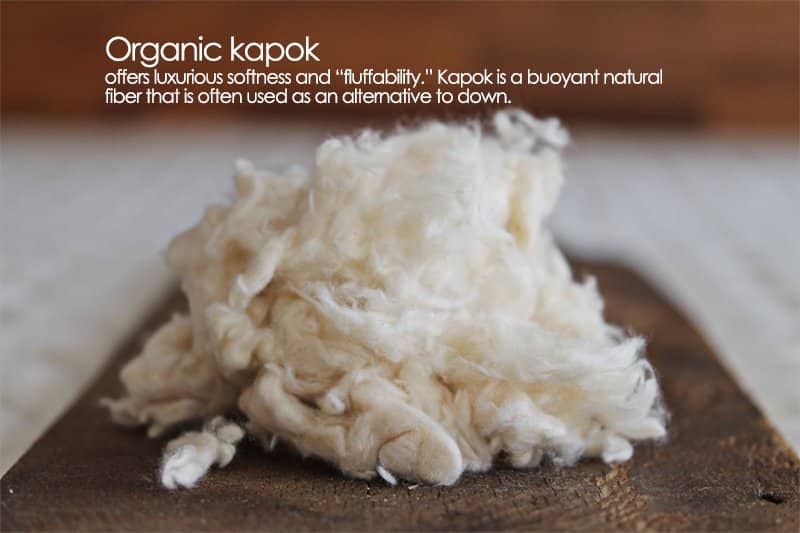 Organic Kapok Pillow
Our organic kapok pillow is my personal favorite. I'm completely in love with this fluffy, comfy, customizable gift from the Savvy Rest Gods. Kapok is considered a down alternative. The kapok tree grows in tropical climates and produces a light, airy material that looks like a mix between a cotton ball and wool. The pillow also comes with both an inner and outer organic cotton casing. The outer pillowcase is brushed so it has that super soft, flannel feel that is always a hit with our customers. In fact, all of our customizable pillows come with this casing! Want to learn more about kapok? Check out this blog.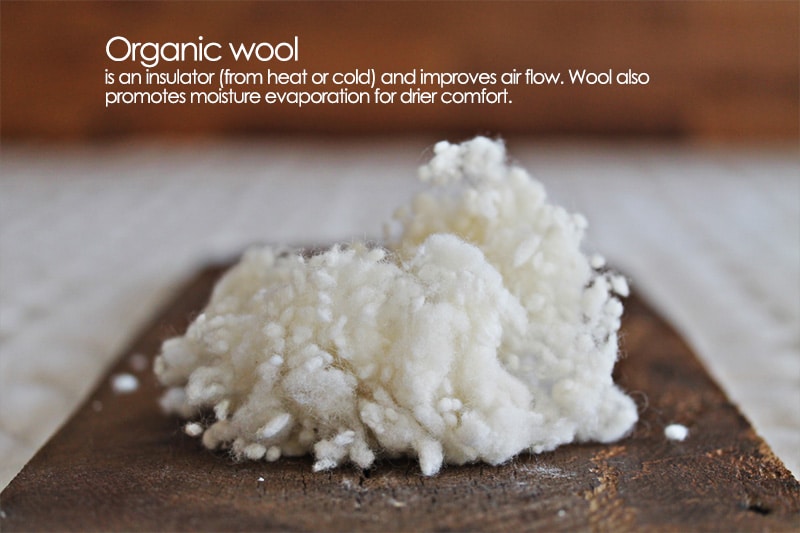 Organic Wool Pillow
This pillow is perfect for those who are looking for temperature control and a cooler sleep. Our immediate reaction is to only associate wool with warmth but wool can actually help those who feel a bit overheated. People who live in warmer climates will sometimes even wear clothes made of wool to increase airflow and to feel some relief from the heat. Our wool lacks pesticides and the sheep are free to graze the land and are treated humanely.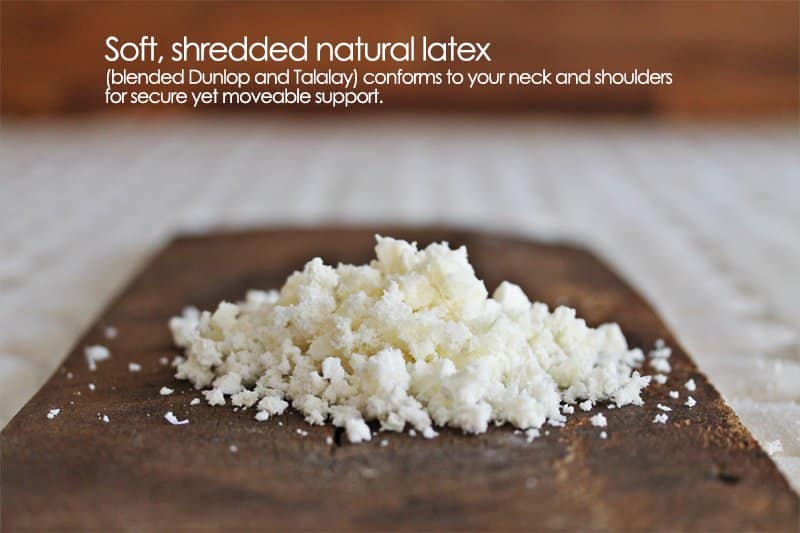 Shredded Latex Pillow
Shredded natural latex acts as a fantastic pillow fill since it's super supportive. It's great for those who experience neck and shoulder pain because of its responsive properties. We use both organic Dunlop and Cradle-to-Cradle certified Talalay in our fill. It's perfect for those of you who love a floppy and bouncy pillow that you can pull and tug around you. But beware—it's on the heavier side when completely full so don't whack someone with it in a pillow fight! Karma isn't fun.
Can't Decide Between Wool and Latex?
Don't worry—we offer the best of both worlds with our blended wool-latex pillow. (You're welcome.)
Find the perfect organic pillow for you
Want To Try One Out?
Of course you do! That's a rhetorical question. Stop by a Savvy Rest store or visit one of our many dealers across the country. You can lay down and try out all the pillows you want! Bring a book or a magazine—we really mean it. We want you to fully get a sense of how our products feel so if lounging with the latest issue of Glamour is the way you'll find your perfect pillow, lounge away!