Kelly Love (center) along with her co-founders Marilee (left) and Allison (right).
For our first Savvy Rest Women's Council blog interview, we had the opportunity to speak with Kelly Love, one of the founders of Branch Basics. We're so impressed with this brand and how much they have positively impacted their customers' lives through not only offering a natural cleaning product, but creating a strong community on social media that supports each other's journey towards non-toxic living. Learn the story behind Branch Basics, the women who inspire Kelly, and what advice she has for other women looking to start their own business.
You have a Savvy Rest organic mattress (The Serenity). How do you like it?
We ended up getting two TXL Serenity mattresses and put them together. It's super comfortable. We love it!
I really like that you all have a dedicated GOTS-certified manufacturing facility so you're not running non-organic materials on the same lines. I know that you all make sure that everything is as pure and well-maintained as possible.
What inspired the name Branch Basics?
We actually started our company as Three Branches Healthy Living. It was an online retail store. So then when we decided to focus on cleaning. We kept thinking "back to basics" and then the branch from Three Branches. The origin of Three Branches was from a Bible verse, John 15:5, about how we are the branches. We thought it was a natural sounding word that also had meaning to us!
Tell me about your fellow founders, Marilee and Allison.
Allison is my best friend from college, and Marilee is her aunt. When Allison got mysterious symptoms and pain, she traveled around the country seeking help from specialists. She started getting really defeated and discouraged because she wasn't getting any better and no one had answers.
She finally had ears to hear what her Aunt Marilee had to say about a more natural approach. Marilee asked her questions like, "What are you eating every day? What products are you using in your home? Did you move into a new place?" Things she had never been asked before. Within a month of making dietary changes, product changes, and lifestyle changes, she started finally experiencing relief.
Allison and I were both soaking up everything we were learning from Marilee about natural living. It just clicked and made sense to us.
We went and lived with Marilee for a summer and decided that we had to put her brain on the internet. Our lives were changed.
I was the healthy one and all of a sudden didn't have any menstrual cramps, headaches, body aches, and all these things that we accept as normal because they are so common. And Allison was pain-free and was able to take a job after college which she wasn't sure she was going to be able to do.
Marilee gained a lot of her wisdom because first, in her 20's, she avoided a kidney transplant from learning that food is medicine. She switched from a standard American diet to only whole, organic foods. She was able to keep her kidney and hasn't been on a prescription drug since and that was decades ago.
And then her son was chemically injured around the age of 10 and told that he had too much damage to his brain and detoxification system and would never recover. She was a mom on a mission and just refused to believe that there wasn't another way to get her son back. Over the course of several years of trial and error, she fully created an environment and diet free of toxic chemicals and he fully recovered.
She is now a Board Certified Nutritionist, Certified Building-Biologist, and Building Materials Specialist, and is on the advisory board of Documenting Hope.
Allison, Marilee and I decided to come together and start a company because we wanted to share our experiences and show how you can take control of your health. You can make choices every day that contribute to your healing.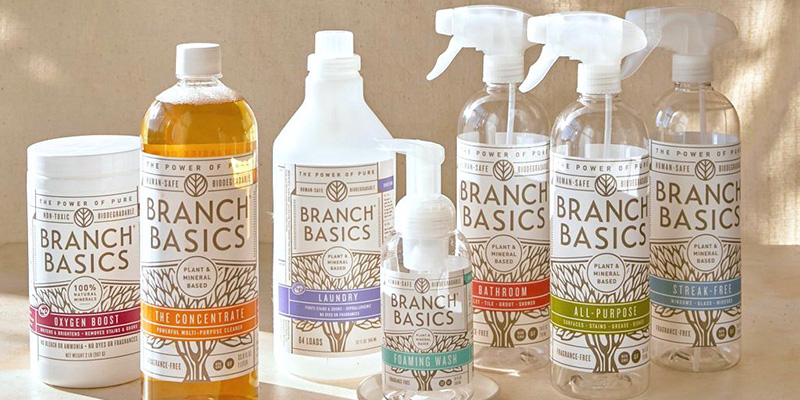 That's what I love about following you all on Instagram. It's not just about your products but you take it to another level. You talk about natural living and all the ways we can implement natural and organic products into our daily lives.
We see ourselves as more of an educational lifestyle company. Our goal and mission goes back to our desire to educate, motivate, and empower.
You decided to create one concentrate that could be used for a variety of cleaning products. What was the process like creating the Branch Basics concentrate? I imagine it was a trial & error process.
In 2012, we actually started off private labeling a product that Marilee used with her son and with her chemically-sensitive clients. I think it was a blessing for us because I'm not sure we would have had the confidence to go out and start from scratch. It enabled us to get started by using this formula that already existed and creating a brand and label around it. But with that came some challenges because we didn't own and control the formula.
Fast forward to 2015, we actually decided to discontinue that formula, shut down, and reformulate on our own.
We really did love the model of a concentrate. The idea of using something on your baby that you're also going to use on your toilets and spray your fruits and vegetables with was really hard for people to wrap their minds around. But when you get it you're like, "oh, this makes my life so much easier not to have 30 different products that are for individual use around the house."
We loved that it was one concentrate that could simplify your life.
We worked with multiple chemists at the same time. We were very picky about what we would allow in the formula. We also needed it to perform. If it's not actually going to work, even if it's safe, people aren't going to continue to use it. We tried over 100 formula samples. It was a labor of love.
What were some of the obstacles you faced in the early stages of your business and how did you overcome them?
When we were starting, we didn't know what we were doing. The three of us are really passionate about health but none of us had a formal business background. Knowing where to start was super challenging for us but we were also not afraid to ask for help and just pull all of our networks together. We're big believers in learning as you go.
I imagine Branch Basics has grown over the years and you have more people working for you than you did when you first started.
We started with just the three of us for years. Marilee focused on writing and was still consulting so it was really Allison and I doing the bottling, labeling, shipping, and business stuff.
Now we have a team of 13 and it's just so great to see how we're able to get out more content and accomplish more of what we want to do.
What's the best piece of advice you've received in business that you wish to pass along to other women who are thinking of starting their own business?
My go-to is don't let perfection hold you back—just get started. Give yourself permission to learn as you go and not feel like you have to have it all figured out in the beginning.
You want to do your due diligence and make sure it's a viable idea. Start slow so you can prove the concept. Prove the concept works before you even think about trying to scale.
Who are some other women in business who inspire you?
Gregg Renfrew, the founder of Beautycounter. I don't know her personally but she is someone I look up to a lot and follow.
Katie "Wellness Mama": She is someone who has been a huge inspiration for me since she's a hands-on mom but also has her blog, social media platform, podcast, has written multiple books, and has her new CPG products company. She's always been a mentor—I don't know how she does it all. She's probably one of my biggest inspirations.
Connect with Branch Basics on Instagram.