A platform bed is what your mattress sits on as you sleep at night and is typically the focal point of a bedroom. If you opt for a platform bed with a headboard, it truly becomes a work of art that shows off your style and personality.
Learn why platform beds are so special and what you should look for when shopping for a platform bed set, even if you choose a bed with no headboard.
Platform Bed vs Box Spring
We strongly recommend opting for a platform bed with sturdy slats instead of a box spring.
While box springs are usually the cheapest option, they are also an example of "you get what you pay for." Box springs don't offer the same level of support and durability. This is especially important if you own a latex mattress.
Here are a few reasons why you should choose a platform bed instead…
Supports your mattress
Offers adequate airflow with slats
Lower to the ground
Built to last (especially natural wood platform beds)
More room for storage underneath or a trundle bed
Can disassemble when moving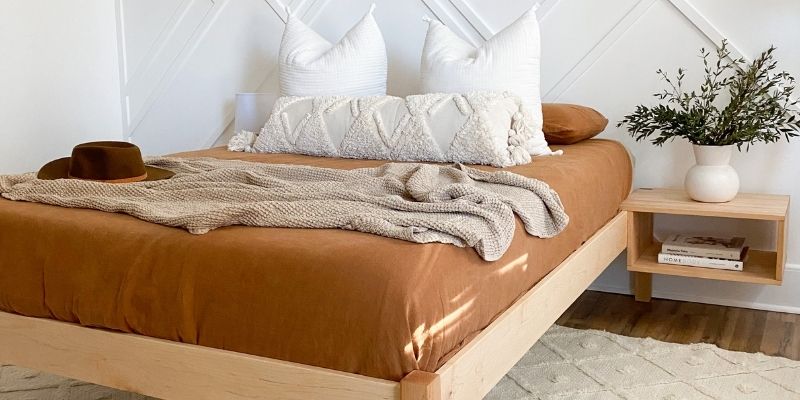 What to Look for in a Platform Bed
There are thousands of platform beds online. Here is what we recommend.
Naturally Made
Opt for a platform bed made of sustainable materials, such as sustainably-sourced wood and zero-VOC finishes.
We spend about a third of our lives sleeping, so what we are sleeping on (both the mattress and platform bed) matters. Synthetic materials, toxic glues, and harsh chemicals in furniture off-gas into the air as we sleep.
A natural platform bed is an alternative that is healthier for both you and the planet. Sustainable furniture is the future!
Learn more about eco-friendly furniture and why it matters.
Height
When choosing a platform bed, decide how much room you want underneath your bed. Do you want some storage bins to go there? Maybe a trundle bed? You'll want to know ahead of time so you can plan accordingly!
Headboard
Deciding whether or not you want a headboard is a must. Some people prefer putting a large piece of art over their bed instead of a headboard. Others like a headboard for aesthetics or for propping themselves up in bed as they read. This is a personal choice so there is no wrong answer.
Materials & Design
As previously mentioned, we love a solid wood platform bed that is carefully crafted to last for years.
Wood platform beds are available in various types of wood, such as maple, poplar, oak, and more.
We tend to gravitate towards furniture with a simple, modern design that will compliment a vast array of living spaces.
Savvy Rest Platform Beds
Savvy Rest offers two platform beds, along with floating side tables.
Savvy Rest platform beds are made in the United States using sustainably-sourced maple and poplar wood, along with zero-VOC finishes.
Shop our platform bed collection