Reasons we created a healthy mattress
"As I learned what toxic chemicals wind up in mattresses, it became my life's work to create a healthful, comfortable alternative." – Michael Penny
A Sleep Solutions Store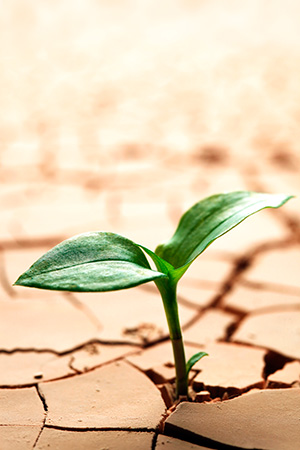 What would lead a yoga-practicing, organic-food-eating runner to start a mattress company? Two reasons.
One, he couldn't sleep. Michael had insomnia, ironically at its worst while he was working for a futon company. In part, what he'd learned about materials and practices in the mattress industry was keeping him awake.
The second reason involved his wife, Heather. Heather was waking up with unexplainable headaches every morning. She ate nutritious foods, practiced yoga regularly, and had a healthy lifestyle overall, so both Michael and Heather were stumped as to what was causing the problem. Finally, someone asked if they thought it could be their mattress, and it clicked.
Most mattress stores were full of chemically-treated fabrics covering cheap padding or noxious chemical foams, atop flimsy foundations. Stories of rip-offs, shoddy quality and deceptive product descriptions abounded.
It occurred to Michael that many people approached mattress shopping in a state of fear. So he resolved to create a new kind of mattress company that offered a new level of quality and service. In 2003, The Savvy Sleeper, our flagship store, opened in Charlottesville, Virginia, drawing customers from as far away as Baltimore and the Carolinas. Savvy Rest, Inc., was incorporated in 2006. In July of 2011, we expanded our product lines, renamed the store Savvy Rest Natural Bedroom, and began opening other retail stores.
At the beginning, however, finding an organic mattress was a tall order. In 2003, we found one natural latex mattress, but the casing was synthetic. At that time even the biggest companies in the "natural mattress" niche were using only some organic materials and some synthetic, or making mattresses that we thought weren't very comfortable. In 2004, we ordered some all-natural mattresses, but found them much too hard, except for one innerspring—and that sagged.
As a yoga practitioner for 20 years, Michael knew that healthy sleep depends on many factors. Sleeping on a safe, natural product is important, but just as important is the specific, personalized comfort that allows each unique person to sink into the longest-possible periods of Stage 3 and Stage 4 sleep. His decades of studying how the body performs in the subtlest ways turned out to be very helpful. Individuals of different ages, with different body types, different physical issues, and different sleep challenges, need very different mattresses to truly sleep well. Since nothing comparable was available in 2004, we decided to create our own natural mattress with interchangeable components.
Savvy Rest – Organic Mattress Manufacturer
Our mission was to create an organic mattress that was comfortable, nontoxic, versatile and reliable—and to give customers a level of service they'd never experienced before from a mattress company.
For the core of the Savvy Rest organic mattress, we chose natural latex for its wonderful feel and longevity. We wanted customizable layers that would make the mattress adaptable for every individual. We chose certified organic wool batting and certified organic cotton fabric for a soft yet sturdy casing. And to ensure quality, we required materials certifications from all our suppliers.
We wanted customers to feel safe with our product and confident in our company. So we also decided to allow customers to exchange layers of latex to adjust the firmness even after purchase. Our products and our practices—integrity and service—have led to our growing reputation as America's leading natural mattress manufacturer.
The Savvy Rest Standard
It may seem just common sense that whatever your mattress is "breathing out" all night, you're breathing in. But awareness of toxic mattresses is relatively new. Savvy Rest was one of the first mattress companies to take concerns about indoor air quality to the logical conclusion: what you and your family sleep on should not harm you with chemical fumes or residues.
We now offer several healthy mattresses, from our flagship all-latex Serenity mattress, to our latex and wrapped coil mattress, The SerenitySpring. There's truly a mattress for everyone.
We're proud of our history and our success. From a few trend-setting retailers just a few years ago, we now have a large network of dealers who have helped to build Savvy Rest's reputation for quality, integrity and service.