The word "detox" is all about eliminating unhealthy substances from your body, so, naturally, the items used in your home should mirror that conscious choice. The space in which you live should act as a foundation for your overall healthy lifestyle; it should inspire you to continue your journey. Detoxifying your home sounds like a daunting task, but it's all about taking one step at a time. Don't let a wonderful goal overwhelm you. Instead, feel excited about a worthy challenge that will benefit you both mentally and physically. Acknowledge that it will take a bit of research and time, but that making these healthy switches will be absolutely worth it in the end. This is all about new beginnings and being more aware of what's surrounding us in our daily lives, from furniture to food. So, where to start? Here are 10 ways to detox your home.
1. Take Your Shoes Off
Have you thought about the dirt and germs that live on the bottom of your shoes? Okay, don't think about it too long since it's kind of gross, but you shouldn't be wearing your shoes all over the house. You may be super excited about the new pair of heels you bought the other day (I totally understand the joyous feeling), but leave them at the door and away from your hardwood floors. You can also organize them neatly on a shoe rack, either in your mudroom or in your closet. I personally keep my fancier shoes in their original boxes so they are protected. As long as you're putting your shoes in their proper place, you're good!
2. Switch to Natural Cleaning Products
There are unhealthy and dangerous chemicals lingering in too many popular cleaning products. Phthalates, ammonia, and sodium hydroxide can be replaced with safer ingredients like baking soda and vinegar. There are brands such as BioKleen and The Simply Co. that offer natural alternatives to household products. There are also plenty of DIY "recipes" for you to try—the possibilities are endless.
3. Upgrade Your Furniture
When shopping for furniture, most people simply think about aesthetics and functionality without actually considering whether or not the materials used are harmful to our health. Chemical flame retardants, particle board, and toxic glues are found in an array of furniture pieces. This is why we offer organic sofas and natural platform beds.
Our Verona line of organic sofas, loveseats, and armchairs is both sophisticated and safe. We use organic fabrics for the upholstery (your choice between organic cotton, organic hemp, or a blend of the two), and natural Talalay latex for the cushions. Curl up with a book in one of our armchairs with the knowledge that this cozy and elegant piece of furniture is not adding any toxic chemicals to your home environment.
//player.vimeo.com/video/143907612?color=
Toxic Dust in Your Home
Harmful chemicals from your mattress(es) and furniture may be floating all around you. Watch this video to learn more about the health consequences linked to the dust in your home.
We also make natural platform beds that are a gorgeous addition to any bedroom. Savvy Rest platform beds are built right here in Central Virginia by our own woodworkers and are made to last for generations. The Afton is our flagship model and is known for its timeless simplicity. The Esmont includes a customizable headboard, so you can choose between a slatted or solid look.
Both platform beds come in several zero-VOC finishes, and neither require tools for assembly. The set-up is incredibly easy!
4. Sleep Organic
Continuing in the bedroom, what we're sleeping on truly matters. A mattress should be comfortable, but it should also be safe and pure. Materials like memory foam are treated with chemicals, not to mention that memory foam isn't durable, so you'll most likely find a dip in your mattress over time. Memory foam is also known for causing you to "sleep hot," meaning it retains all your body heat. This can make you wake up in the middle of the night, uncomfortable and overheated. None of this sounds appealing to us, which is why we offer a better alternative.
Savvy Rest mattresses contain natural and breathable latex that will support your body, giving you the comfortable sleep you deserve. Our latex mattresses are customizable, so you can mix and match layers of Dunlop and Talalay latex, creating the perfect configuration for your needs. Our mattresses can even be split down the middle so you and your partner can each have your own desired configuration (because why should you have to compromise?).
We do not treat our mattresses with chemical flame retardants. Instead, our mattress casing is made with organic cotton and organic wool batting, with the wool acting as a natural flame barrier.
Not interested in replacing your mattress just yet? Even making a simple switch to an organic pillow or organic sheets can make a difference in your quality of sleep and overall health.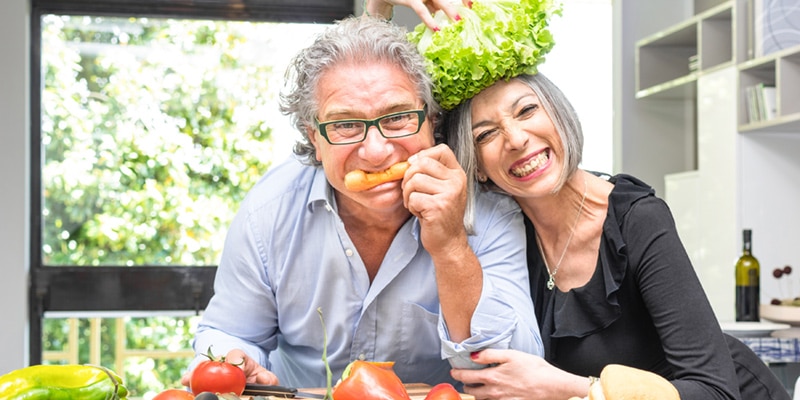 5. Eat Clean Foods
Food is the fuel that gives us the energy and nutrients needed to complete our daily tasks. It's imperative that we eat foods that will aid our body, not hinder it. Eat organic fruits and vegetables whenever you can. Avoid high fructose syrup and artificial sweeteners. Check the labels when you're at the grocery store—if you can't pronounce an ingredient, you probably shouldn't be eating it.
Cooking meals at home is also preferable. Not only do you save money, but it's ultimately healthier since you control how much salt or butter goes into your dish. Try different recipes and have fun!
6. Declutter
There's really nothing good about clutter. An unorganized space can lead to increased stress and anxiety. If you start to look through the clutter, you'll realize that most of it is just stuff that doesn't actually serve a purpose or make you happy. You want your home to reflect your personality and interests, but you also want it to be a place you can feel relaxed. Sell or donate anything that is simply just collecting dust. I'm definitely not asking you to get rid of most of your belongings, but it's always good to see what you have and figure out what you're no longer using. After you're done with this process, you'll feel pretty accomplished.
7. Add Some Greenery
Once you're done getting rid of that old jacket you haven't worn in years, or the huge pile of magazines that you're never going to read, add some plants to your home. Not only are plants beautiful to look at, but they also can benefit your health. A plant like aloe vera, for example, can help purify the air, and can also be used for medicinal purposes. Learn more about the benefits of houseplants by reading this article from The Good Trade.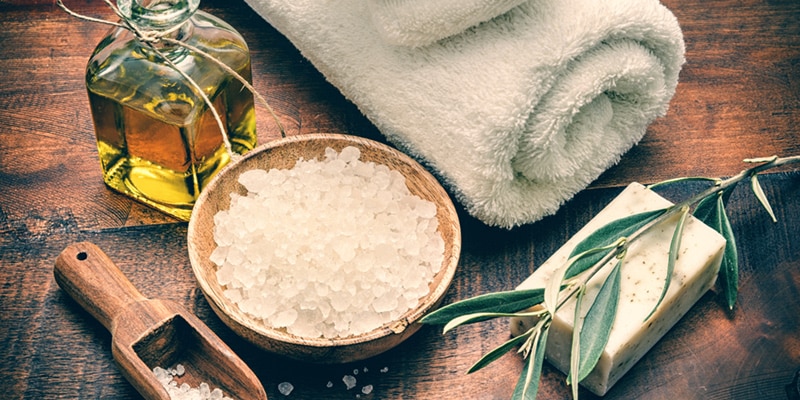 8. Switch to Natural Skincare
Your skin is your body's largest organ—you must treat it well! The first thing we hear is to use sunscreen, which is obviously important, but so is using natural cleansers and moisturizers. Your skin is absorbing whatever you put on it, so check out the ingredients in your various skincare products. There are plenty of companies that offer natural and organic options.
Invest in some quality face masks as well—you'll be amazed at what they can do for your skin and your mood. I try to do 2-3 face masks a week as part of my evening routine. They're super relaxing, and it makes me feel good knowing that I'm taking care of my skin.
9. Green Dry Cleaning
I don't think I have to tell you that mainstream dry cleaning involves a ton of chemicals, and these chemicals are coming into contact with your skin. Green dry cleaning companies consider both your health and the health of our planet.
If you're feeling extra bold, you can completely kiss the dry cleaner goodbye.
10. Don't Forget The Lawn
Not only should the interior of your home be as natural and safe as possible, but you should also think about the exterior, particularly the lawn. Lawn care usually involves spraying our property with pesticides and other toxic chemicals that are dangerous for both us and the various cute and fuzzy animals that eat the grass, or pollinate the flowers (save the bees!). Avoid synthetic fertilizers, and choose healthier options. Here's a good place to start.
It doesn't matter what you decide to tackle first. Consciously making the decision to look out for healthier options means that you're already taking a step in the right direction.