Choosing a latex mattress for side sleepers may seem scary but with the right guidance, you can sleep comfortably in no time.
Keep reading to learn what side sleepers need to think about when shopping for a natural latex mattress.
Pressure Point Relief
The number one thing side sleepers need to think about is pressure point relief. That is why we recommend a softer layer on top, such as soft natural Talalay, which promotes a comfortable cradling feeling. A soft top layer will put less pressure and resistance on your hips and shoulders.
Firm or Soft?
Side sleepers need a mattress that is soft enough to ease into but isn't so firm that your muscles tense up, leading to hip and shoulder pain. It's also important that your mattress provides adequate support so that your body can stay in alignment.
When your mattress is too firm, your body begins to dip and shift in bed which will interrupt your sleep and cause lower back pain.
A very petite side sleeper should especially consider a softer configuration. The less you weigh, the firmer a mattress is going to feel. With that in mind, the opposite is true as well.
Choosing Your Mattress Layers
Here are two configurations that may work for you if you are predominately a side sleeper.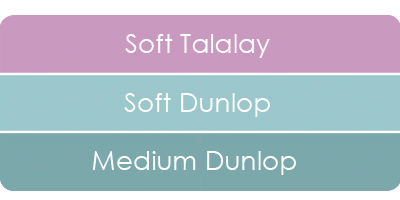 For lighter-weight adults, or anyone who loves climbing "into" a cushy bed, the Soft Talalay layer transitions gently into Soft Dunlop to provide a luxurious, cradling feel.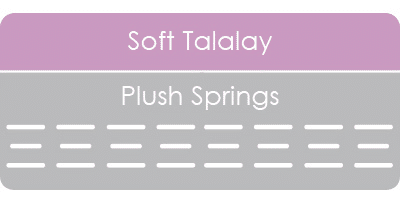 This SerenitySpring configuration is best for side sleepers. Talalay is known for its responsiveness as well as its luxurious cradling feel. If you're on the petite side, this may be the perfect configuration for you.
Don't Want a New Mattress Just Yet?
How about trying one of our organic mattress toppers? If you are experiencing pain in your hips, we recommend the Vitality which is one, 3″ layer of soft Talalay latex in an organic cotton knit casing.
The final post in our Choosing a Latex Mattress series is for stomach sleepers. Check it out!