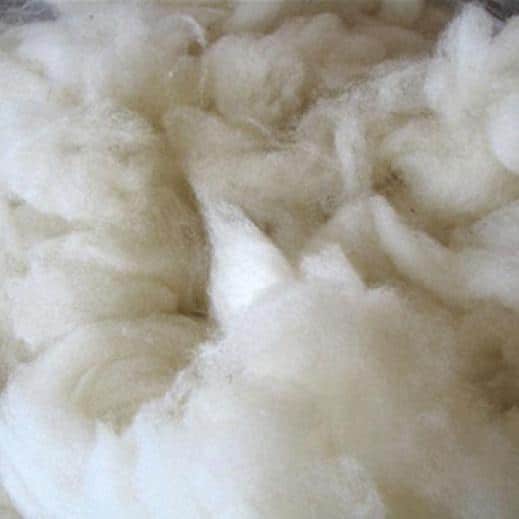 Natural wool is a soft, warm, wonderful fiber. In its pure state, wool has qualities that make it ideal for human bedding and sheep pajamas:
Wool fibers have kinks or curled spots, and tiny scales on the outside of each strand. When the fibers touch, the scales overlap and "lock" them together. The kinked places prop parts of the strands apart, creating little air pockets. This is why wool is so wonderfully insulating — against excess heat or cold.
Lanolin, a natural oil coating, gives wool a silky feel.
Pure wool can't be cleaned in the same way you clean cotton fabric. Cotton cleans very well with soap, water and agitation (rubbing, either by hand or by a washing machine). But washing and drying can shrink wool remarkably. When wetted and agitated, wool fibers swell and uncurl, which allows even more of the scales to overlap each other. This flattens the air pockets, shrinking the spaces between the fibers. Dryer heat accelerates the process.
Remember when you first did laundry on your own? Likely you were feeling agitated, too, the first time you pulled a favorite wool sweater from the dryer.
When we first developed the Savvy Rest, our research told us that an "eco" dry cleaning process could be used on the casing without harming the materials or causing shrinkage. Unfortunately, later we got calls from a few customers who had the mattress casing eco-dry-cleaned only to have it shrink. We were dismayed.
So we conducted a further test of our own. We took one casing to a local "eco" dry-cleaner that uses the CO² process and another to a conventional dry-cleaner. We explained carefully to each of them what the casing is made of: organic wool and organic cotton; neither of which is pre-washed or treated chemically against shrinkage. We crossed our fingers.
The eco dry-cleaner assured us that their process would not shrink our casing. The conventional dry-cleaner would not commit to the outcome. In the end, the eco dry-cleaning process shrank the casing 2" in one direction and 1" in the other, while the conventional process yielded a positive result with no shrinkage!
Since we can't predict the results of various dry-cleaning processes, we no longer promote dry-cleaning as a selling point for our mattress casing. However, we have learned that the casing can be successfully dry-cleaned, provided the cleaner is fully aware of what the casing is comprised of and is experienced/competent enough to know how to clean it properly.
The most common error a dry-cleaner makes is assuming a Savvy Rest casing is a quilt– and then washing it instead of carefully dry-cleaning it as they would another wool product.
We've also had positive results from hand-washing a casing in cold water, and hanging it over a line to dry. The most important thing is not to agitate it very much. We will not recommend any washing; but in the case of severe soiling, it's certainly worth a try as opposed to the expense of buying a new casing.
Ultimately, our advice is to treat your Savvy Rest organic mattress like any other – don't wash it at all. Mattress care is just what it's always been: regular washing of your sheets and mattress pad (including any waterproof pad you use). Occasionally, you can run the hand attachment of your vacuum cleaner over the mattress if you'd like.
Sometimes, people look at the Savvy Rest casing, with the zipper under the top edge, and conclude that this design means it's supposed to be taken apart and washed. Not true. The design is ingenious, we admit, but its purpose is just to make assembly and customization easy and straightforward.
The bottom line? You can always change a Savvy Rest, but you don't want it to change by shrinking!