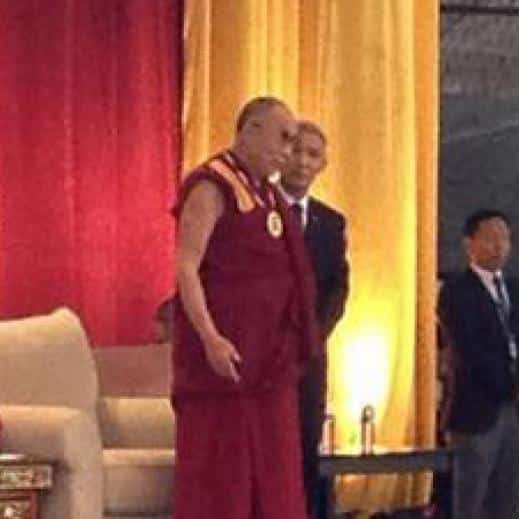 Charlottesville was abuzz with excitement when His Holiness the Dalai Lama (HHDL) came to town. He has long-term ties with this community because his translator of many years teaches at the University of Virginia.
During his first presentation, given at a historic theater, His Holiness talked about the value of meditation in support of good health. Afterward, he addressed over 3000 enthusiastic listeners in the downtown's outdoor pavilion with a talk entitled "Compassion as a Global Value."
The Dalai Lama's message was the universal theme of compassion and the value of perceiving our similarities rather than our differences. He noted in particular the similarities among religions. Afterward, there were plenty of copies of his latest book to be found.
At the end of his address, HHDL took several questions. Most notable for us was the last: "Given the demands on your time, the stresses of flying around the world, representing an entire tradition, and speaking in different time zones, how do you take care of your health?"
His simple answer? "Good sleep."
He went on to describe how (amazingly, considering his schedule) he keeps to a very disciplined routine. He finishes his work day around 4:00 pm and goes to bed at 7:00 pm. This gives him time to relax, eat, meditate, and prepare himself for bed. He then rises at 3:30 am and follows his morning routine, including meditation and prayers, until 7:00 when he has breakfast.
Although His Holiness did not talk about religion or mysticism during his remarks, he did say he enjoys eight or nine hours of good sleep every night. We hope the Dalai Lama is dreaming of peace on a comfortable, natural mattress.