We want our pets to be around safe and healthy products so that they can live long and happy lives. We opt for natural and nutritious foods and when looking for toys, we always go for non-toxic options.
However, it's also just as important to think about what our furry best friends are sleeping on. Just like humans, cats and dogs breathe in whatever their pet bed off-gasses so it's best to stay away from memory foam, polyurethane foam, and other synthetics.
Savvy Rest offers two natural products that we think you'll love. Keep reading to learn more.
Organic Pet Beds
The Savvy Doggy and Savvy Kitty organic pet beds are cozy, supportive, and safe. The core of the bed is made of the same natural latex found in our organic mattresses and you can even choose between formed or shredded latex fill.
The formed latex bed includes a three-inch layer of latex that has a medium/firm feel. It's a relatively lightweight pet bed and offers sturdy yet cozy support for your cat or dog.
The shredded latex bed has a height of about six inches and can be compared to a bean bag chair (but way more luxurious). If your cat or dog likes when the bed conforms to their body, then this would be the perfect fit. The shredded fill has an exceptionally comfortable plush feel that makes nap time even more enjoyable. However, if your cat or dog is destructive, you may want to opt for the formed bed instead!
The pet beds come with an organic cotton cover so you don't have to worry about pesticides or other harmful chemicals. The cover comes in natural (cream) or black.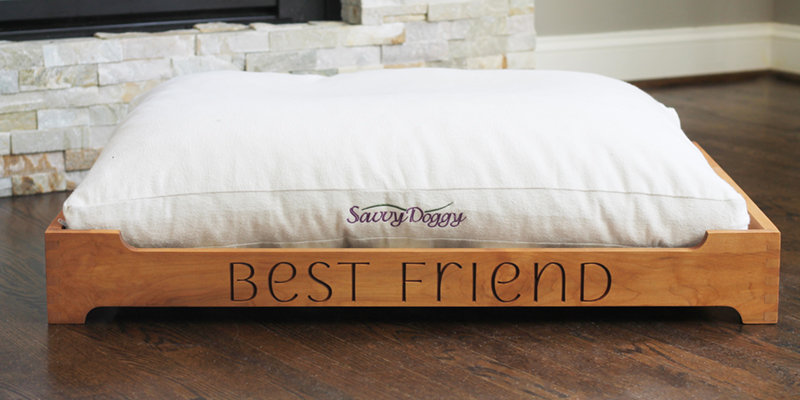 Natural Savvy Doggy Platform Bed
The Savvy Doggy pet bed and the Savvy Doggy platform bed are truly the perfect duo. Your dog will sleep like a king/queen in total natural bliss with their own platform bed made of sustainably sourced maple and poplar wood.
The platform bed is available in several zero-VOC stains and can even include a custom engraving with your best friend's name. They may not be able to read it but that's beside the point—it's just super adorable.
We opt for zero-VOC stains for all of our furniture because it's safe for both our woodworkers and our customers. Our furniture does not include toxic glues, particle board, or harmful chemical treatments. We offer healthy products that are better for you, your dog, and our planet.
Make a Change
Ready to switch out your pet's bed for something healthy and cozy? Start shopping!