Good sleep is of utmost importance when discussing health and happiness. It's the fuel that keeps us going as we tackle the day ahead. If you're a side sleeper who is having trouble sleeping or waking up with hip and shoulder pain, you may want to look into adding an organic body pillow to your sleep routine.
At a glance, it may look a bit intimidating given its size, but I promise it will become your new favorite sleep aid. Let me tell you a little bit more about this must-have item.
What is a body pillow?
A body pillow is a long, narrow pillow that is meant to be cradled between your legs as you sleep on your side. The purpose of a body pillow is to improve spinal alignment and aid in pressure point relief.
Savvy Rest organic body pillows come in four fills: natural shredded latex, organic kapok, natural wool, and a wool/latex blend.
They are also available in three different sizes: 15″, 17″, and 20″.
All Savvy Rest organic body pillows come with unbleached, naturally-colored organic cotton casings that have a soft flannel finish, adding an extra hint of luxury. A fitted organic cotton pillowcase is also included.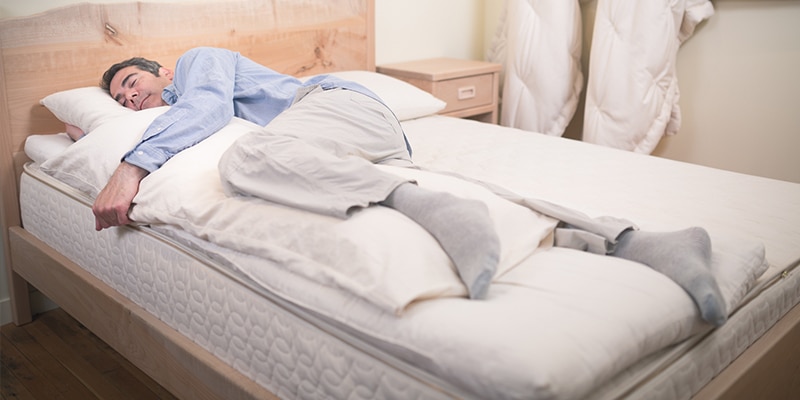 How do you use a body pillow?
There are several ways to use a body pillow. It really depends on what you feel is most comfortable for your body.
Here are some of the most common ways to use a body pillow:
Lay the body pillow along the length of your body.
If you're sleeping on your left, place the pillow between your legs and wrap your right leg around so that you're cradling the pillow.
You can either hug the body pillow or gently rest your hands on it.
Not interested in using the body pillow this way? You can also use it to support your back as you prop yourself up in bed.
Choose an Organic Body Pillow That Suits Your Body
What are the benefits of using a body pillow?
There are countless benefits from using a body pillow. Besides helping with spinal alignment and pressure point relief, a body pillow can reduce stress, lessen tossing and turning, and support new mothers during pregnancy, or afterward when nursing.
What are the perks of customization?
Our organic body pillows are customizable, which means that you can unzip the inner and outer casings and take out as much of the natural fill as you'd like. This allows you to adjust the height and overall feel of the body pillow.
We intentionally overstuff our pillows so you have plenty of fill to play with. We always recommend saving any fill you take out, just in case you want to add some back in!
The concept of customization rejects the notion of "one size fits all," because everyone is different! While your body may respond best to a flat and firm pillow, someone else may want a super full and fluffy one. There's no need to compromise or get a pillow that is "sort of comfy."
Which body pillow fill is best for me?
Don't worry—we've got a blog post all about that. We hope you enjoy your new organic body pillow!