Getting the right mattress for your child is important, and it starts with their crib mattress. Conventional crib mattresses can be made of some harmful materials. Use safe, eco-friendly, & organic products for your baby's natural nursery.
Lower Exposure to Toxins
Babies sleep 14-18 hours a day so it's imperative that they are in a safe and healthy environment. Their organs are developing, their immune system is immature, and they are vulnerable to any chemicals or irritants they are breathing in or coming into contact with on a regular basis.
Babies and children breathe nearly FIVE TIMES the amount of dust as adults, and these dust particles act like tiny sponges that chemicals in the home latch onto.
Common crib mattresses are made with memory foam, polyurethane foam, synthetic fabrics, and treated with bleach, chemical flame retardants, or other harsh chemicals that offgas into the air.
Health Risks of VOCs
Volatile organic compounds (VOCs) can be found in materials such as synthetic fabrics, and glues, and they can release dangerous compounds. The United States Environmental Protection Agency lists the possible health effects of VOCs.
Here are just a few:
Allergic skin reactions
Dizziness
Dyspnea
Eye & respiratory tract irritation
Headaches
Nausea
Nose & throat discomfort
The American Lung Association states that breathing VOCs can "damage the central nervous system as well as other organs" and that some VOCs can cause cancer.
VOCs can affect both children and adults so a healthy home with non-toxic furniture, bedding, paints, rugs, etc can benefit the entire family.
There is no such thing as perfection and we cannot escape all toxic chemicals, nor should we obsess over every potential health hazard. We simply want to educate our readers that these chemicals do indeed exist and there are certain swaps we can make to reduce exposure.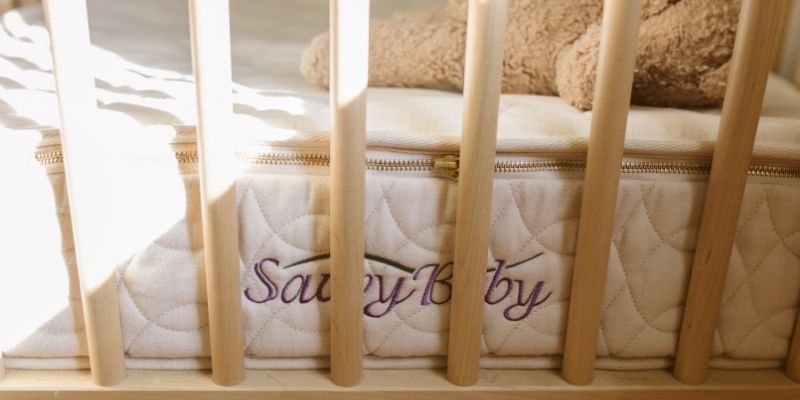 Firm Crib Mattress
Before getting into the natural materials we recommend when purchasing a crib mattress, let's talk about the overall feel of the mattress.
A crib mattress must be firm and flat enough to offer proper support and stability. It is dangerous for a baby to sleep on a soft mattress. A baby should never sink into a mattress.
Also, make sure your crib is sturdy and meets modern safety standards. We recommend the Oeuf crib, which is GREENGUARD GOLD-certified and made using solid birch and non-toxic finishes.
Organic Crib Mattress Materials
We recommend choosing an organic crib mattress for your baby's nursery that is made with either Dunlop or Talalay latex. The casing should be made of organic cotton to avoid cotton treated with bleach or pesticides.
The Savvy Baby™ crib mattress is GOTS-certified organic and made using firm organic Dunlop latex. The casing includes organic cotton and organic wool batting. The wool acts as a natural flame barrier.
Prefer natural Talalay latex? We have that option too.
Organic Waterproof Protector
We strongly recommend adding a waterproof protector to your natural crib mattress but it should be made with the safest materials possible!
Opt for an organic waterproof protector that is made without flame retardants, formaldehyde, perfluorinated compounds (PFCs), pesticides, or any other harmful chemicals.
A Natural Nursery
Creating a nursery is an exciting experience. We hope you enjoy shopping and find natural baby products that give you peace of mind as you start this new journey!