Written by Liz, SRNB Charlottesville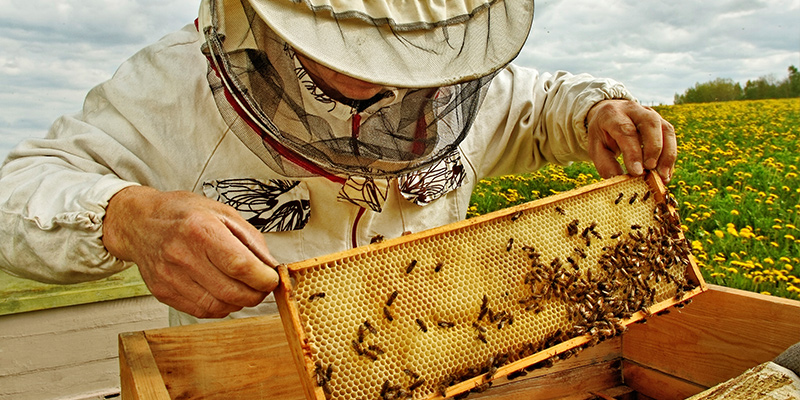 Sharon DeRigo is a co-owner of the natural, Richmond-based skincare company, BCakes LLC. Sharon and her husband make products such as sugar scrubs, creams, and soaps using honey from their own hives. I chatted with Sharon about her love of bees and the importance of natural products.
When did you become interested in bees?
When I was a child, I had a neighbor who had hives. From the time I could remember, which is probably around eight years old, I wanted to be a beekeeper. My husband and I got our first hive five springs ago. We have three hives now and they are one of the greatest joys of our lives. Just looking inside at all the different stages of life, seeing the Queen, and seeing them make honey is just fascinating.
There has been a significant decline in the bee population. I read an article from The Economist that was originally published in September about this topic. The article stated that there isn't enough untamed land and therefore not enough flowery food. I also read about the presence of deadly parasites when hives are transported. And then there is of of course the discussion of pesticides. What are your thoughts on this subject and what changes do you think need to be made in order to increase the bee population?
All of the ideas that you listed are a problem. I think scientists are finally beginning to come to the conclusion that it's not any one thing—it's a combination of things. Primarily, the chemicals that we are putting on our lawns, shrubs and flowers are a problem. Those are the things that scientists are looking at. We've heard about the neonicotinoids that are used for different kinds of shrub and flower pests. It's certainly a problem for the bees. It's basically a tobacco-based herbicide. We can see as humans what tobacco does to us and it's the same type of thing for bees. What we are trying to do as a company is to encourage and educate people on some of the problems and some of the solutions. You can make a difference with more composting, organic fertilizers, organic soil treatments, and heirloom seeds. You can go to our website and take a look at some of the posts we have there as far as gardening. Bees will forage on as many different plants as they can to give them a well-rounded diet. If they get sick, they seek out certain plants. They will ingest the nectar and the pollen from those plants and take them back to the hive. The rest of the bees will feed on it to help heal themselves.
Are you in communication with other beekeepers? Do you all talk about what has and hasn't worked for you?
Yes, both in person and online through social media. We look at things like if our hive has a problem with mites. The Varroa mite is a mite that came in from outside the United States several years ago. It's like a tick on humans. It has sticky feet on the bottom and it gets on the honey bee and they literally suck the blood out of a honey bee. If that Varroa mite has any viruses, it transfers it on to the honey bee and can weaken or kill that bee. It can weaken a whole hive. I dust my bees with powdered sugar. The Varroa mites can't hang on and fall off of the bee.
About how many bees do you have?
I've got three hives. In the springtime, when the bees start to come out, I have about 20,000 per hive. By the end of summer, I have about 60,000-80,000 per hive. The Queen can lay anywhere to 1,500 to 2,000 eggs a day so that's a real quick buildup.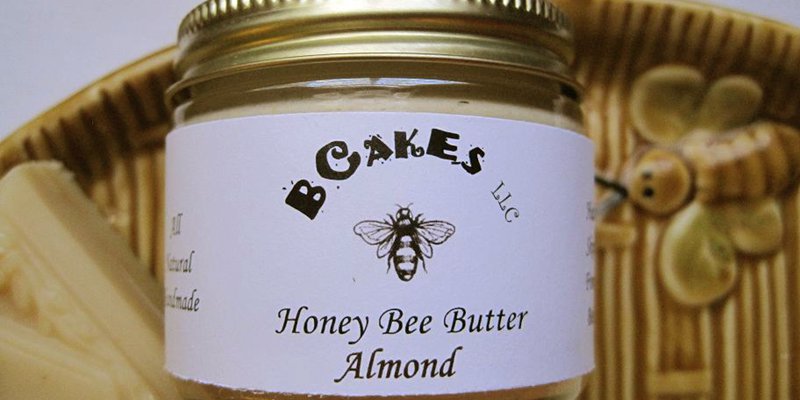 Tell me about how BCakes LLC started.
We started about 10 years ago. I had about 30 years in the computer field and was really ready to do something different. My mother grew up on a farm; her parents were farmers. She always had a love of lotions and soaps and when I was a kid. She would buy this pure castille soap from Spain and I just loved that soap. I've always had a love for soaps and lotions and then of course honey bees. It seemed like a natural progression.
What was the first product you made?
The first thing that I made was a solid lotion that melts with the heat of your touch. It's an intensive moisturizer for nails, cuticles, cracked hands and feet. That is where the name BCakes came from. It migrated on from there to soaps.
I use your Honey Bee French Country Body Butter and absolutely love it. How is that product made?
We use Fair Trade, unrefined shea butter from Ghana and it comes from one of the largest women's cooperatives over there. They hunt and gather the shea nuts and then they are cracked, crushed and cold-pressed. The fat is extracted from the shea nut without any use of chemicals. I don't filter it because the more you filter a certain ingredient, the more the vitamins and minerals that naturally occur in that particular source diminish. I also use local honey from our hive which draws moisture from the air to your skin to hydrate it, and then jojoba oil which is more like the oil in your skin so it soaks in quickly without being greasy. The essential oils are our own. The French Country has lavender and citrus.
At Savvy Rest we are all about natural and organic products. We believe they can really encourage a healthy lifestyle. What do you think are the greatest benefits of choosing natural products over more synthetic ones?
I'm not a Physician but your skin is the largest organ in your body so it absorbs pollutants in the air as well as whatever you put on it, such as lotions. Our body butter is just those three simple ingredients and whatever essential oils we include. You don't want to drink concentrated orange juice as much as eating an actual orange because that's the unprocessed fruit. It's got natural sugar, fiber and a host of vitamins and minerals. You want to think about that when you're using things on your skin as well.
Let's switch gears and talk about what we spend a third of our lives doing—sleeping. Have you thought about what type of mattress you're sleeping on in terms of what it's made of?
I've thought about it because I've seen things like wool mattresses and 100% cotton pillows but I've never actually really looked into it.
Do you have a nighttime routine?
One of the things that I like to do after dinner is to either get in bed and read or watch puzzle shows and game shows to exercise my brain. If I'm lucky, I'll catch Shark Tank! The PBS channel also has amazing shows on animals and travel.
How about a morning ritual?
I wake up before 6AM. I catch up on orders for the company and make products. When it warms up enough I go out in the yard and pull the covers off of the tomato plants. I know you're not supposed to plant things around here until mid-April but I did because I was so anxious! I love gardening and my husband loves it too. It's a favorite thing of ours. We try to plant things in the yard that bloom all year round. We think about what is good for honey bees as well as what is good for us.
Want to buy some of Sharon's products? You can visit any of the following locations or order online at BCakesLLC.com:
In Charlottesville:
Whole Foods
Rebecca's Natural Food
In Richmond:
Whole Foods (Short Pump)
Twig
Little House Green Grocery
Ellwood Thompson's