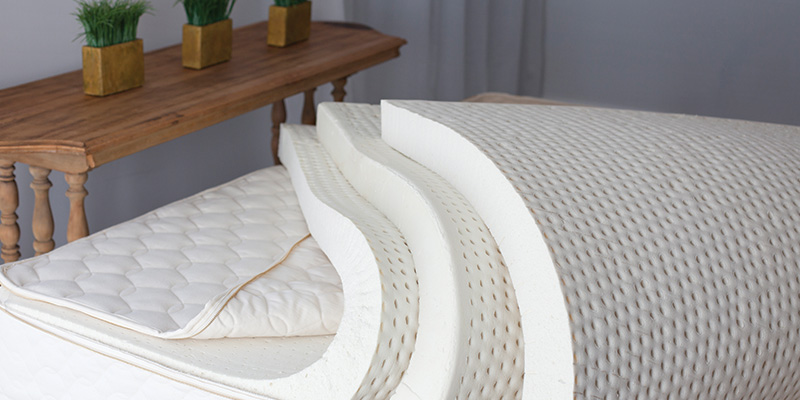 Often compared to pound cake, natural Dunlop latex foam has been made the same way since the 1920s. Although processing methods have advanced, this is foam rubber made the way it used to be, before synthetic (and toxic) chemicals were substituted for natural rubber serum. Dunlop is the densest natural latex, and is available in a range of firmnesses.
What is Dunlop Latex?
Dunlop latex is made from pure latex serum, or sap, which is tapped from beneath the bark of the rubber tree. The sap is harvested, whipped into a froth, then baked into sheets in huge steam molds. Natural sediments in the mixture settle to the bottom of the mold, making Dunlop layers a bit denser on the bottom side. (This means you can fine-tune a layer's firmness simply by flipping it over.) Dunlop is comfortable, durable, and can provide both softness AND support.
If you're a side sleeper who is looking for pressure point relief, Talalay latex may be more appropriate, at least as a top layer in your mattress.
Dunlop Mattresses
In our customizable organic mattresses, Savvy Rest uses Dunlop latex from a supplier that has gone extra miles to have not only its rubber tree growing but also latex processing certified organic. Their farms have been certified organic according to the USDA's National Organic Program standards by the Control Union, an international certifying authority. Their natural Dunlop latex also meets the GOLS (Global Organic Latex) standard. And their labor practices have been audited for fair-trade standards by Intertek.

Comfortable, Adaptable Support
Dunlop is yielding beneath the body, but not "bouncy." For people who need a comfortable, reliable sleeping surface, it's ideal. People with nerve-related back pain particularly appreciate Dunlop's consistent, stable support. Softer Dunlop layers at the top of a mattress can cushion gently, while medium and/or firm layers below offer as much support as desired. Because Dunlop is less processed than Talalay, it is less expensive. This makes it a popular choice for multiple uses, including beds for children, guests, or for anyone who prefers to avoid a pillowy or "sinking" mattress feel.
Explore our best-selling layered mattress options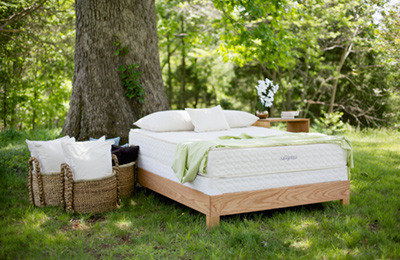 Our flagship natural mattress is customized with your choice of Soft, Medium and/or Firm latex. Choose Dunlop, Talalay, or both!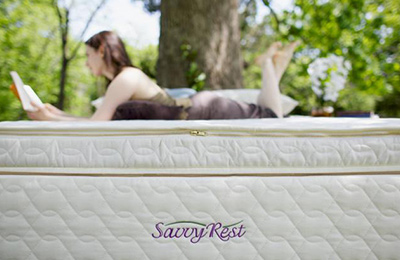 The Unity Pillowtop has four 3″ layers: it is simply the 3-layer Serenity organic mattress with the Harmony latex topper on top for added luxury.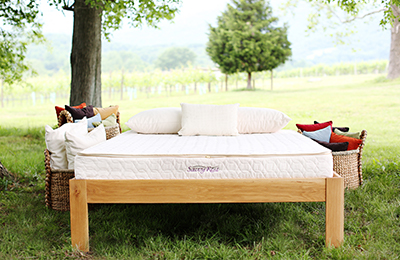 The Tranquility is made just like the Serenity, but with two 3″ layers of natural latex. It's a good choice for toddler beds, bunk beds, or smaller adults.
Material Purity
Mattresses made with organic natural Dunlop latex have met or exceeded GreenGuard's standards for low VOC (volatile organic compound) emissions. In fact, Savvy Rest products are GreenGuard GOLD certified. Achieving the GreenGuard GOLD standard requires meeting additional, stricter requirements that guarantee product safety for even the most vulnerable populations, including children and the elderly. Further, the natural Dunlop we use has also earned approval from the Eco Institut—a European materials testing organization that demands purity standards far higher than those required in the United States.