The third-party standard for low-VOC
GreenGuard certifies products that emit low levels of volatile organic compounds (VOCs). This certification allows consumers to verify a product's safety as it relates to offgassing.
Why? Because VOCs put human health at risk. They have been linked to cancer and a litany of other health issues. Reducing VOCs in your home creates better indoor air quality, which is essential to health over the long term. And even in the short term for the most vulnerable, such as infants or people with asthma.
What are VOCs?
VOCs are chemicals that offgas into the air at normal temperatures. Low boiling points allow such offgassing which affects air quality—specifically indoors—where air is relatively contained.
Why do VOCs matter?
Once VOCs enter the surrounding air, people and pets are going to breathe them in. Small amounts may be minor, but the accumulated effects of taking in VOCs can result in short and long-term harm to health.
Numerous products on the market use untested chemicals that offgas significant quantities of VOCs.
What are the health risks associated with VOCs?
Some gaseous VOCs are known to cause cancer, but the list of potential health effects is much longer.
Cancer

Eye, nose, and throat irritation

Headaches

Loss of coordination

Nausea

Damage to liver, kidney, and central nervous system
The mattress industry overall does not have a strong reputation for transparency so it's important to find a company you can trust. Third-party (independent) certifications such as GreenGuard give credence to claims regarding mattress safety and VOCs.
How do mattress VOCs relate to GreenGuard GOLD?
Savvy Rest layered mattresses have passed GreenGuard's strictest standard (GreenGuard GOLD) which tests for over 360 VOCs and emissions. The company also annually sends the natural Dunlop and Talalay latex used in Savvy Rest products to Associated Laboratories to be tested further for VOCs. The natural latex foam is tested for over 70 VOCs, and none have been detected. Below is a list of common VOCs that are included in the Associated Laboratories tests.
Acetone
Benzene
Methylene chloride
Styrene
Toluene
Vinyl chloride
Xylene
Do VOCs produce an odor?
It's common for many VOCs to emit a strong, caustic odor that people recognize as a mysterious chemical smell—which can help in identifying some toxic chemicals. But not all VOCs alert you to their presence by a smell. Some are odorless and unnoticeable. Proper chemical testing is the only assurance.
GreenGuard & VOC Testing
GreenGuard uses a simple concept with complex methods. For a mattress or other product to pass GreenGuard, it is tested in an environmental chamber that mimics the setting of the product's actual use. After a resting period, the chamber's air is analysed with complex instrumentation, including gas chromatography, for the presence of VOCs. Products that perform exceptionally well in these tests can achieve GreenGuard GOLD certification.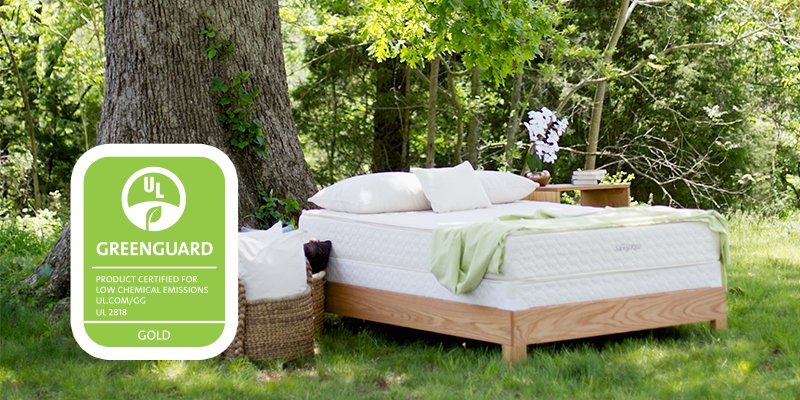 GreenGuard GOLD and Savvy Rest
GreenGuard GOLD is awarded only for products made by companies that go the extra mile to minimizing offgassing chemicals. The higher standard offers "stricter certification criteria, considers safety factors to account for sensitive individuals (such as children and the elderly), and ensures that a product is acceptable for use in environments such as schools and healthcare facilities."
Savvy Rest's GreenGuard-certified mattresses, toppers and pillows are tested every year to ensure that they continue to meet or exceed GreenGuard GOLD standards.