John and Liz show how easy it is to assemble the SerenitySpring mattress.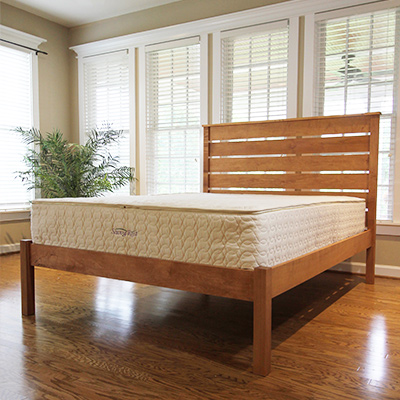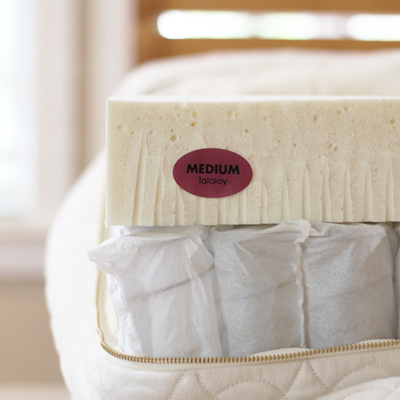 Made with 8″ of recycled wrapped coils, and one 3″ layer of natural latex, the SerenitySpring is designed to be both comfortable and durable. Choose any type of natural latex over Plush or Firm individually-wrapped coil springs.
Video Transcription
Please note: The SerenitySpring was previously named the Zenspring. The mattress itself has not changed.
John; Hi, I'm John.
Liz: And I'm Liz. Today, we'll be showing you how to assemble your SerenitySpring mattress.
J: The first thing you want to do is make sure you have a rigid foundation. Right now we're sitting on one of our Savvy Rest foundations.  If you don't have one of these, you want to make sure you have a foundation that had about 2 inches in between the slats. if you have more than that, maybe three or more, you might want to consider one of our bed rugs that will give you a nice, rigid, breathable foundation for your mattress.
L: If you have a solid foundation, then it's time open your three boxes. When assembling your SerenitySpring mattress, make sure to identify which boxes contain the coils and which boxes contain the latex. And make sure to use scissors and be delicate so as not to damage the product.
J: So when you're unrolling your coil unit, you want to make sure you're cutting the exterior plastic so you're not harming the product itself. Then we're going to unroll slowly so the coil unit doesn't expand too quickly. And there you have it. There's a half-Queen spring unit. For sizes Twin, Twix Xl and Full, you'll just be getting one spring unit; for Queen, King and CA King sizes, you'll be getting two.
L: Now it's time to unfold your mattress casing, which is in your latex box. Now unzip and remove the top of the casing so you can place your coils inside. 
J: Now that the casing has been unzipped, we can put the coil unit into the casing. When lifting the coil unit, you want to make sure you're using relatively "flat" hands as your fingers may puncture the material. You'll slide the coil unit into place and put it inside the casing. An important thing to keep in mind is that you'll want your coil unit right up to the interior edge–or seam–of the casing so everything lines up nice and flat.
If you've got a Queen or larger mattress, you can place your second coil unit now.  It'll be a snug fit, but that's a good thing. Make sure the corners of your seam are where you want them to be and push everything in place. Now you're ready for your latex. We're going to align the layers on top of the spring units. As with all latex, it's important to grip gently. You'll want to make sure that the latex layers are aligned over the spring units and close together. Latex has a natural "tack" that helps it stay together in the mattress. All you need to do is make sure the layers are touching.
Now we're ready to put on the top of the casing. Once the top of the casing is on, make sure that the flap in the top of the casing is pulled down. Then we'll start the zipper, making sure the flap is down so the zipper goes around cleanly. 
And there you have it. Your SerenitySpring mattress is ready to go.
L: We hope you enjoy it.