Do you sleep on your back but don't know which pillow is best for your comfort? That's okay—we're here to help.
This blog post will discuss the benefits of sleeping on your back and what you should be looking for when shopping for a pillow.
Back Sleepers Need Neck Support
The pillow you use should gently support the neck while you sleep. Proper neck support also helps keep your spine aligned throughout the night. Sleep is the time when your body restores itself so it's crucial that your pillow is working with you instead of against you.
Typically, an overall medium-firm feel works best for back sleepers. A pillow that is too soft can negatively impact spinal alignment.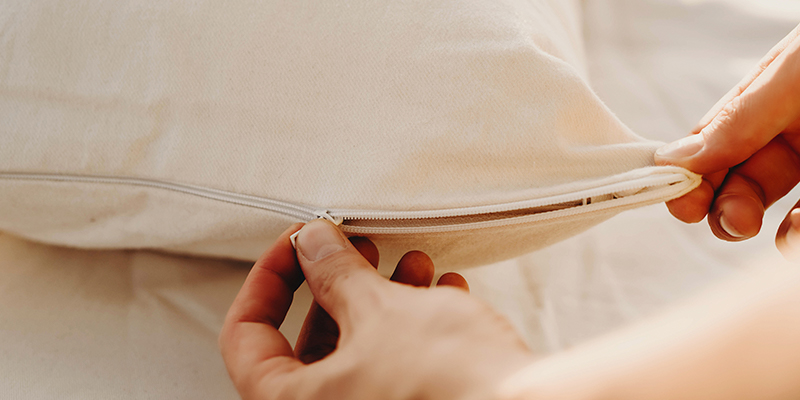 The Ideal Pillow for Back Sleepers
There are several organic pillows that greatly benefit back sleepers. Most of our pillows are customizable, meaning you can unzip the inner casing and remove as much fill as you'd like to change the overall height and feel of the pillow.
Wool or Wool-Latex Blend Pillows
For back sleepers specifically, we recommend the wool or wool-latex blend pillows for sturdy support with a touch of cozy softness. These are also fantastic options for those who "sleep hot" since wool is a natural temperature regulator.
The wool pillow is going to be slightly softer than the wool-latex blend pillow, which has more overall structure with the added shredded latex.
Shredded Latex Pillow
Like the wool and wool-latex blend pillows, the shredded latex pillow is completely customizable. What's great about this pillow is that it conforms to your neck and shoulders for moveable support. It also has a touch of softness!
Soap-Shaped Latex Pillow
Our soap-shaped pillow is also a popular choice for both back and side sleepers. This is a great option for those who enjoy the feel of latex. This particular pillow is made of Soft Dunlop latex but has an overall medium level of firmness.
The soap-shaped pillow has a relatively low-profile with a total thickness of about four inches. Since it is a formed latex pillow, this item is not customizable.
Still Have Questions?
Here's another pillow blog post that may be useful! And don't hesitate to reach out to us. We're here to help!