Car shows? Boat shows? Knock yourself out. Sleep geeks will take the ISPA show any day. That stands for the International Sleep Products Association, and every manufacturing machine imaginable was on display at their 2012 show in Indianapolis.
There were machines of all sorts—for making springs, spinning yarn, weaving and knitting and rolling and unrolling fabric, and all sorts of fabric cutting devices.
There were foam suppliers of every ilk (and ick), and makers of specialized foam saws, sewing and serging machines, and this embroidery machine (second image at right). There were fabric suppliers, shippers, companies that specialize in burn testing, as well as companies that help manufacturers pass the burn test. We could have bought our own burn testing lab on the spot if we'd wanted (but didn't have room in the garage). Specialty manufacturing software for the furniture industry was also demonstrated.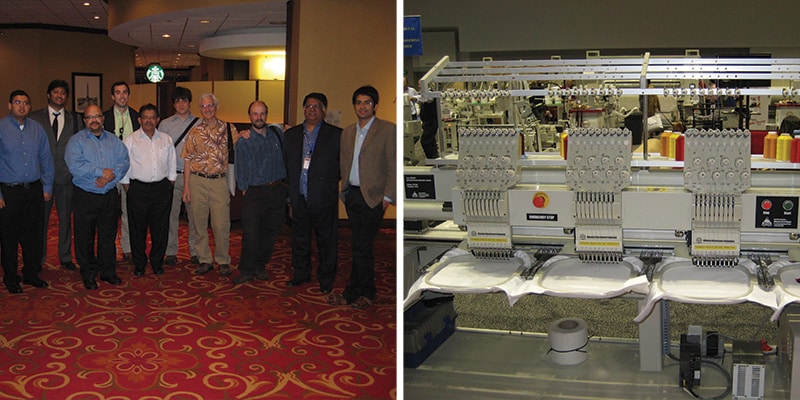 Everything for Every Body
ISPA is active in all major arenas that affect the sleep industry. They host the industry's biggest trade show in the U.S. every even year and in Cologne, Germany in odd years.
Everything related to the bedding industry is available. Two years ago gel beds were the new rage. Now many companies are showing various versions. Gel beds are made of a web of synthetic material. Manufacturers have combined their gels with foam, memory foam, latex, and other materials. Skipping this category made our hike through the show easier—we were concerned only with materials for our organic and natural mattresses, and how we can function better as a company.
Italian company Orsa's glass display was interesting. The colored blocks are different densities of memory foam. During part of the day a young man was reading on one side of the display. We never saw either the male or female model leave the display, and we also never caught them napping!
Seanan made sure to attend a presentation on mattress recycling. Savvy Rest has already begun this important practice but it was good to learn more about the current state of recycling across the bedding industry.
We also enjoyed the latest updates from our current suppliers of latex and organic wool. As leaders in the natural mattress industry, it's up to us to be aware of the latest product developments. We came home inspired with several new ideas—stay tuned!