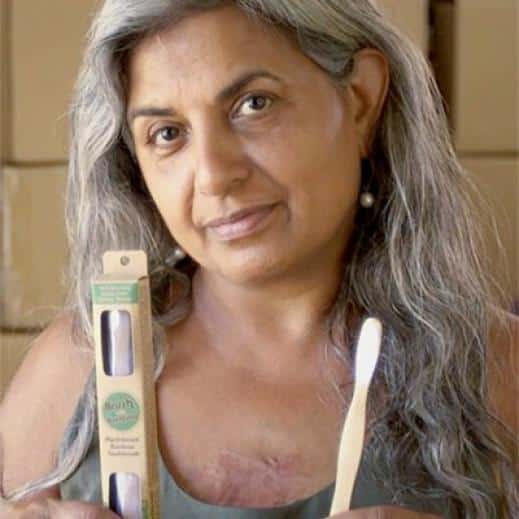 With Manju Kumar of Brush with Bamboo, an environmentally friendly company that sells plant-based, bamboo toothbrushes, travel cases and other oral care products.
Savvy Rest is very curious about sleep—and about people, too. From time to time, we ask interesting folks these questions to give you a peek at how others sleep…even what they're dreaming about.
What's the first thing you do when you wake up in the morning?
I like to sit and relax before I have to go, go, go. I really like to enjoy my chai—I make fresh chai every morning. I like to just sit in peace for five minutes.
What's your least favorite thing about mornings?
I have to have a slow morning. If I had to get up and run that would be horrible. I'm lucky enough that I can plan my day, wake up in peace and relax. I farm for about 3-5 days a week. There are certain days that we deliver produce to some families so those days you get up at 6 in the morning. Otherwise, I'll get up at 7.
What kinds of produce do you deliver?
We have a no-till farm in Pomona, California. It's a half-acre farm. There's a lot of people now who say "beyond organic" which means you really care for the soil and you really pay attention to the soil's health. That results in way better produce. You don't even have to rely on organic fertilizers when you have really good soil health. We have lots of produce. We do everything seasonal so winter is a lot of root vegetables and greens. Summer is all of your juicy, fruit-type vegetables like eggplants, zucchinis and tomatoes.
What's your favorite food to eat in the morning?
Eggs and toast—a good, real, whole grain bread that is crusty on the outside and soft on the inside. I like to be able to bite into it and not feel like I've ate paper. We have chickens so I have my fresh eggs. And I love butter!
If you could change one thing about your bedroom, what would it be?
The mattress, not because I'm unhappy with it, but I have a handmade mattress from India and it doesn't fit the bed frame that my son made. My son has gotten really good at building things. He's constantly building something for me. He made the bed frame because I wanted something that we made ourselves. It's nothing fancy but it's functional. It has storage inside.
When was the best sleep you've ever had?
You know, I've thought about this. I would say before I had my kids. I used to sleep really well and there's something that happens when you have a child. You never have a deep sleep after that. It's almost like you're sensitive to every little sound. I'm very sensitive to what I watch. I know a lot of times if I watch a documentary that really disturbs me, I'll have a nightmare. Otherwise, I sleep pretty well.
The worst?
I'll tell you what, the first time I watched a documentary about plastic, that was a really bad night. I was devastated. I couldn't believe that we were destroying our planet. I mean, I'm getting teary-eyed just thinking about it right now. That was really painful to watch. I woke up in the morning and said: "There has to be a solution." Everything has a solution and we are the solution. People are the solution. It's our habits and our culture and our actions. Those are the things that can destroy life and those are the things that can really uplift and make things better. We have a lot of power in our hands and I make sure I use it properly every day.
Listen to the Complete Questionnaire
And be sure to check out the second part of our interview with Manju where we discuss her sustainable business, Brush with Bamboo.
https://w.soundcloud.com/player/?url=https%3A//api.soundcloud.com/tracks/257983411&auto_play=false&hide_related=false&show_comments=true&show_user=true&show_reposts=false&visual=false
About Manju Kumar
Manju Kumar is one of the founders of Brush with Bamboo, a company that sells plant-based, bamboo toothbrushes and focuses on healthy environmental practices. Manju educates others about sustainability through her bamboo products, her organic permaculture garden and The Growing Club.