Our visit to the Radium factory in Maastricht, the Netherlands, was a unique and inviting experience. In some ways it reminded us of our own business, Savvy Rest. Radium is a small manufacturing company. Everyone knows and greets each other, and all were very friendly and actively focused.
There were many positive impressions, but first among them was Radium's commitment to excellent products. Production planning and engineering take a front seat to sales and marketing. Consistency and quality matter most—from the raw materials they purchase all the way through packing and shipping. One reason for this focus is that the Netherlands is a very small country, about the size of the state of Maryland. This makes them very dependent on trade, and on importing most products from other places. It seems to be embedded in the culture to engineer the best quality possible in order to create loyal, repeat customers.
From Past to Present
In 1935, Joseph Talalay developed the most open, ventilating and flexible foam in the world, but it was not until 1961 that Radium began to produce Talalay. As Vita is the most experienced Talalay producer, Radium joined the Vita group in 1991. This combined history has given them many years to refine their process and their products, and their investments in research and development continue. Radium is the only company that makes Talalay as Joseph Talalay intended it.
This manufacturer is constantly exploring ways to improve natural latex as well as to increase their commitment to health and the environment. Most bio-rubber projects around the world are in too-early stages to be useful yet for organic mattresses. Although the use of guayule as an alternative to rubber trees will take time to become commercially viable, Radium is already working on it. Guayule production will one day give people in desert climates where it grows the means to live. And it will also utilize the most available local resource—sand.
Another example is Radium's cradle-to-cradle certification, the most environmentally-friendly and health-protective certification available. In a nutshell, cradle-to-cradle means that their latex is made without "substances known or suspected to cause cancer, birth defects, genetic damage, or reproductive harm." And, at the end of the product's life, the latex can be reused as virgin material (rubber) in a new production process.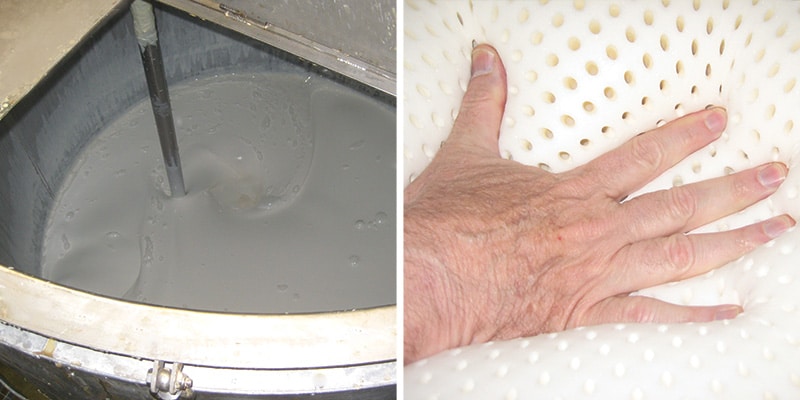 A Closer Look
Under a magnifying glass, the most visible difference between natural Talalay and natural Dunlop is that the Talalay has a round, open cell structure that is very consistent. These cells are created during a complex eight-step process. The result is that this natural Talalay is more elastic, durable, and better ventilating than any other foam.
The biggest similarity between the Radium and Cocolatex factories (Cocolatex is our Dunlop supplier, in Kerala, India) has to do with the commitment to social responsibility they share. In India, where labor is plentiful, it is socially responsible to create as many jobs as possible. If a human being can do a job, Cocolatex will hire a person rather than automate. In the Netherlands, it is more responsible to maximize efficiency and automate wherever possible, and Radium does.
For example, during the shift during which we visited Radium's production room, only three people were needed for the pouring process. Everything was precisely calculated—from pouring the raw material to final removal of sheets of latex from the molds.
We watched as the supple latex made its way smoothly on conveyor belts through the rinsing process and into the driers. Cutting, stacking, and wrapping were all fluently handled; when we receive it, it is very well packed and in good condition, ready to be customized into your own natural mattress.
As you might expect from a company like Mercedes or BMW, Radium also has stringent quality control standards. We saw them in the factory and in the workers; we see the results every day in the materials we receive. That's what Savvy Rest wants for our customers—only the finest-quality natural mattresses, made from the finest materials available.