There's nothing more luxurious than one of our organic mattresses…except if you introduce a topper to the mix, of course. Toppers add a touch of pillowy, cradling comfort to your mattress. It's that extra bit of softness that makes your sleeping experience oh so enjoyable.
Toppers can also alleviate hip, shoulder and back pain if a mattress is too firm. It's important to us that our products are not just comfortable but actually have a greater purpose of benefiting your health. So while your topper is the cozy oasis you look forward to diving into when you get home after a long day's work, it's also a product that will improve your overall well-being through quality craftsmanship and safe materials. We have several toppers to choose from; keep reading to find the perfect one for you.
Harmony
The Harmony topper is GOTS-certified, has the same organic casing as our mattresses and is considered our most luxurious option. Made with organic cotton and organic wool, the casing is soft, durable and safe for your home since it lacks any synthetic materials or toxic chemicals. Inside the casing is a 3" layer of natural latex, your choice of either certified organic Dunlop or Cradle to Cradle Gold certified Talalay. Dunlop is perfect for those looking for a bit of softness while still maintaining significant support while Talalay is known for its pressure relieving qualities and is especially helpful to those suffering from shoulder injuries and hip pain.
Not only can you choose between Dunlop and Talalay but you can also pick the appropriate density for your needs. Choose between Soft, Medium and Firm. If you're looking for a super pillowy, "I just jumped into a ridiculously comfy marshmallow" feel, we highly recommend Soft Talalay. It's our most popular option!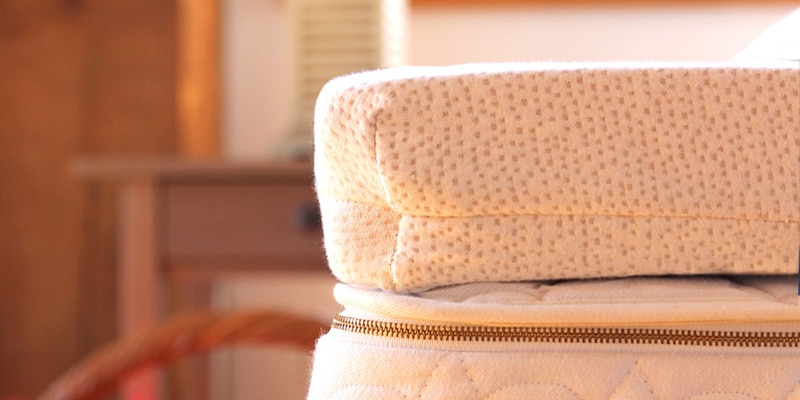 Vitality
The Vitality topper includes a 3" layer of Soft Talalay latex in an organic cotton knit casing. The jersey knit is stretchy so you can really feel the softness of the latex when you're lying down. This topper is a great option for those interested in a Talalay topper but are looking for a more cost-effective option. The Vitality uses the same high-quality Talalay latex so you'll still have that cradling, pressure-relieving sleep!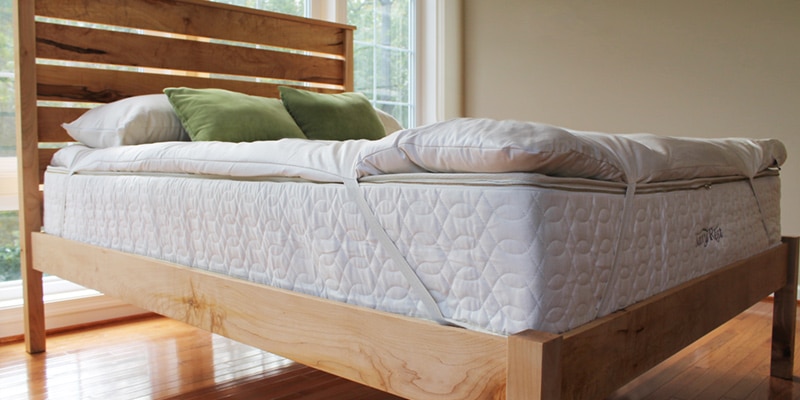 Natural Savvy Woolsy
Our newest addition to the family is a super cozy option for anyone looking for a non-latex topper. As its name suggests, the Natural Savvy Woolsy is made with premium natural wool sourced in the United States. We love using wool because it promotes air circulation and with that, temperature regulation. Wool keeps you feeling refreshed in the summer months and warm in the winter time. We've covered this high quality wool in an organic cotton sateen fabric which we think perfectly compliments the elegant look of our mattresses.
If you suffer from back pain, we recommend the Natural Savvy Woolsy because it has that perfect balance of softness and support. It's important that people with back pain have a stable sleeping surface that is not too hard and not too soft. You don't want to sink into your mattress but you also don't want to sleep on a board! This wool topper gives you that luxurious pillowy feel without compromising your support.
Just imagine a chilly, snowy evening and being warm and toasty in bed with your Natural Savvy Woolsy AND our Natural Duvet Insert. I mean really, can it get any better? The answer is no, no it cannot. It's really that comfortable.
Looking for a GOTS-certified organic version of these two cozy items? We offer an Organic Savvy Woolsy and an Organic Duvet Insert.
You can't go wrong with these options, but hopefully there is one topper that you find particularly enticing. All our toppers will keep you feeling relaxed as you doze off to sleep. Sweet dreams!