If you're interested in learning about latex mattresses but are slightly overwhelmed with all the information on the internet, this blog post is for you.
We'll dive into the pros and cons of latex mattresses, from comfort to price, so you can decide if a latex mattress is right for your needs.
What is a Latex Mattress?
Before getting to our pro/con list, let's first explain what a latex mattress is.
A latex mattress is made with layers of natural latex. Sap from rubber trees is harvested and baked into cozy sheets that act as the core of the mattress.
There are two types of natural latex: Dunlop and Talalay. Most mattress brands only offer one but there are some brands that offer both.
Learn more about these two types of latex here.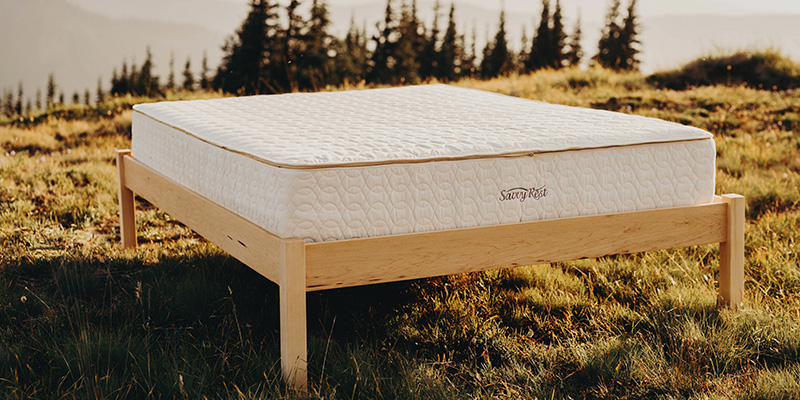 Pros
Here are a few pros if you choose a latex mattress.
Comfort
Latex mattresses are incredibly comfortable. They're supportive but also offer pressure point relief so you get the best of both worlds.
Organic/Natural
Natural latex is a sustainable alternative to polyurethane and memory foam. It is not synthetic or treated with harmful chemicals.
Natural latex is proof that Earth's natural resources can result in a quality, durable product. It is healthier for both the customer and the planet.
We recommend choosing a latex mattress that is completely GOTS-certified organic as a finished product. This is one of the most impressive certifications in the mattress industry.
Customizable
Some latex mattresses are customizable, meaning you can create the exact feel you want in your mattress by choosing specific layers of latex. Dunlop and Talalay latex come in Soft, Medium, and Firm densities.
Couples should look for a mattress that allows for customization on both sides–that way no one has to compromise their comfort.
Pressure Relief
As previously mentioned, latex mattresses are excellent for pressure point relief, particularly Talalay latex mattresses.
If you're a side sleeper, Talalay latex will cradle the hips and offer gentle support.
Sleep Cool
Memory foam traps your body heat. It is this chemical reaction between the foam and your body heat that allows the mattress to conform to your body's curves. This is comfortable at first but will eventually cause you to wake up in the middle of the night, overheated and uncomfortable.
Natural latex offers pressure point relief without trapping your body heat, so you can sleep cooler throughout the night.
Durable
Latex mattresses are designed to last. Besides the downside of overheating with memory foam, synthetic foams eventually have a difficult time bouncing back, leading to dips in the mattress.
While there are always exceptions to the rule, this is not as prevalent of an issue with latex mattresses, especially if you choose latex layers that support your weight and sleep position.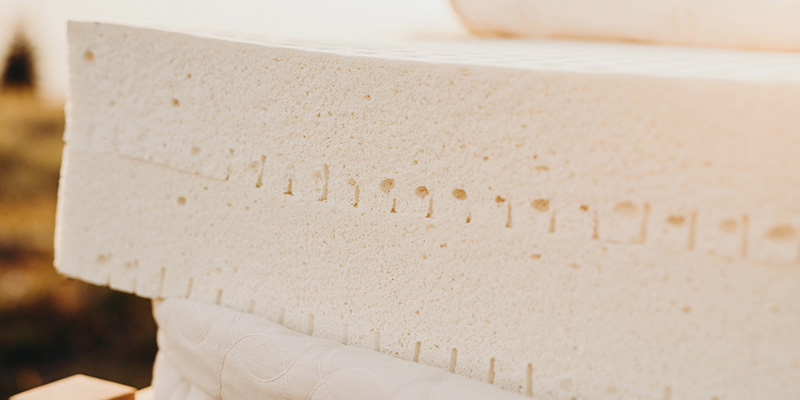 Cons
There are certainly more pros than cons to latex mattresses but here are two cons to consider.
Weight
Latex is on the heavier side and cannot be supported by a traditional box spring. It requires a platform bed with slats about 2-3" apart or a slatted foundation that takes the place of a box spring. This not only gives the mattress the support it needs, but it also allows the latex to breathe.
Price
Latex mattresses are more expensive than polyurethane and memory foam mattresses. This is because of the natural and organic materials, certifications, and level of customization.
If you can afford a latex mattress, it's worth the investment for both your comfort and health.
Start Shopping
Savvy Rest all-latex mattresses are GOTS-certified organic, completely customizable, and available in both Dunlop and Talalay latex.
Explore our best-selling layered mattress options