There are several different types of mattress toppers available. It can be challenging to figure out which material to choose and what overall feel will work best for your specific needs.
This blog post will review common mattress topper materials and the overall benefits of one our favorite options: natural latex.
Mattress Topper Materials
Here are some common materials used as the support layer in a mattress topper.
Natural Latex
Memory Foam
Polyurethane Foam
Wool
Feather
Alpaca fiber
Polyester blends
Regardless of which inner material you choose for your mattress topper, we strongly recommend opting for a topper that is covered in certified organic cotton. Organic cotton is free of pesticides, bleach, and other harmful chemicals. It is more healthy and environmentally-friendly when compared to some synthetic fabrics.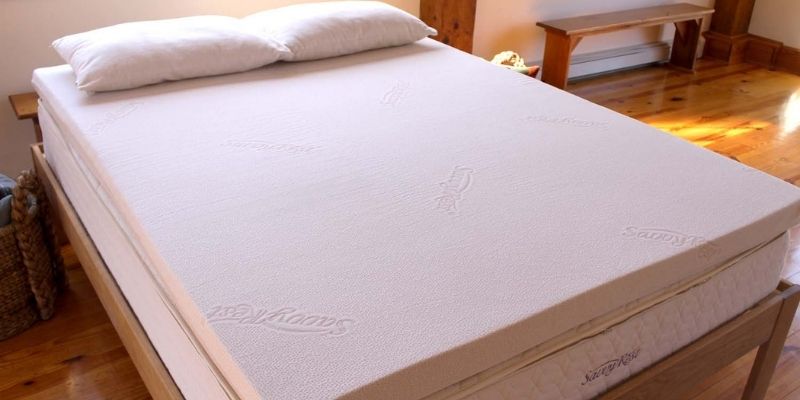 Why Choose a Latex Mattress Topper?
There are several benefits to choosing a natural latex mattress topper, especially in comparison to a polyurethane foam or memory foam mattress topper.
Breathable: Natural latex does not retain body heat. The open cell structure of natural latex makes it a comfortable and cool sleep; it's a fantastic choice for those who tend to "sleep hot." If you struggle with feeling overheated but want a second option, a wool topper is also surprisingly breathable.
Durable: Natural latex is incredibly durable. This again goes back to the fact that it does not retain body heat. The chemical reaction between your body heat and synthetic foam allows for the foam to mold with the curves of your body, achieving excellent pressure point relief. Over time though, the synthetic foam has a difficult time bouncing back, which leads to dips and sags in the mattress. Natural latex is able to achieve pressure point relief but still bounces back and keeps its structure and shape.
Eco-Friendly: Natural latex comes from sap harvested from rubber trees. This sap is then baked into the cozy layers found in mattresses and toppers. Quality natural latex will have certifications. Look for Global Organic Latex Standard (GOLS) or Cradle to Cradle GOLD. These certifying bodies analyze the purity of the material as well as the overall manufacturing process.
Supportive: Natural latex has the stability you need while also offering pressure point relief and luxurious softness. However, you can also choose a medium or firm topper if desired. There is no rule that your topper must be soft. However, if you have a soft mattress, we do not recommend putting a firm topper over it.
More Affordable: If your mattress is too firm but you don't want to completely replace it, adding a topper will give you that hint of softness at a fraction of the cost.
Customization Options
When you choose a latex bed topper, you also have the advantage of customization.
There are two types of natural latex: Dunlop and Talalay.
Dunlop latex is the denser of the two and offers exceptional support.
A Talalay latex mattress topper is known for its incredible pressure point relief, breathability, and hint of softness (though it is available in firmer densities as well).
Once you decide on which latex you prefer, some toppers will also give you a choice of overall density (Soft, Medium, or Firm).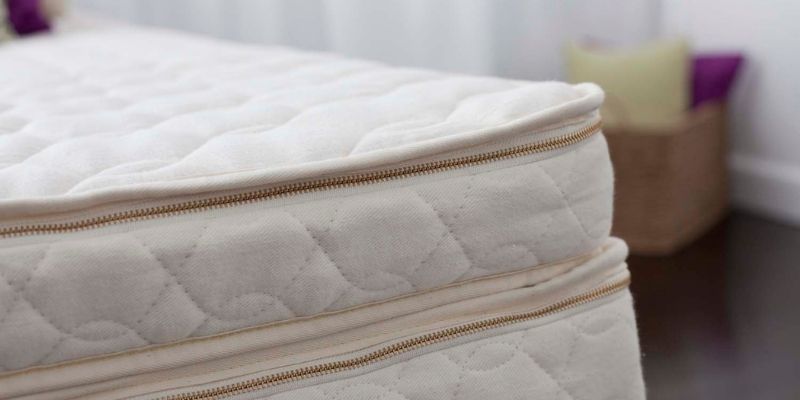 Savvy Rest Organic Latex Mattress Toppers
Savvy Rest offers two GOTS-certified organic mattress toppers that we think you'll love.
The Harmony Topper
This organic latex topper includes a 3" layer of latex and is totally customizable. Choose between Dunlop or Talalay latex and then your density (Soft, Medium, or Firm).
The Dunlop latex is GOLS-certified and the Talalay is Cradle to the Cradle GOLD and FSC-certified.
The Harmony topper casing is made of certified organic cotton and certified organic wool. It's our most luxurious topper and will add an extra layer of comfort and height to your mattress.
The Vitality Topper
If you are looking for a plush topper that offers extra cushioning and mirrors the feeling of memory foam, we have the perfect one for you.
The Vitality includes 3" of Soft Talalay latex wrapped in an organic cotton knit fabric. The stretchy fabric allows for close contact with the latex, giving you that gentle cradling feeling that is perfect for side sleepers.
It is made exclusively with Cradle to Cradle GOLD and FSC-certified Talalay latex.
Shop All Mattress Toppers
A mattress topper can be a key addition to your existing mattress and improve your overall quality of sleep.
Learn more about our organic mattress toppers